The Key Information You Need To Know About The New Coronavirus & Its Symptoms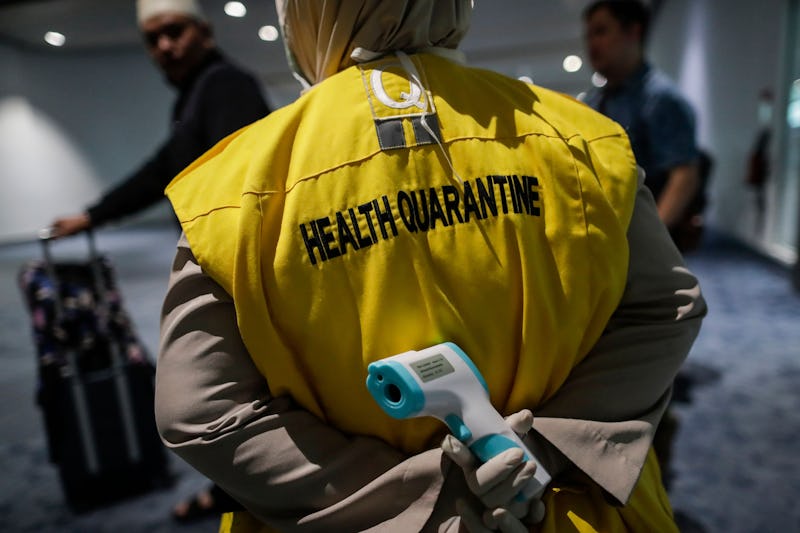 MAST IRHAM/EPA-EFE/Shutterstock
This post is updated regularly to reflect the latest news and science around coronavirus, also known as COVID-19, in the UK.
Coronavirus has changed everything: the way we work, the way we socialise and even the way we date. But as the UK enters it's second week in lockdown, what are the symptoms of coronavirus and should you be worried about it?
Initially discovered in the city of Wuhan, China, in late 2019, the novel coronavirus was labelled a global pandemic by the World Health Organisation (WHO) on March 11. WHO chief Dr Tedros Adhanom Ghebreyesus said the term was accurate because of deep concern over "alarming levels of inaction" over the virus.
A pandemic describes an infectious disease where there is significant and ongoing person-to-person spread in multiple countries around the world at the same time, as per BBC News. The last time a pandemic occurred? Swine flu in 2009.
What Is COVID-19?
COVID-19 refers to the illness caused by a new strain of virus from the coronavirus family. Symptoms of COVID-19 generally include coughs, fevers, and breathlessness. The illness poses the most risk to the vulnerable, including elderly people or those with underlying health conditions.
What Are Coronaviruses?
First discovered in the 1960s, coronaviruses can exist in both humans and animals, and seven human strains have been discovered so far, according to the Centers for Disease Control and Prevention (CDC).
"Sometimes coronaviruses that infect animals can evolve and make people sick and become a new human coronavirus," the CDC writes on their website. This is what has happened with the Wuhan strain and with the 2003 SARS outbreak. SARS, which stands for severe acute respiratory syndrome, is caused by a different virus from the coronavirus family and resulted in 774 deaths, according to the NHS. This strain was initially found in small mammals, but it mutated, resulting in humans contracting it.
Described as a "highly contagious and potentially life-threatening form of pneumonia" by the NHS, SARS and its 2003 outbreak has been cited in many articles now discussing COVID-19. As the National Institute of Allergy and Infectious Diseases (NIH) writes on their site, much of their current work on COVID-19 "is an expansion of its work on Middle East respiratory syndrome (MERS) and SARS", as they fall under the same group of viruses. COVID-19 currently has a lower mortality rate than MERS and SARS, but it's still early days.
Read more here:
8 Myths About Coronavirus, Debunked
Want To Stop Touching Your Face? Wear Your Glasses
How Is The New Coronavirus Spreading?
As the CDC writes, it was believed to have originated in a large Wuhan food market, "suggesting an animal-to-person spread". But as the virus spread to across the world, person-to-person contact began which has resulted in patients contracting COVID-19 even if they haven't travelled to affected countries. In the UK, for example, the number of COVID-19 cases has risen from to over 400 as of March 11.
Despite being less deadly than SARS, COVID-19 spreads much faster. As Nature.com writes, the virus "has infected more than ten times the number of people who contracted SARS," which seems to be spreading through "droplets from a cough or sneeze", per the Financial Times. This means it's possible to catch COVID-19 through close contact, or by touching surfaces that the virus has survived on and "then touching [your] mouth, nose, or possibly [your] eyes," the CDC writes, "but this is not thought to be the main way the virus spreads."
What Are The Symptoms Of COVID-19?
According to the CDC, symptoms may include:
Fever
Cough
Shortness of breath
Sore throat
Headache
Runny nose
A general feeling of being unwell
In addition, there has been a growing numbers of COVID-19 patients that have also reported losing their sense of smell and a diminished sense of taste, as per The New York Times. Professor Nirmal Kumar, president of ENT UK, a body representing ear, nose and throat surgeons, advised that people in the UK should self isolate if they experience either or both of those symptoms, also known as anosmia/hyposmia, even without a fever or cough.
For people with weakened immune systems, older adults, and those with cardiopulmonary disease, there is a chance coronavirus can be life-threatening due to the increased chance of developing "lower-respiratory tract illnesses, such as pneumonia and bronchitis," the CDC writes.
It was first believed that children were also at risk, but there is currently no evidence that they "are more susceptible", per the CDC. Confirmed cases have been reported in China, which suggests that "children with confirmed COVID-19 have generally presented with mild symptoms" and while "severe complications (acute respiratory distress syndrome, septic shock) have been reported, they appear to be uncommon.
Is There A Cure For Coronavirus?
Currently, there is no cure or vaccine for COVID-19. As Peter Horby, a professor of emerging infectious diseases and global health at the Centre of Tropical Medicine and Global Health, told the Telegraph: "There are currently no antivirals for this, so care is just supportive, supporting the lungs and other organs until patients recover. There are other potential therapeutics out there but no effective antiviral."
Vaccines are still the development phase, which could take longer than initially planned as the "virus has evolved into two major lineages — dubbed 'L' and 'S' types," per the Telegraph. "The older 'S-type' appears to be milder and less infectious, while the 'L-type' which emerged later, spreads quickly and currently accounts for around 70 per cent of cases."
What To Do If You Think You Have COVID-19
On March 23, Prime Minister Boris Johnson put in place the strictest measures seen in the UK since the COVID-19 crisis began. UK residents have been instructed not to leave the house except to exercise once a day, to go to work (if working from home is not an option), to buy essentials like food and medicine or to provide any care needs. Public gatherings of more than two people who are not from the same household are also banned.
If you think you may have the virus, Dr Peter Holden advises staying at home to avoid it spreading. His advice is in line with that of the UK government's, based on advice from chief scientists and medical personnel, which encourages people to practice social distancing and to isolate or quarantine themselves inside their homes if they suspect they have it, or have been in close contact with anyone who may have contracted COVID-19. Government advice is to not travel home to quarantine with family, and not to visit elderly or at risk family members.
Read more here:
What's Happening With Coronavirus In The UK?
Why Experts Are Saying You Shouldn't Make Your Own Hand Sanitiser
How To Know Whether Or Not To Visit Your Grandparents Because Of Coronavirus
If you or someone you've been in close contact with appears to have shown or be showing symptoms of coronavirus, which include fever, shortness of breath, and coughing, visit the NHS website in the UK to find out the next steps you should take or visit the CDC website in the U.S. for up-to-date information and resources. You can find all Bustle's coverage of coronavirus here, and UK-specific updates on coronavirus here.
This article was originally published on