The Rihanna & Lupita Nyong'o Movie Could Be Everything We Ever Wanted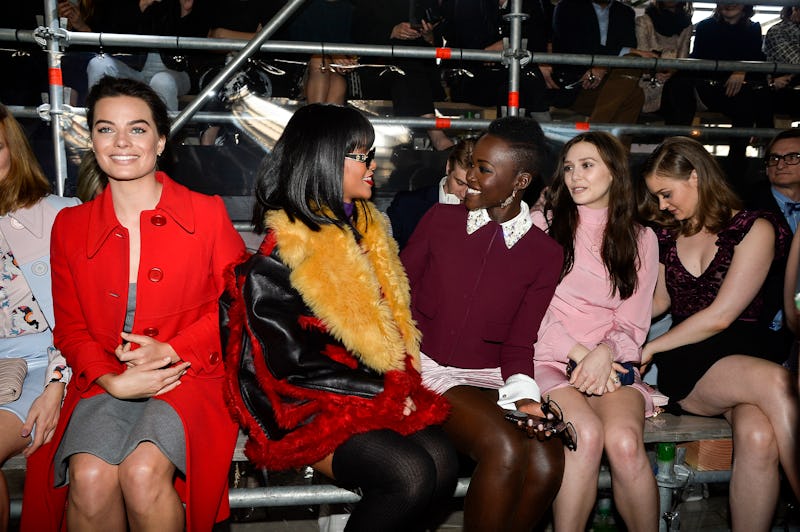 Pascal Le Segretain/Getty Images Entertainment/Getty Images
According to Entertainment Weekly, Netflix has just secured the bid for the epic Rihanna and Lupita movie we were all hoping for on Twitter and Tumblr. The question is: what is the Rihanna and Lupita Nyong'o movie about? Will it be based on the Twitter and Tumblr meme or something entirely different? According to Entertainment Weekly, the Twitter spawned idea of the duo in a buddy heist movie was enough to pitch to studios at this year's Cannes film festival, and gain interest from multiple studios, resulting in Netflix taking it on, so it sounds like that story will stick as the meme heads to the big screen.
It all started when this tweet went viral: "Rihanna looks like she scams rich white men and Lupita is the computer smart best friend that helps plan the [scams]," wrote Twitter user Twitter user @WHOOPHERASSKOURTNI on April 18. Twitter exploded with support via likes and retweets that it got to Nyong'o, who then pitched it publicly to Rihanna who was receptive to the idea, to say the least. From there, Selma director Ava DuVernay and writer/producer of Insecure Issa Rae tweeted their support resulting in what is now the most anticipated film of 2018. Bustle has reached out for comment to the originators of the concept Twitter user Kateria (@WHOOPHERASSKOURTNI), and the Tumblr user Roxy (@elizabitchtaylor), but did not hear back in time for publication. Rae's rep told Vanity Fair that "the original Twitter users who imagined the concept for this film will be credited and included in some form."
And now that the film is actually getting made, Twitter has its own ideas about the plot and certain scenes. It could take inspiration from a few Rihanna's other projects.
This Twitter user has an idea for the movie's final scene.
And the cast of characters could expand with a few other big names.
The pause till 2018 when DuVernay wraps her latest film, A Wrinkle In Time, isn't stopping the film's adrenaline as DuVernay briskly shared the news on Twitter.
It's exciting to hear about this all black woman cast and to be quite honest, I know without hesitation, this film will continue to promote itself on Twitter leading up to its big 2018 debut.