How One Woman's Search For The Perfect Gift Led To A STEM-Inspired Activity Box For Kids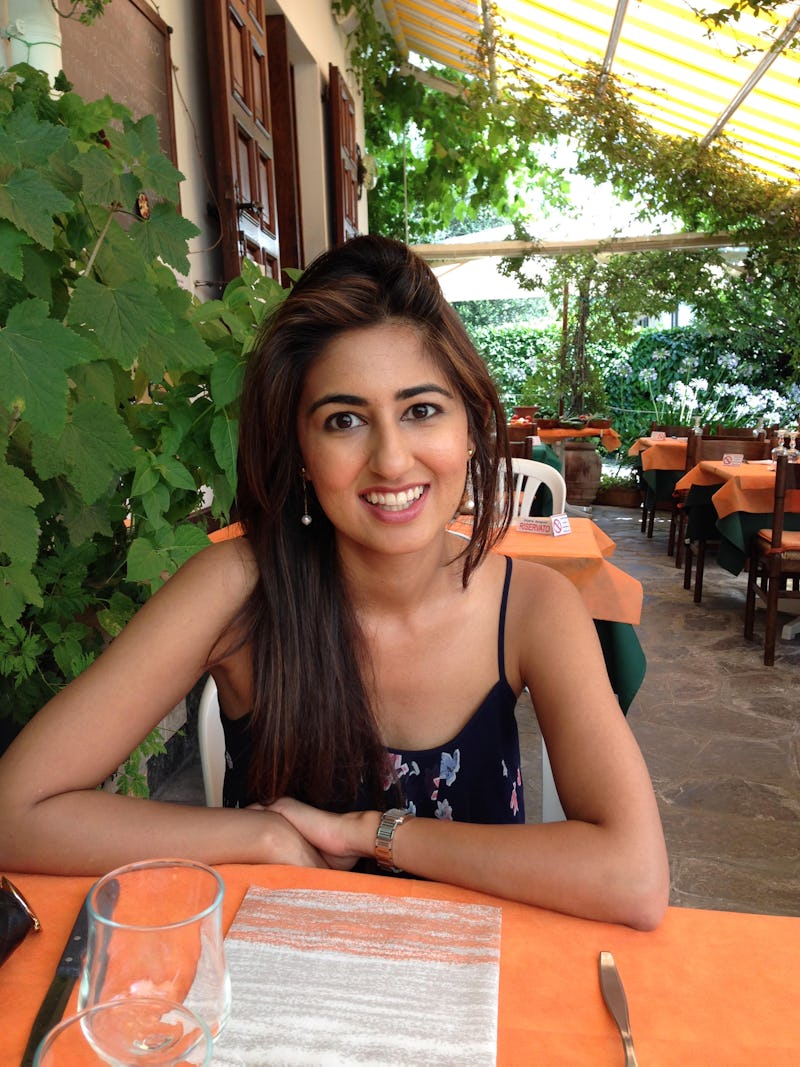 Courtesy of Sahar Meghani
For the third year in a row, Bustle's Upstart Awards are honoring young women who are doing incredible things in the realms of business, STEM, fashion and beauty, the arts, philanthropy, and beyond.
Sahar Meghani was making a career in investment banking and private equity when she noticed a gap in the children's toy market. As an aunt to three girls, she was on a mission to find smart, engaging toys for them to play with. Once they had exhausted the few toys she could find, she dove into Pinterest to find others that would satisfy their curiosity. "Looking for fun and educational projects to do with them that harnessed their curiosity was exhausting and impractical," she says. In the search, she realized that the time it took to find these projects was time most parents don't have. Instead of accepting the situation for what it was, she decided to do something about it. Meghani began speaking with early childhood experts, interviewed parents, and started to create and test her own prototypes. And soon after, her STEM-inspired children's activity box startup, Trunkaroo, was born.
As an educational tech startup for kids aged three to eight, Trunkaroo is a creative way to engage little ones by offering them STEM-inspired toys. The subscription service company sends gender-neutral trunks filled with materials, instructions, and activities for children to complete. They can include art, science, crafts, imaginative play, and DIY games.
"Exposing children to STEM fields early is one important way to inspire the next generation of change makers."
Meghani's fascination with helping others grow started when she herself was young. "Two things that were inculcated in me from an early age were the importance of maximizing one's potential, wherever your interests lie, and to use one's knowledge to make an impact on others," Meghani tells Bustle. Helping younger generations learn techniques to harness their curiosity in the world will allow these children to build their STEM-focused skills while associating these tasks with fun and excitement, rather than work — which, if we want to encourage STEM among young kids, especially girls, is a pretty good thing.
"What's so brilliant about STEM subjects is that they teach children to be inquisitive, to think laterally and to be innovative," she says. "We need more creative problem solvers to address issues that face our planet and I feel that exposing children to STEM fields early is one important way to inspire the next generation of change makers."
To decide which activities to include in each box, Meghani turns to experts as well as her customers, and focuses on practicality. Every idea has a realistic execution and is also something children will enjoy. Trunkaroo consistently tests out possible activities on children to ensure each one is not only engaging, but fun. While boxes cannot yet be customized based on an individual child's interests, this is something Meghani hopes to make possible in the coming months.
So what kind of difference can Trunkaroo make on the lives of these children?In time, potentially a big one. "At Trunkaroo, we design delightful, enriching hands-on projects that engage kids and encourage them to think of themselves as makers, scientists, and inventors. Instead of simply 'consuming', we like children to think of themselves as creators of the experience," Meghani says. Allowing children to create their own world allows them to discover what they hope to see in the world around them.
"Fostering this mindset of experimentation, tinkering, and problem-solving will, we hope, equip children with the creative confidence, self-esteem, and tenacity to make things happen and tackle problems when there is no right answer," she says. This idea comes from the realization that there is no way to train young minds in whatever they will face as adults.
"We hope to play a part in instilling a confidence and problem-solving mentality in them early so they can address and solve important problems later in life."
"Today's primary school students might one day be doing work that hasn't even been invented yet," Meghani says. "Being able to understand technology, think creatively, and demonstrate flexibility will be important traits for this generation of children. We hope to play a part in instilling a confidence and problem-solving mentality in them early so they can address and solve important problems later in life. Our mission is to have children everywhere see themselves as mini-scientists, inventors, and explorers."
Giving children the confidence to handle whatever life throws at them and the self-esteem to shoot for the stars is a lofty task, but it's one that Trunkaroo is dedicated to. An even more admirable part of Meghani's mission is her commitment that no child gets left behind because of where they are or how much money they have. "The ultimate goal is to offer a solution which is available to all children, regardless of geography or socio-economic background so they can all be inspired from an early age," she says.
While Meghani is happy with how her product has turned out, it didn't happen without some hard times for the founder and CEO. "Although it might sound glamorous to be one's own boss, the reality is that in the early days of a business you're functioning both as an intern and as a CEO," she says. "It can feel lonely and be difficult to make decisions that will not only affect you but also your employees and the future of your business, so there is a great sense of responsibility." But it's definitely not all bad — being the boss also comes with a lot of freedom.
"At the same time, the freedom to get things done quickly, without red tape or politics, to do work that you enjoy and to grow and motivate a team is incredibly rewarding and outweighs most of the challenges," she says.
Making the jump from finance to a children's startup is risky, but Meghani had some help along the way. "I was lucky to have received a lot of advice when I was switching from finance into tech, and each time I felt extremely energized by those conversations," she says. "But I also made sure that I'd maintained a great network that I could return to should I need to."
When Meghani changed her life to start Trunkaroo, it took guts and real confidence in her vision. Her advice for others looking to make a leap? "Listen to your feelings, approach the move practically, and be confident in your decision — nothing is ever final, it's about learning, growing, and trusting yourself." Confidence in yourself? Sounds like great advice.
Learn more about Bustle's 2017 Upstart Awards here.