What The Age You Were During Your First Relationship Says About You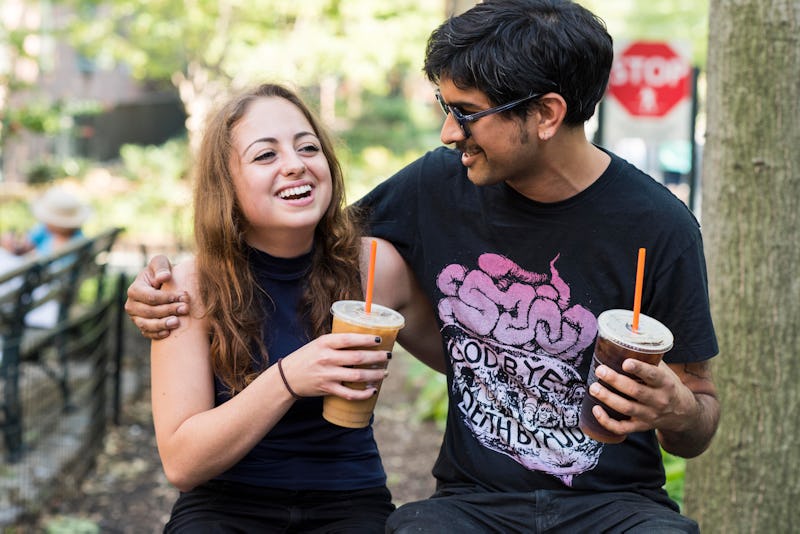 BDG Media, Inc.
How old were you during your first relationship? Whether it was a hand-holding middle school love, a head-over-heels college moment, or a let's-move-in-together-right-now thing in your late 20s, the age when you first started dating can say a lot about you. Or, at the very least, about the factors that were going on around you.
"Our age during the first romantic relationship appears to be more dependent upon the quality and length of our relationships with our friends during our teenage years than personality factors," licensed psychologist Dr. Danielle Forshee, tells Bustle. "Our personality is not truly formed until adulthood, and even then, can change as the years pass and we have more life experiences."
It is interesting to think about why some folks have relationships while they're younger, while others take more time. But the thing to keep in mind is it doesn't really matter. "There's no right time to get into your first relationship," relationship expert Lily Womble, founder of Date Brazen, tells Bustle. If you're looking for a relationship, put yourself out there, and meet the right person, it can happen at any age — whether you're 18, 25, or beyond.
Below, ages have been broken down into brackets based on common experience. Thirteen to 17 are the teen years, 18 to 24 are the college years or when a person might kick off their career, and 25 to 30 (plus) are the young adult years. Here's what it all might mean, according to experts.