Alexis Bledel Will Be A Season Regular On 'The Handmaiden's Tale' Season 2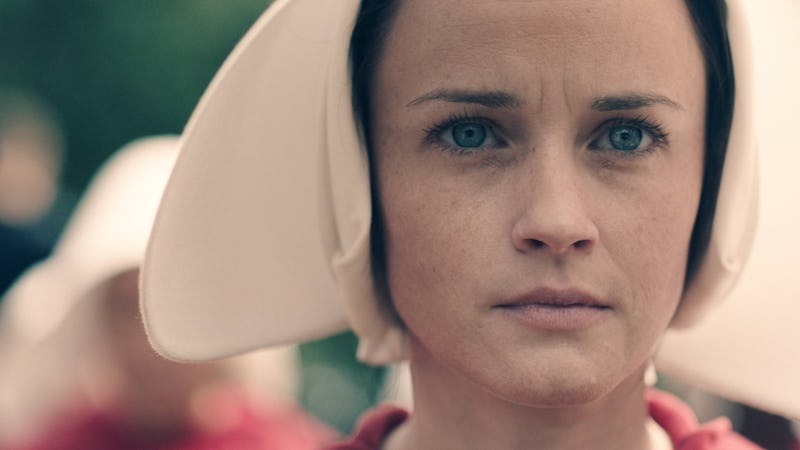 Take Five/Hulu
As if you weren't excited enough about The Handmaid's Tale coming back for Season 2, it's been announced that Alexis Bledel will also be back as a series regular. In a statement, Hulu announced that the actress formerly known as Rory Gilmore will reprise her role as Ofglen in the 13-episode second season, which is scheduled to premiere in 2018. It's been a while since anyone's seen or heard from Bledel's character, who was a guest star in the first season, but it's clear from this casting announcement that Ofglen's still got a lot of story to tell.
Bledel's character has been through some things — and that's an understatement. She started as Ofglen, a woman who seemed very ensconced in the handmaid culture, but she quickly revealed to Offred (Elisabeth Moss) that she was really a spy. She was later caught having an illicit affair with a woman, had her clitoris removed, and was taken out of the Glen home to become Ofsteven.
The last time we saw Bledel, though, was way back in Episode 5. She was going by her real name Emily, and she was being taken away by the Eyes after running over one of them in a stolen car. It's a pretty badass move for her to try and break the boundaries that have been set for the women of Gilead, knowing she could lose her life in the process. But it was also a reckless one.
While it's never clear where they take Emily, the assumption was she was being moved to the Colonies, a radioactive waste dump where they send convicts. Yes, there's actually a worse place than Gilead where women can be sent. No one's seen this place yet, but, with Bledel coming back, it definitely seems likely we're going to go inside this dump next year.
The Colonies feels like one of the missing pieces of The Handmaid's Tale puzzle to understand just what's going on here. It's also a chance to finally see how Bledel's Emily is handling herself after such an epic move. Is Emily able to keep fighting or has she been diminished by her brutal surroundings? Knowing what we already do about her, the latter seems more likely.
Though, it's up to the writers now, since the show has caught up with the source material, Margaret Atwood's 1985 novel of the same name. They have some leeway to tell Emily's story, which is very exciting. Not even Bledel was sure where her character was headed when she spoke with the A.V. Club last month. "They haven't told me what happens to her," Bledel said, "so I'm really eager to find out." She might have been speaking as an actress, but her words could certainly apply to the fans as well.