Why Every Adult Who Cares About Changing The Status Quo Should Be Reading YA Novels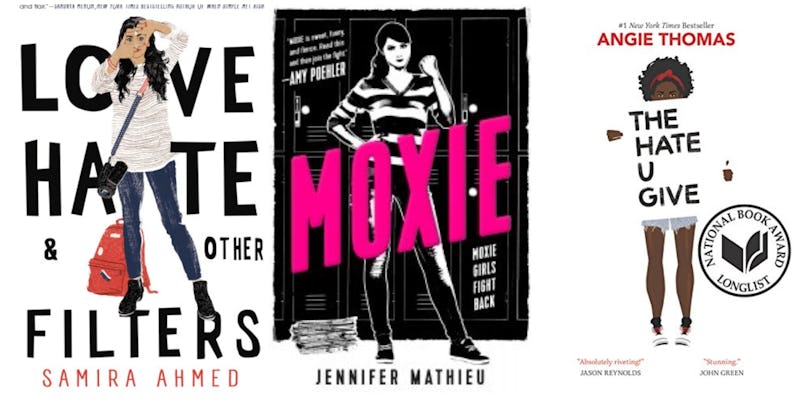 If you don't believe that teen girls are going to change the world for the better, you haven't been paying attention. In recent days, teen survivors of the school shooting at Florida's Marjory Stoneman Douglas High School, including Emma Gonzalez — whose powerful gun control speech has taken the country by storm — are organizing protests, speaking out on social media, and refusing to allow their tragedy to be swept under the rug with the same "thoughts and prayers" mantra trotted out after every mass shooting in America. And as the world's real life teens continue to change the game, empowering young adult heroes in fiction are stepping up to meet them, teaching readers everywhere everything they've ever needed to know about resisting the status quo.
In a time when so many of the adults in power, especially politicians in charge of making our laws, are turning a blind eye to the harsh realities of life in America today — police brutality, racism, sexism, gun violence, homophobia, xenophobia, and lack of mental health care, among so many others — teens are truly leading the way in the fight to a safer, more inclusive world. Teenagers are, more than ever, inspirations for anyone who has ever needed to find the courage to fight back. And, luckily for us, there are plenty of book characters to match.
Do you want to learn more about the devastating personal effects of police brutality, and the strength and courage it takes to stand up to institutionalized oppression? Read Angie Thomas's The Hate U Give, which follows 16-year-old Starr Carter after her unarmed best friend Khalil is killed by a policeman. Inspired by the real world Black Lives Matter movement, THUG has been on the New York Times bestseller list for 50 weeks, a clear indication that Starr's story has struck a nerve with readers who are desperate to side-step the usual media coverage of police shootings in favor of a powerful first person account that can inspire activism in their own lives.
And speaking of inspiring lives full of activism, teens are taking on the #MeToo movement with aplomb, too. Not only have IRL teens been fighting back against sexist policies in their own high schools for years — from rape culture reinforcing dress codes to being underestimated in STEM classes — fictional teen heroines are definitely doing the same. For instance, Jennifer Mathieu's 2017 YA release, Moxie, combines '90s girl power with a more modern, inclusive art-based form of protest to tell the story of Viv Carter, who uses anonymous zines to fight back against the sexist dress codes and hallway harassment running rampant in her small town school.
The list of YA releases with status quo busting teens is too long to list here — Samira Ahmed's Love, Hate and Other Filters, Elizabeth Acevedo's The Poet X and Gloria Chao's American Panda are just three that are being released in 2018 alone — and it is undeniable that YA books and their teenaged characters are proving with every turn of the page that they are bold enough, brave enough, and powerful enough to tackle everything life throws their way — just like their real world counterparts. Teenagers are proving to be unapologetic, unflinching, and unafraid of speaking up for their own futures, helping to create the world they want to inherit.
As an adult, I have found myself looking to teens, and to the YA books about them, more than ever. Not only because they are chock full of the inspiration we all need to speak up and speak out, but because they are full of the hope we need to keep waking up every single day and doing our best to make a difference. Because teenagers are going to change the world. And if you're not along for the ride, well, you're going to get left behind.