Clear Your Schedule, 'Bachelor' Nation: Here's When Arie's Season Premieres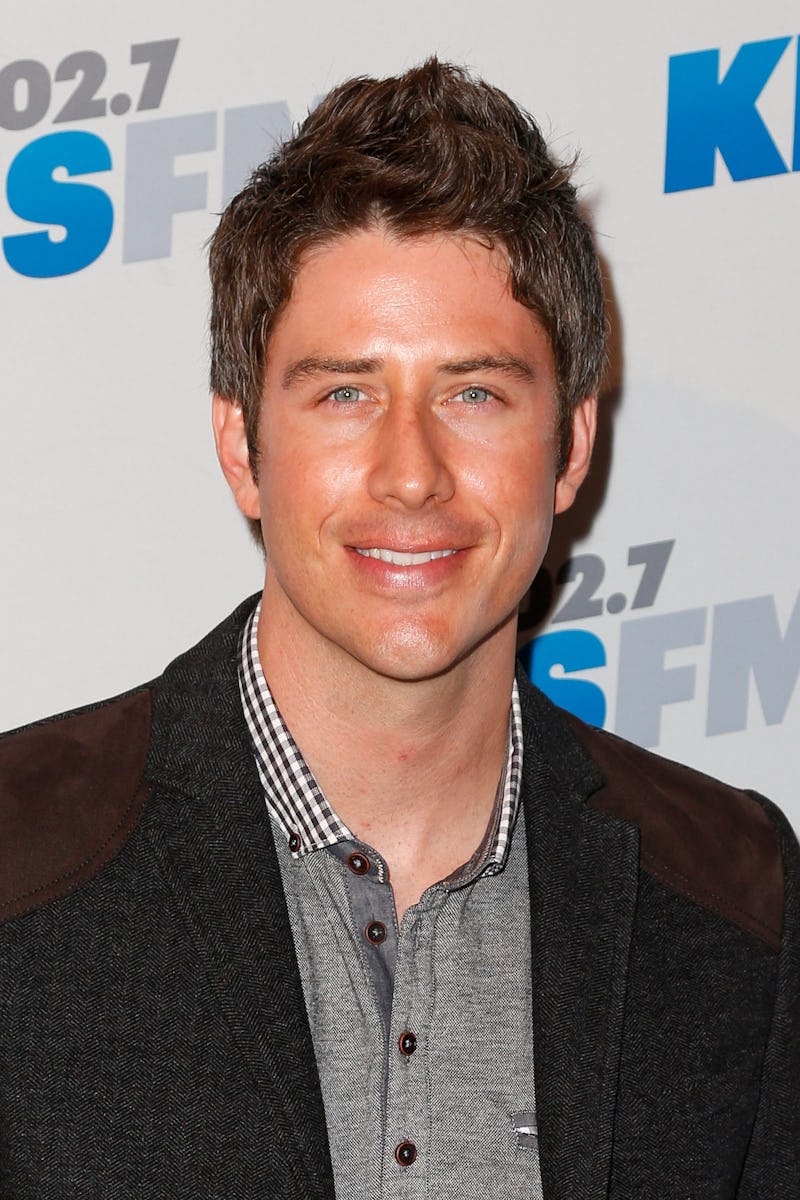 Imeh Akpanudosen/Getty Images Entertainment/Getty Images
If your New Year's resolution is watching even more episodes of TV, congrats — it just got even easier. That's because Arie's season of The Bachelor is helping kick 2018 off right. If you didn't know what time The Bachelor premieres, prepare to get excited and breathe a sigh of relief: The new season starts on New Year's Day 2018. More specifically, it's airing Monday, Jan. 1 at 8 p.m. EST, according to a press release on ABC's site. That means that if you're exhausted from however you decide to ring in NYE, you can plan for a cozy, couch-filled night the following day, as you watch Arie take the stage as the latest Bachelor.
The race car driver has 29 contestants this season, which means your Bachelor bracket will have plenty of names on it. On Friday, Dec. 8, People exclusively revealed Arie's contestants, sending fans into overdrive speculating about who could possibly win. Granted, only basic info is currently available about the ladies — it's unclear what else fans will find out in their bios. People's story included the basics: names, ages, and jobs. Oh, and by the way, there are four Laurens vying for Arie's heart. Yes, you read that correctly: four.
In case you want more deets about what to expect in the premiere episode, there are a few more hints in ABC's aforementioned press release. The network teases some of the ladies' arrivals:
"Some of the ladies bring tokens of love for their Bachelor. Yale graduate Seinne presents Arie with a pair of elephant cufflinks to encourage him to seek her out. Tia, a high-spirited southern woman, hands him a little toy wiener as a souvenir of her Arkansas hometown. But Arie's attention is momentarily captured by the delightful Bekah, who drives up in a cherry red '65 convertible Mustang."
All of that sounds rather, uhhhh, interesting. Oh, and the press release also reveals that only 21 women will continue onto the following episode. That means he'll have a mighty tough decision at the end of the night. But if that sounds like a lot to wrap your head around, don't worry — the episode is two hours and one minute long. A lot can happen in that timeframe.
Plus, a few other Bachelor Nation alums will be making a cameo in the premiere episode on New Year's Day. According to ABC, a Bach success story is stopping by to offer words of wisdom:
"Arie meets with one of Bachelor Nation's favorite married couples, Sean and Catherine Lowe and their son, Samuel, before his journey begins. The two men have been friends since they competed for Emily's heart on season eight of 'The Bachelorette.'"
Basically, fans of Sean and Catherine have one more reason to watch — especially if they want to see the pair's baby. Who doesn't love a baby?
And if Arie's season isn't enough to make you want to camp out in front of the TV this winter, keep in mind that Bachelor: Winter Games are scheduled to air in February and coincide with the Olympics. Alums from the franchise, along with international contestants, are coming together to compete for medals and hearts. It's a whole new territory for the series that often heads out to paradise for its spinoffs.
Between Winter Games and Arie's Bachelor season, you should probably clear your calendar for the entire first few months of 2018. It's honestly the best excuse to find yourself snuggled up in a blanket by your television. And you can bet that the rest of Bachelor Nation will be doing the same exact thing — no judgment.