Lady Gaga's Halftime Show Will Be Epic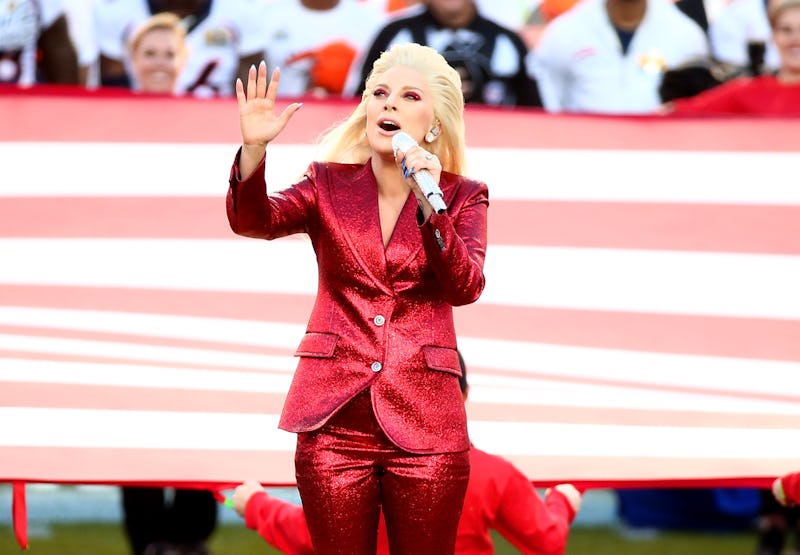 Christopher Polk/Getty Images Entertainment/Getty Images
I'm usually not one for the Super Bowl. Well, let me amend that for you — I'm not one for football. I love nachos, I love eating jalapeno poppers, and I love screaming at everyone to shut up so I can hear the commercials. Living in the golden age of pop music, a Super Bowl halftime show hasn't truly impressed me since *NSYNC, Britney Spears, Aerosmith, Mary J. Blige, et al. did their damn thing in 2001. "Walk This Way," performed by all of my favorite musicians at the time? How could it get any better than that? But no, folks, it is getting better, because Lady Gaga is performing at the 2017 Super Bowl. So, we must answer a very important question: When is the 2017 Super Bowl halftime show?
It's hard to pinpoint an exact time, to be honest, because each 15-minute quarter in football could be like, four hours (I also love hyperbole), or it could be a half hour. In 2012, Bloomberg reported that the previous 20 Super Bowls lasted an average of three hours and 35 minutes. According to SB Nation, Super Bowl halftimes take up roughly 30 minutes of that time. Kickoff of the 2017 Super Bowl is about 6:30 p.m. ET on Sunday, Feb. 5, and the entire first half of the game will take around 90 minutes, bringing viewers to around 8:00 p.m. ET for Lady Gaga's soon-to-be iconic performance. That means if you have a Super Bowl party to go to, you don't have to rush until about the primetime hour. Or you can do what I will do, which is eat dip and play with the dog in the kitchen, popping in when something non-football related happens.
So what can we expect from Lady Gaga's 2017 Super Bowl halftime show? For one thing, not Beyoncé. According to CBS Sports, Gaga shot down rumors that Beyoncé would be popping into Gaga's Houston set (Let the woman prep for her twins and Coachella on her own, OK?). But, Gaga is metaphorically going to be performing with some other rockstars. "I'm going to be taking the spirit of many performers with me on that stage when I go up there," Gaga told CBS Sports. "I'm grateful to have wonderful women in this business that are supportive of me." Judging from the sneak peek that Gaga gave in January 2017, I'd say we're in for a great show.
Though Beyoncé probably won't be there (no "Telephone," I guess, then), here are a few things that I think Gaga will bring to the 2017 Super Bowl halftime show.
No Meat Dress
Suffice it to say that Lady Gaga has moved on from her days of wearing food to performances and shows. Gaga's latest album, Joanne, was so stripped down, and, before that, she was working with crooner Tony Bennett, so I think that while the show will be a spectacular, it won't get that wacky.
Tony Bennett
Speaking of Tony Bennett, how amazing would it be to see the legendary singer onstage with Gaga at the Super Bowl? Entertainment Weekly is reporting that may be the case, as a teaser tweet by a Lady Gaga fan said to expect a countdown video with Bennett in it. Bennett also tweeted his support to Gaga… hmm. Come on, Tony! We're all waiting for ya.
Sky High Performances
CBS Sports reported that Lady Gaga wanted to perform on the roof of the NRG Stadium in Houston. Houston, do we have a problem here? Because while that sounds awesome, it also sounds unsafe, and it makes me worry about my Gaga. Be careful, girl.
No matter if you're a Falcons or a Patriots fan (or neither!), one thing is for certain — Lady Gaga can perform a Super Bowl halftime show to unite us all.