What To Do If Your Friend Is In An Emotionally Abusive Relationship, According To Experts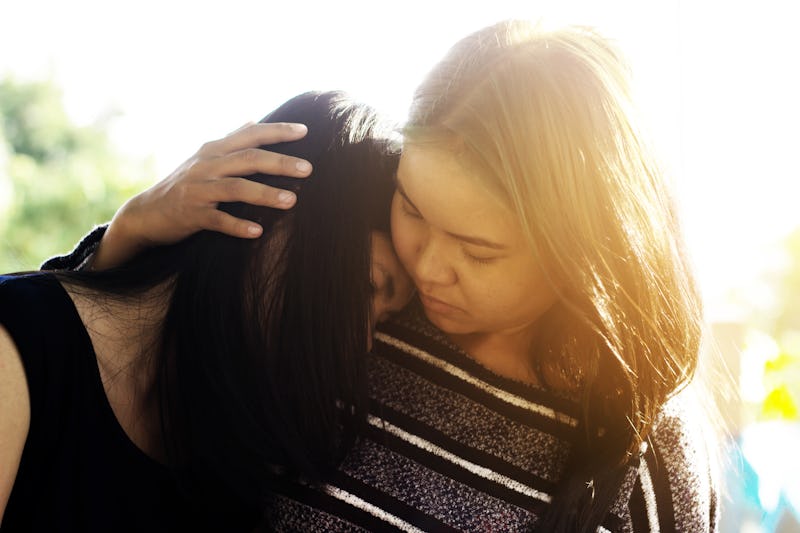 chainat/Fotolia
When you know your friend is in an emotionally abusive relationship, it can be pretty tough to figure out what you should do. Obviously you want to help, but you never know if what you're saying is the right thing or if it's somehow making things worse. For instance, sometimes people just like to vent with zero intention of actually leaving or confronting their partner. Saying something negative like, "Leave them. They suck," can actually backfire on you and put your friend on the defense.
According to psychotherapist, Karen R. Koenig, M.Ed., LCSW signs of emotional abuse include being controlled, name calling, chronically trying to undermine your self-trust, isolating you from friends or family, putting you down, gaslighting (lying or misconstruing facts to make you think you're crazy), needing to be right all the time, blaming you for things that he or she did, and purposely shaming you in private or in front of other people. So what should you do if your friend is in an emotionally abusive relationship?
"This is a tough one because it also depends on your relationship with this friend, such as how long you've known each other and the level of the friendship," Nicole Zangara, LCSW and author of Surviving Female Friendships: The Good, The Bad, and The Ugly, tells Bustle. "However, if you are concerned about your friend being in an emotionally abusive relationship, your first step would be to talk to them about these concerns."
While they might get defensive or angry at you, Zangara says, it's always worth a try. "At the end of the day, your friend may choose to stay with this person, but if you feel very strongly about the relationship, you should speak up."
Voicing your concerns is the obvious first step, but you want to find the best way to do it without crossing any boundaries. It is your friend's relationship and life, after all. And aside from just talking it out with your friend, what else can you do? Well, according to experts, here are some things you can do if you know your friend is in an emotionally abusive relationship: