This Is EXACTLY What To Say If You Want A Raise, But Aren't Sure How To Ask For One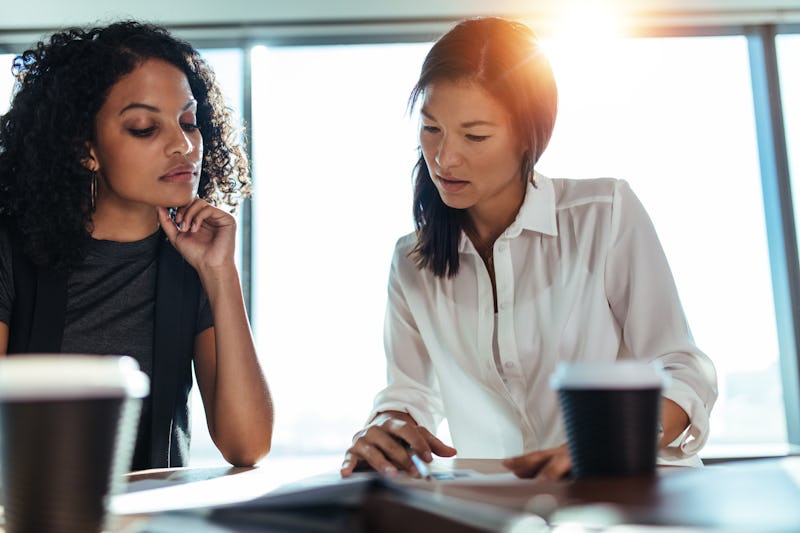 Jacob Lund/Fotolia
You may have a job you love, though it may also come with some challenges, such as office politics or having to work a lot of overtime. While you don't think those are too big a deal, something else may be — asking for a raise. You flash back to your initial interview with the company, when they said you'd be eligible for a raise at the one-year mark after your annual review. However, perhaps it's been more than a year and you have yet to broach the asking-for-a-raise topic. Well, you're probably not alone. If you are not sure how to go about it, knowing what to say if you want a raise will make things much easier.
"Women typically are much less likely to ask for a raise, because they're afraid of seeming difficult or less likable (and research shows that women who negotiate are actually perceived as less likable, so this is a rational fear)," Emily Shutt, ACC, Money Mastery Coach, tells Bustle. "However, negotiating your salary throughout your career is crucial to closing the gender wage gap — whether you see it as a 'necessary evil' for the good of womankind or as an opportunity to develop confidence in your ability to articulate your value in the workplace — it matters." Shutt also says asking is worth it, as it often results in getting the raise.
"What most women don't realize, but research supports, is that in the majority of cases women who ask for raises do get them; they just ask for them way less often, and that's the problem," she says. "While there also needs to be a cultural shift around how we perceive women who negotiate, by failing to do so for fear of seeming less 'nice,' we shortchange ourselves financially (and emotionally) long-term, and only add fuel to the fire of wage inequality in the workplace."
Like Shutt says, the key is asking in the first place. If you want to know exactly how to prep and what you should say if you want to ask for a raise, here's what some career and finance experts advise.