Not Every Midterms Candidate Who Wins The Most Votes Will Clinch Their Race — Here's Why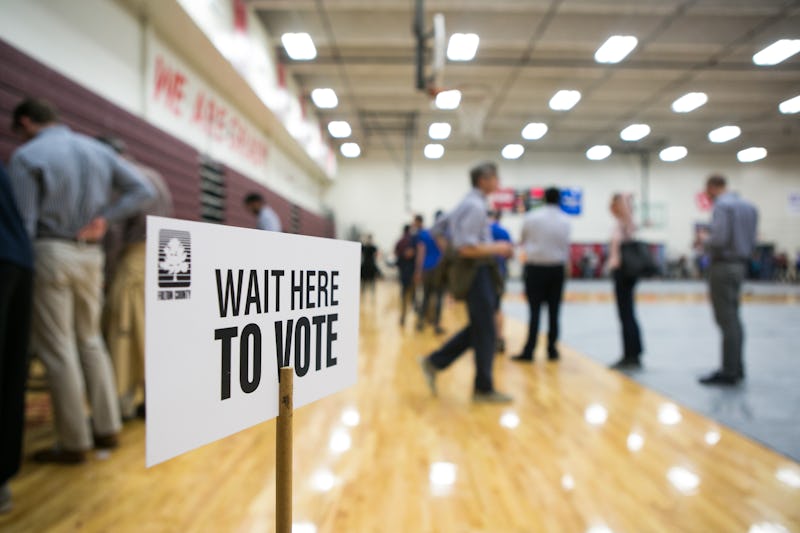 Jessica McGowan/Getty Images News/Getty Images
As the polls closed on Tuesday, it became clear that many candidates across the country had made history. However, not all races were decided on Election Day; in some states, a candidate's inability to obtain more than 50 percent of the vote can be what triggers a runoff election, thereby delaying the finalization of election results.
In some states, a simple majority is sufficient to take home a victory. In others, however, a candidate must obtain more than 50 percent of the vote to win a race; if they don't, the top two candidates must face off again in a runoff election. For example, Mississippi voters don't yet know whether Democrat Mike Espy or Republican Cindy Hyde-Smith will be their next senator; neither candidate managed to obtain the minimum 50 percent, per The Washington Post. According to Vox, Espy and Hyde-Smith will run for the Senate seat again later this month.
Mississippi was not the only state with a race too close to call on Election Day. According to the Atlanta Journal-Constitution's Greg Bluestein, Democrat Stacey Abrams has not yet conceded to Republican opponent Brian Kemp because she believes the Georgia gubernatorial race could be headed for a runoff, especially after all of the mail-in ballots are tallied. According to Politico, both Abrams and Kemp prepared for the possibility of a runoff ahead of Tuesday's midterms.
The Louisiana secretary of state election is also headed to a runoff; Republican Kyle Ardoin and Democrat Gwen Collins-Greenup beat out seven other candidates on Tuesday, and will compete against one another in a runoff election on Dec. 8. And in Arkansas, where candidates only need 40 percent of the vote to win, Baker Kurrus and Frank Scott Jr. will advance to a runoff in Little Rock's mayoral election after neither candidate was able to meet this threshold.
Other states that call for runoff elections — such as Alabama and Texas — likely will not need to resort to runoff elections this year. One Texas race drew the attention of voters across the country: Democrat Beto O'Rourke's attempt to unseat Ted Cruz and take over his spot in the Senate. The New York Times and the Associated Press have both called the election in Cruz's favor. Although it was a narrow victory, Cruz managed to win just over 50 percent of the vote, which means that a runoff election will not take place.
Although some races remained too close to call after the polls closed on Tuesday, CNN, NBC, and CBS all reported that Democrats had managed to retake the House of Representatives. Republicans managed to retain and expand their majority in the Senate, but a Democrat-controlled House could pose legislative hurdles for Trump, who will likely struggle to pass key policies through Congress as a result.
Tuesday's midterm elections also yielded some historic results, despite some closely-watched races resulting in either incumbent victories or runoffs. Alexandria Ocasio-Cortez became the youngest women ever elected to Congress, while Sharice Davids and Deb Haaland became the first Native American women ever elected to Congress. Jared Polis became the first openly gay governor in the United States, while Rashida Tlaib and Ilhan Omar became the first Muslim women elected to Congress. Many candidates across the country represented historic firsts, even as other races remained unclear.