Hold Onto Your Hats, Meghan's First Birthday As A Royal Is Going To Be Legit AF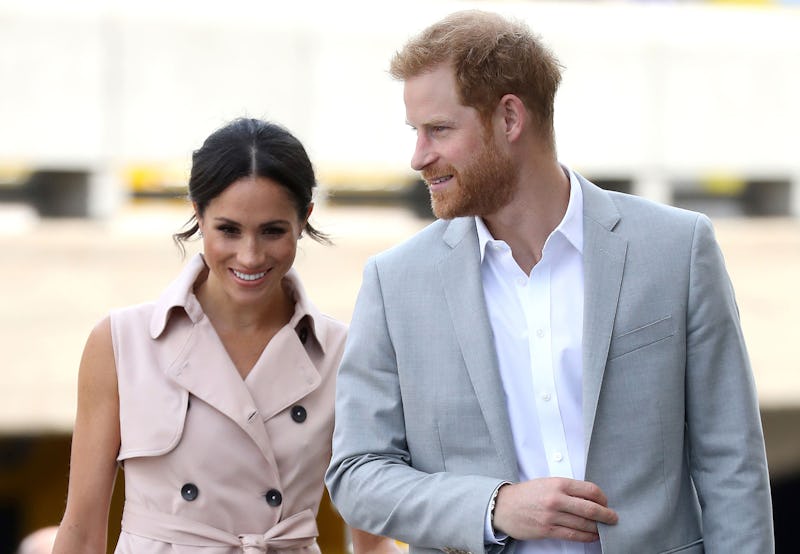 Chris Jackson/Getty Images Entertainment/Getty Images
Buying presents for your significant other is always a bit tough; how big do you go? Is booking a holiday too far? Now, imagine your other half is the Duchess of Sussex. It can't be easy getting her a gift, even if you are a royal. So, what will Prince Harry get Meghan Markle for her birthday on Saturday?
It's difficult to think of what to get the girl who has just about everything. A toiletries gift set doesn't seem to quite cut it, and she's already had the party of the year/decade (the royal wedding) just a few months ago. So, honestly, how can Harry possibly top that? I decided to ask royal expert Ingrid Seward to find out what we might expect from the prince. She tells me: "They almost never discuss what they are given for personal presents." However, we can get a rough idea of what might be in store by looking back at what Harry has previously gifted Markle.
Last year, the prince set the bar for himself pretty high for Markle's 36th birthday. "He got her a painting," Seward tells me. The piece in question was actually one he had selected himself from Walton Fine Arts Gallery in Kensington, according to People.
A local art collector told the magazine: "[Harry] was in the gallery for a little while and liked a few things, then settled on the Van Donna. He said he was looking for something for 'an important person.' It was literally just before anyone heard about Meghan — literally just days before it was announced he was going out with her."
The work Harry reportedly bought for Markle is titled Everybody Needs Somebody To Love, and was created by artist Van Donna. It comprises two panels; one features the title of the painting, while the other displays a stencil of a boy and girl walking together, holding hands.
But Harry didn't stop there. It is rumoured that the Prince decided to take Meghan on a trip away to Botswana as well. A source told People that the couple stayed in a private lodge in Livingstone near Victoria Falls. Also, remembering that Markle's favourite film is The Italian Job, the Daily Star reports that Harry splashed out £31,000 on a Mini to surprise the duchess.
But what about the other royals? What kind of gifts does Prince William give to his wife Kate Middleton on her birthday? Well, over the years, she has been treated to some amazing presents. If diamonds are a girl's best friend, Middleton is definitely a popular gal. One of the first presents the future king treated his wife to was a rose-gold ring, reports Grazia.
We know that in the past, Harry hasn't been opposed to buying Markle some jewellery. He's previously treated to her some incredible pieces, including a bracelet he brought back from Botswana, according to Pop Sugar, and a gold band which she wore around her thumb before he popped the question, according to Aol.
If Harry wanted to take a leaf out of his dad's book, then Meghan may be whisked off on holiday for her birthday present. Camilla, the Duchess of Cornwall, spent her 71st birthday on the Isle of Scilly last month, reports the Daily Mail. Whist fulfilling some royal duties, Charles organised an intimate dinner, greeting her with a beautiful birthday bouquet and delicious cake.
Well, there's just a few hours to go until Markle turns 37. This birthday will of course be a special one as it'll be her first birthday as the Duchess of Sussex and as a member of the royal family. Of course, it'll also be her first birthday as Prince Harry's wife, so I'm sure he'll be going all out to celebrate the occasion.
Perhaps another painting is on the cards, or maybe he'll treat his new wife to a piece of jewellery. Or possibly, he'll be whisking Markle away on a luxury holiday given that the couple have two months off.
The one thing we can be sure of, given the prince's proven track record, whatever Markle receives from her new husband, it will be well thought out and beautiful.