Here's The Major Difference Between A "Normal" & A Satisfying Sex Life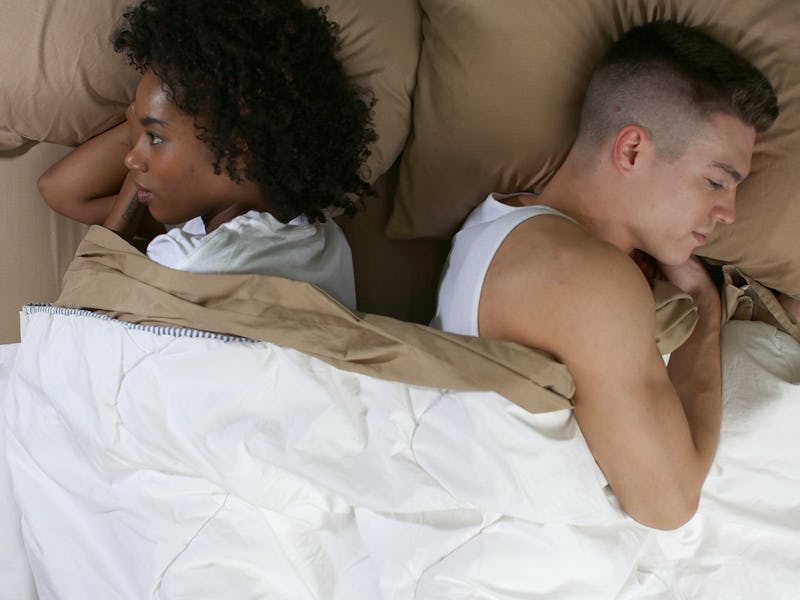 Ashley Batz/Bustle
In this week's Sex IDK column, Emma McGowan, certified sex educator and writer, answers your questions about how often people are *actually* having sex.
Q: What is a normal sex life for long-term partners in their early 30s? I am in a very dry spell and I am afraid we will never get out of it…
I want to start by saying: Everyone thinks their sex life is not "normal." And that's because it's not! What works for one person probably won't work for another person. Some couples do it five times a week; some do it once every two months; some never do it at all. Are any of those normal and better than the others? Objectively, no. Are there averages? Sure. But no human life or lived human experience is actually average.
So, reader, before we dive into the specifics of dry spells (and how to get out of them), I want to encourage you to stop comparing your sexual experiences or sex drive to those of other people. Instead, let's ask this question: What kind of sex life do my long-term partner and I want in our early 30s?
See how that reframing takes you out of a self-judgmental zone and into a meeting-my-and-my-partner's-needs zone? The second one is a much more comfortable place to sit. But just because there's no "normal," doesn't mean there's no "this is a problem." And because you're asking this question in terms of "getting out" of this dry spell, it sounds like it might be a problem for you, your partner, or both. So here are a few steps to take to figure out how to get back to a sex life that works for you and your partner.