Dean's Post-'Bachelorette' Life Is So Good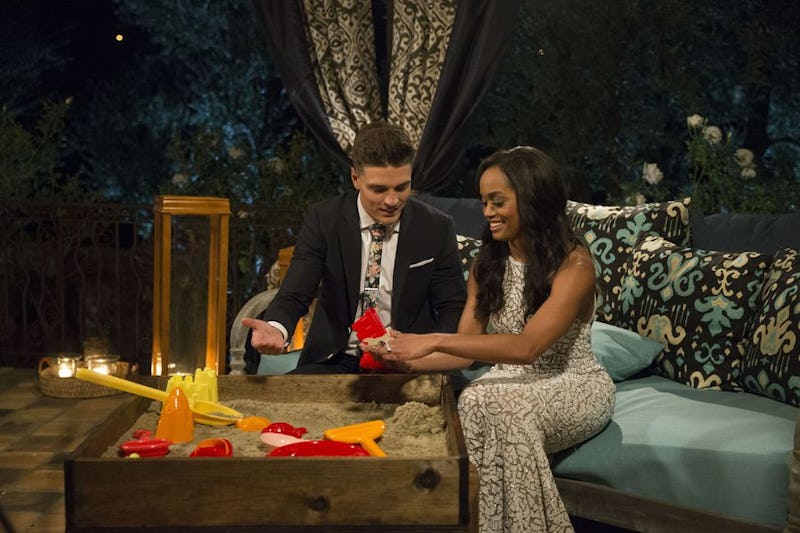 Paul Hebert/ABC
Sweet, sweet Dean is too good for this world on The Bachelorette. That smile, that youthful charm, that hair — he's a gem in a field of nice, but slightly boring rocks. I know that filming on The Bachelorette is over and everyone has long gone home (and Rachel is engaged). Fans don't yet know if Dean is the one who put a ring on Rachel's finger, but I hope that, after The Bachelorette, Dean has been living his best life.
Dean came out strong on Rachel's season — he was one of the handful of men that got to meet Rachel on Nick Viall's After The Final Rose, and though he made a very unfortunate "once you go black you never go back" joke, he recovered when he got to the house. (For the record, Rachel has repeatedly said on The Bachelorette that she didn't mind the joke.) In any case, Rachel and Dean's first one-on-one date was, like, my ideal date. It started off with them drinking champagne on the back of a truck tailgate in the middle of a field, and then a blimp landed (seriously) and Rachel and Dean got to sit in it and even fly it. Dean happens to be extremely fearful of heights, so he even overcame an obstacle during their date. Then, they had dinner and he spoke at length about the death of his mother and how it's affected everything in his life since, and it was a truly heartbreaking and vulnerable moment.
Basically, it doesn't matter whether it's on television or happening to you — when a first date is good, it's just good. So, while I wait to find out the fate of Dean and Rachel's love affair (fingers crossed for old Deanie baby, as his IG handle calls him), let's journey over to his Instagram and see what he's doing now — perhaps it will provide a clue as to whether he's still with Rachel.
He's Spending Time With His Bachelorette Family
Dean is embracing the Bachelor Nation family and all of his new friends. Whether he leaves with love or not, at least he has some BFFs.
Sharing Personal Memories
When Dean and Rachel talked about his mother and her death, Dean admitted that he had never really shared the story with anyone else. But this confession seems to have been a floodgate or sorts, because Dean said on Instagram that he's been inspired to talk about his mother more with his friends and family.
Loving His Dog
As a dog person, I find it especially wonderful when a man I'm interested in also has a dog. It's a cute guy and a cute animal all rolled up into one delightful package. Dean is no exception here — he loves his pup, Nala, and his Instagram has plenty of pictures of the two of them hanging out.
Dancing With Ellen DeGeneres & Will Smith
This happened while he was filming the show, but it's too good not to mention.
Television romance or not, Dean's life after The Bachelorette is looking pretty good.