A Selena Gomez x Puma Collaboration Is Happening & Here's Every Single Detail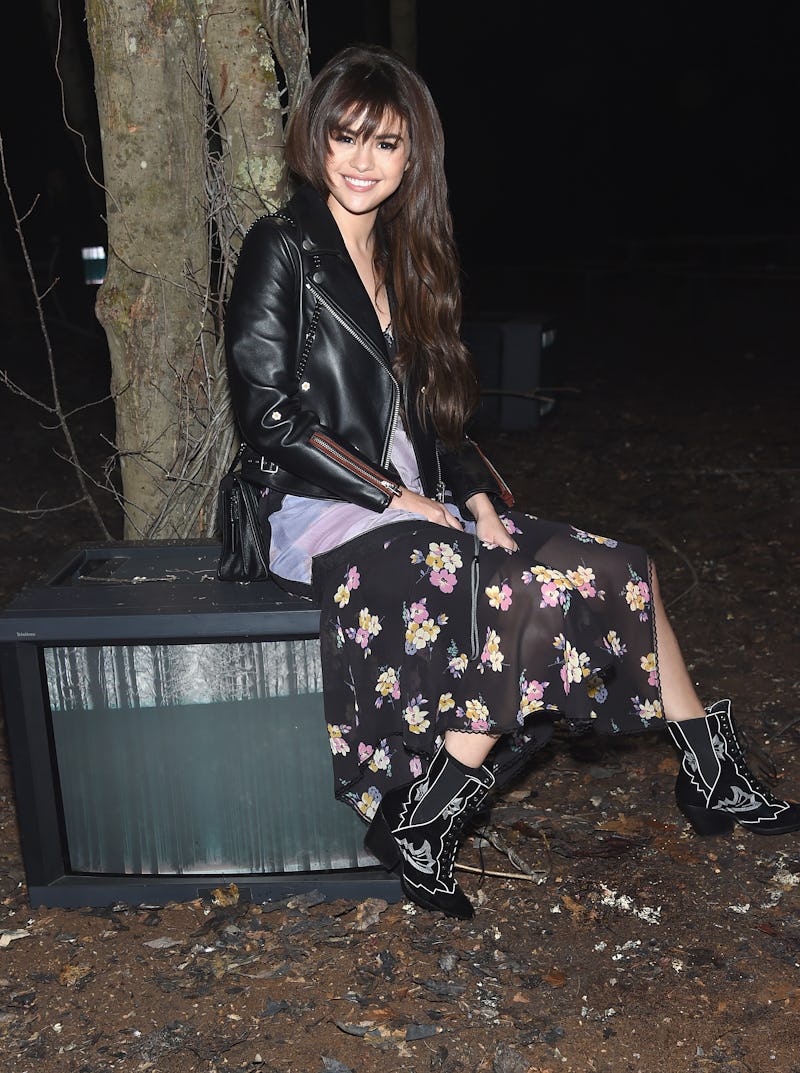 Jamie McCarthy/Getty Images Entertainment/Getty Images
Selena Gomez is multi-talented. She's an actor and a musician, but lately, she's been adding another feather to her cap: designing. Her most recent work? The Puma x Selena Gomez collaboration. The Wolves singer partnered with the athletic brand to bring fans a sneaker and sock that is the perfect combination of casual yet glam, and it's the perfect turn for the budding designer.
Puma isn't the only brand Gomez is working with, though. She may be most well-known for her work with Coach. She's not just a spokesperson, though (even though she makes a great one). Back in August of last year, she designed her very own handbag called Grace with Coach, and only a few weeks ago, it was announced that she would be expanding her work with the brand into a ready to wear line. Clearly, those designing chops are going to get a work out with the luxury bag soon.
Now, on the other side of the spectrum, she's partnered with Puma. What's in their collaboration? It's a glam meets casual, all-white sneaker with gold accents that she pairs with an ultra-stylish, window pane sock. While it may not be what you'd expect from Gomez, it's also somehow totally her.
There's another cool feature of Gomez's Puma design. It's got a removable ankle strap, but it's not just any design. Included on the strap is a super chic and dressed-up golden chain. If you don't want the little extra bit of glam with your shoe, you can take it off. It's no wonder the shoe is called the Phenom Lux, right? A gold chain definitely reads luxury.
If you're already in love with Gomez's creation with Puma, you won't have to wait long until you can get your hands on the design. According to High Snobriety, the collaboration is set to come out on Apr. 6. You've only got a little over a week until you can rock the Puma just like Gomez. As for pricing, the sneakers will retail for $110.
The shoe isn't just a design credit for Gomez, though. It's got a much more personal meaning. According to Vogue, Gomez plans to donate $100,000 of the shoe's proceeds to the Lupus Research Alliance. It's a fitting choice for two reasons. The first? Because according to the magazine, she actually wore sneakers after walking the carpet at a benefit for the organization. The second? Gomez's own battle with Lupus.
Gomez announced her Lupus diagnosis in Oct. 2015, and since then, she has been outspoken about living with the disease. In 2017, she announced that she'd had a kidney transplant due to complications from her lupus. It was her friend and Grown-ish star Francia Raisa was her donor, and they've both spoken publicly about the procedure and their close friendship.
Fans will know why Gomez is donating, but what exactly does Lupus Research Alliance do? According to their website, the organization was "created to improve treatments for lupus while advancing toward a cure. This effort includes raising funds and advocating on behalf of the lupus community in the public policy arena." It's a perfect fit for Gomez and her clear passion for advancing research and awareness about the disease.
If you love Gomez, can't get enough Puma sneakers, or just want to support a great cause, the Puma x Selena Gomez sneaker and sock will be perfect for you. With only a little over a week left until their debut, it's time to mark your calendar, get your wallet ready, and wait until you can get your hands on those fab, gold chain accented sneakers.