Kendall & Kylie Just Quietly Launched A Secret Lingerie Line You're Going To Want To Shop ASAP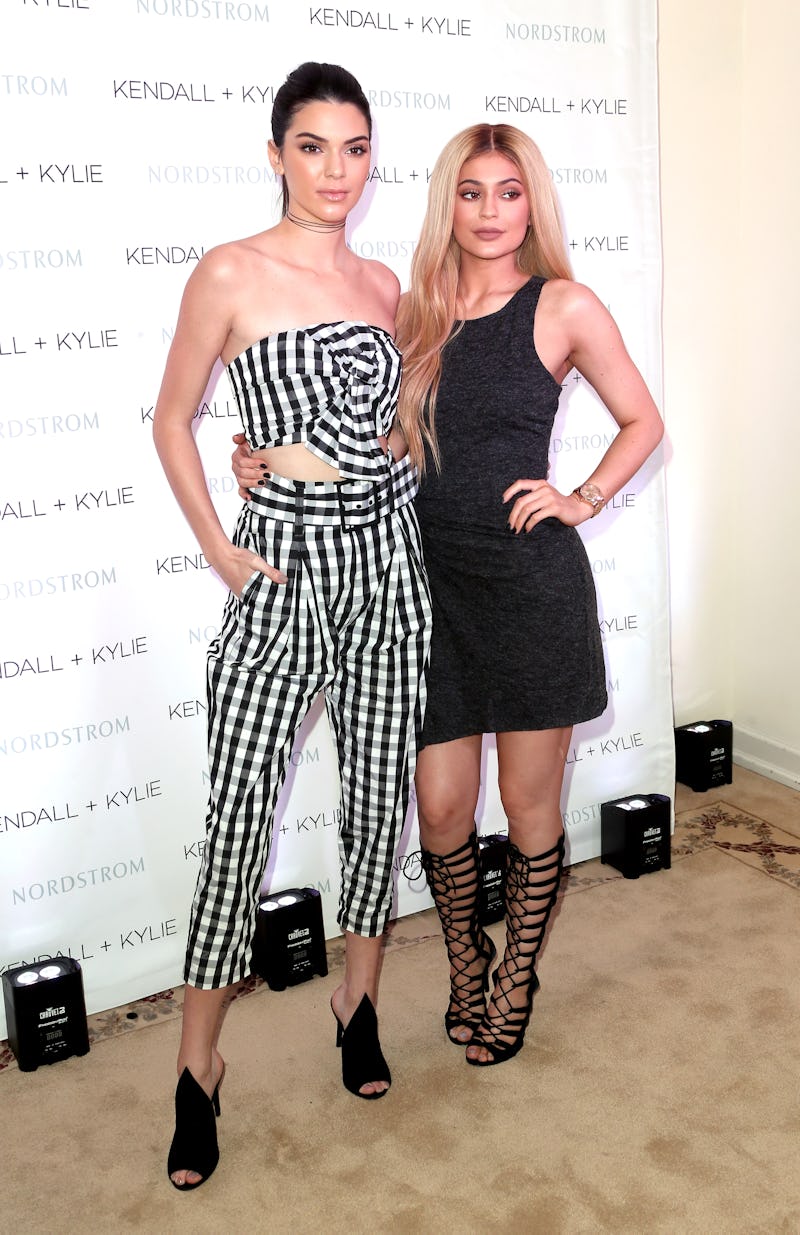 Frederick M. Brown/Getty Images Entertainment/Getty Images
The Jenners are no strangers to the fashion world. The sisters are constantly shocking their fans with their outfits and new clothing collections, but this time is unlike any other. As Cosmopolitan found, Kendall and Kylie launched a secret lingerie line. The collection is out right now, despite the two not posting a single announcement on social media. The line itself is all about mentioning your unmentionables.
Even if you've been keeping up with the Jenners on all their social media platforms, there's a good chance that you might have missed this launch. The women silently created a 37-piece lingerie line and simply waited quietly for the world to find out.
Although the brand name is similar to their already existing line, Kendall + Kylie Lingerie is a separate section of the TopShop site than their Kendall + Kylie clothing line. There are more similarities than the name though. The lingerie is meant to be shown — worn as clothing instead of hidden under clothing.
"Beautiful lingerie shouldn't be completely hidden under clothes anymore," Kendall and Kylie Jenner said, according to the website.
The once-secret collection is filled with a selection of mesh and satin bras, underwear, and shorts. It also includes a completely mesh "catsuit" and a "sweatshirt" made of the see-through material as well. Add to that a handful of lace and you have a wearable, but statement making, lingerie line like no other.
Kendall + Kylie Mesh Sweatshirt, $90, topshop.com
Despite the outfits being almost, and in some cases completely, see-through, the price is the same as some of their clothing items. The lowest that the collection goes is $30 for the lacy thongs and gets as high as $160 for the mesh and lace one-pieces.
Although it is branded as a lingerie line, the sizing sticks to that of their traditional clothing. Instead of offering different cup and bust sizes, the brand carries each piece in extra-small to large. That's not exactly the most inclusive, but neither is their clothing line.
As of Oct. 11, the Kendall + Kylie Lingerie line is only carried on Topshop's website. Considering the high price and the unconventional wearability of the line, something tells me that you'll have time to stock up.
Kendall + Kylie Plunge Body, $140, topshop.com
The Jenners have yet to post anything on their social media platforms about the new launch, which is odd considering how they love to wear and promote their Kendall + Kylie label. The launch comes right smack dab in the middle of the Kylie Jenner pregnancy rumors, so that could be why the sisters have chosen to stay quiet. As of Oct. 11, Kylie has yet to respond to rumors.
There has also been recent controversy with multiple launches from the Kendall + Kylie. The brand was called out by Kat Von D as well as many other on Twitter for culturally appropriating chola style. They were also bashed for using Chinese takeout boxes as handbags in their previous collection. It's possible that they decided to avoid all the drama by slipping this launch under the rug and letting their fans find it themselves.
Bustle reached out to the brand for comment.
Kendall + Kylie Satin Shorts, $90, topshop.com
Of course, it's not a complete surprise that the Jenner combo decided to launch their very own lingerie line. They're constantly styling their outfits to revolve around their lingerie — and letting their undergarments be shown.
There's a good chance that this isn't the last time we'll see lingerie in the Kendall + Kylie Collection. But let's hope that next time more inclusive sizes will be part of the line.