Target SUGARFIX By BaubleBar Is All Accessories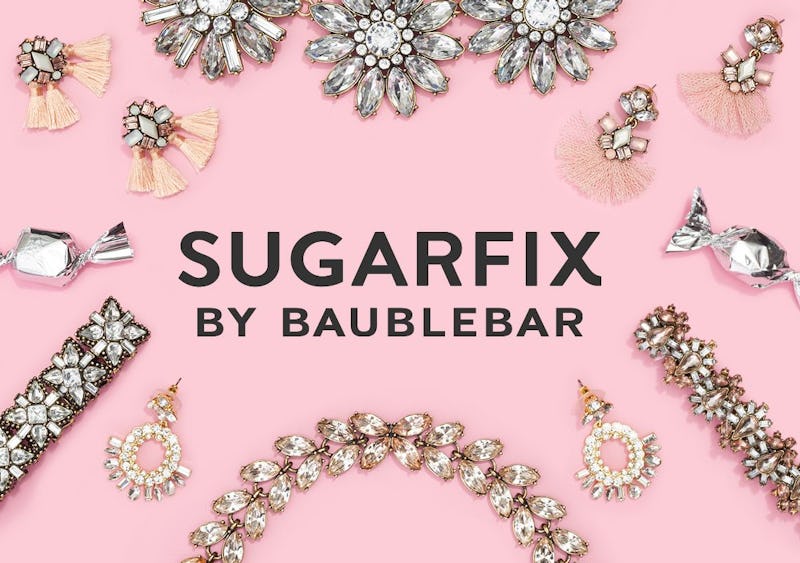 I absolutely love Target collabs. The retailer has always been ahead of the curve when offering high x low mashups. Its latest collab is the Target SUGARFIX by BaubleBar partnership. I know that's a mouthful, right? But it's so worth it.
The Target SUGARFIX by BaubleBar collab is the latest in a long line of fashion hits for the big red bullseye. I loved Target's Go International program, which saw brands like Rodarte, Erin Fetherston, Jovovich-Hawk, Libertine, and more create affordable clothing capsules, bringing high fashion to the masses. The company has added loads of premium skincare brands, like Nuxe, and a range of K-beauty faves curated by Peach & Lily, to its beauty aisles. Target is also in the middle of a several season collab with Who What Wear, which is primo. I'm stoked that the retailer is stepping up its accessories game with this collab. So, what's in the SUGARFIX by BaubleBar jewelry range?
Well, according to Women's Wear Daily, it's a new collection featuring necklaces, earrings, bracelets, and rings. Therefore, it's stacked with stuff and you can pile on loads of outfit-accenting pieces. Bustle reached out to Target for further details.
Refinery 29 also reports that new collections will launch monthly, as it's an ongoing and long-term collab in which Baublerbar will design the pieces and Target will sell 'em.
I am loving everything about this.
Target x Sugarfix by BaubleBar will be available both online at Target.com and in stores as of Tuesday, Jan. 31. The landing page on the Target site shows off some statement necklaces, like this floral-inspired piece.
I've only seen a handful of pieces and I'm already OMFG'ing.
These accessories are so appropriate for spring formals like prom, summer weddings, and beyond.
Refinery 29 also reports that the average SUGARFIX by BaubleBar pieces will cost $15.
These pieces will make such an impact for any outfit and each collection will be different from the last.
Mark your calendars.
Images: Courtesy of Target (8)