Too Faced's Newest Scented Makeup Collection Sparkles & Smells SOOO Good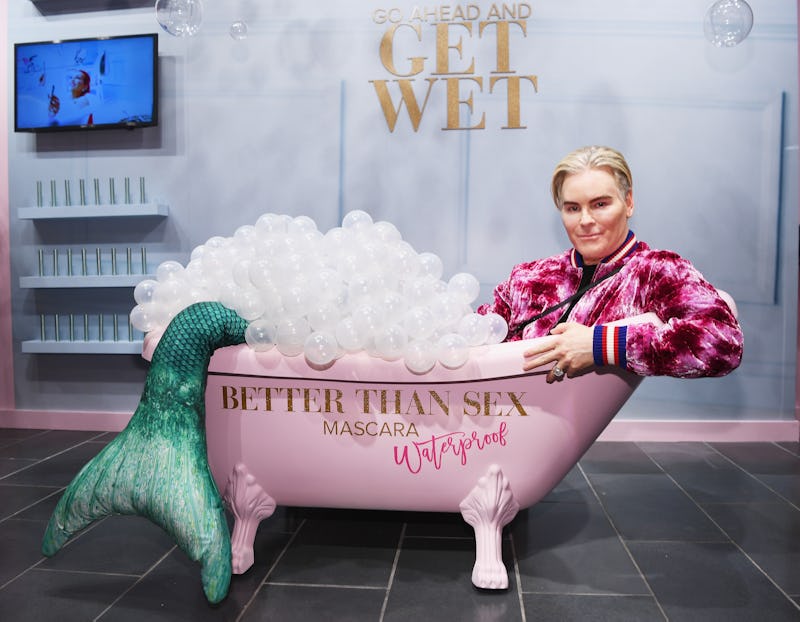 Dave Kotinsky/Getty Images Entertainment/Getty Images
Scented makeup is one of the top trends of 2018. From the Maybelline Lemonade Craze eyeshadow palette, which smells like lemons and sold out online in an instant to L'Oreal's delish, chocolate-scented matte liquid lippies, olfactory-stimulating makeup is such a thing. Too Faced is launching fruit-scented makeup at Ulta this year, according to a "sneaky peek" provided by brand founder and creative director Jerrod Blandino on his personal Instagram feed.
Blandino shared an image of Tutti Frutti products that look like palettes. The exact nature of the products is censored with a thick black line. So he doesn't give away all of the essential intel just yet.
But you can see the item in the top left corner is a duo, while the pineapple product in the center looks like a palette. Notice it says "Sparkling," so perhaps there is a lot of shimmer under the hood of the packaging. Anything is possible.
But Blandino's tease was incredibly effective. It has fans super excited about what's next for their lids, lips, cheeks, and, well, noses.
In the caption, Blandino noted that it's an entire line, it's fruit-inspired and scented, and that it's coming to Ulta. Bring that sparkle. He didn't say what, when, or how much — yet.
You can see raspberry and cocktail-inspired scents, as well. Too Faced is making it so easy to stop and smell the makeup!
Sweetly-scented products are not new for the brand. In fact, Too Faced has built its reputation on yummy makeup. It has launched Chocolate Bar Palettes, its entire Peach range, which started with a palette, the Peanut Butter & Jelly palette, and many other products through the years and especially during the holiday seasons. Those have tickled our noses and stimulated our senses of smell. Nothing wakes you up like a whiff of chocolate or macaroon in the morning while you swipe some shadow on your lids. It's a beautiful and easy way to inject a dose of fun into your daily makeup applying routine.
The runaway success of the Peach Palette — Too Faced struggled to keep it in stock — proves that Too Facers love the brand's approach to scented makeup. Since scent is so closely tied to memory and because inhaling a waft of pineapple or or cherry or orange in the morning has the ability to lift your spirits and your mood, this Too Faced Tutti Frutti range feels like a home run.
Fans are already expressing their approval of and excitement for this collection in the comments of the post.
The scented makeup trend that has dominated 2018 does not appear to be slowing down. Lemonade Craze has been a monster hit. Maybelline also has a Soda Pop palette on the way, which Gigi Hadid debuted at the the Met Gala.
Beyonce wore the aforementioned L'Oreal chocolate matte lippies at her now-infamous Beychella performance in April. These lippies legit smell like ooey, gooey, melted chocolate in nudes and neutral shades. They "feel" good enough to eat.
CoverGirl dropped both peach and chocolate-scented eye palettes, bronzers, and blushes earlier this year.
Lip brand Bite Beauty, which is sold at Sephora, is dropping its French Press lip gloss collection. Those smell like — wait for it — coffee.
These glosses should certainly provide a caffeinated boost when you swipe it across lips.
And coming full circle, Too Faced is working on a 20th anniversary collection that is a throwback to its earliest days of makeup dominance. Those products are being engineered to smell like birthday cake. Since it's the brand's bday, it makes sense that the celebratory products are cake-like.
Makeup already inspires a user's creativity, thanks to the colors and textures. Where and how you apply it on your face and features is a demonstration of artistry. Cosmetics automatically impact sight and touch. They can tingle the sense of taste at times. Now they are tickling the sense of smell more often that not.
Makeup that is full service and stimulates most of the senses is always a "do."