This Evicted Houseguest Is Still Weighing In On 'Big Brother' Drama From Afar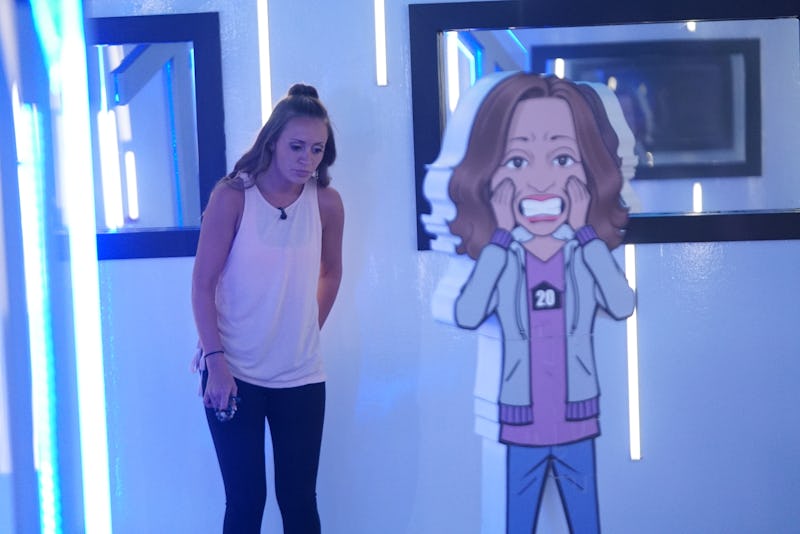 Sonja Flemming/CBS
While Big Brother 20 is still delivering shocking twists at every possible turn, there's an absence in the house that feels larger than most. Kaitlyn, who was the fourth person evicted from the Big Brother house this season, was a powerful presence in the house and could go down as one of the most memorable contestants that the series has ever seen. The house has been quieter without her around, but just because Kaitlyn has been evicted from the house doesn't mean she's not staying involved in the season. Since leaving the Big Brother house, Kaitlyn has been commenting regularly on the events of the season, interacting with fans, and explaining some of her own actions from her time in the competition. And it looks as though she's taking on new clients for her life coaching business too.
If it weren't for Kaitlyn, Big Brother 20 would've gone much differently. Kaitlyn was the deciding vote in the season's very first eviction, shocking everyone by sending home Steve instead of Sam — and beyond that she was partially responsible for the eviction of Swaggy C and Winston before her. She helped Tyler become the seemingly unstoppable juggernaut he currently is, and may have sabotaged the FOUTTE alliance from the very beginning. She also drew criticism when, according to Us Weekly, she was shown on the live feed using the n-word while quoting a Drake song, after CBS issued a language warning to the houseguests. Bustle has reached out to the network for comment about the slurs used on camera, but has not received a response.
Still, while other competitors may still be playing, they're playing a game that Kaitlyn helped shape, making it especially interesting to hear what the life coach's thoughts on the season are. Here's what she's had to say so far:
She Apologized For "Hurting Others"
In her first tweet after getting evicted, Kaitlyn responded to the controversy surrounding her now ex-boyfriend and the criticism that she had been unfaithful to him during her time in the BB house. Her Tweet stated that she "never meant to hurt anyone" and that she is "so sorry for any role [she] played in doing so." The apology is an effective reminder that what happens on Big Brother does not stay in the Big Brother house.
She's Still Rooting For Tyler
In response to a video clip of Tyler on the livefeeds saying, "We talked about Karma, Kaitlyn. You did me dirty," and, "I don't trust girls like you, which is why I don't date," Kaitlyn explained that she's still hoping that Tyler wins in the end. Tyler may have been happy to see Kaitlyn go, but she has not yet given up on any possible friendship they may have formed in the house.
She Explained Her Reasoning For Evicting Steve
In conversation with a Twitter user claiming to be Steve's niece, Kaitlyn explained that her reasoning for evicting Steve was to protect her alliance — in contrast to how it was framed on the show, which made it seem as though Kaitlyn voted against her own alliance after feeling rejected by Faysal.
She's Rooting For Faysal & Haleigh
Before her eviction, Faysal had an opportunity to pull Kaitlyn off of the block. Instead, he chose to give Haleigh safety and Kaitlyn was sent home. However, Kaitlyn explained that she has no hard feelings and "totally [respects] Fessy's decision to save the girl he loves over me."
She's Been Poking Fun At Her Own Eviction
Kaitlyn's eviction could've been avoided if she had managed to solve a five-piece puzzle in two minutes and 30 seconds following her eviction, but alas she was unable to. Judging from an Instagram video she posted recently, puzzles simply aren't Kaitlyn's strong suit.
While Kaitlyn may have been dramatic in the house, it seems that she's been sharing nothing but good vibes while back in the real world. She may have lost the chance to win half a million dollars, but it seems this houseguest is valuing what she's gained from Big Brother instead of mourning what she has lost.