11 Facts About Kit Harington That Every Diehard 'Game Of Thrones' Fan Should Know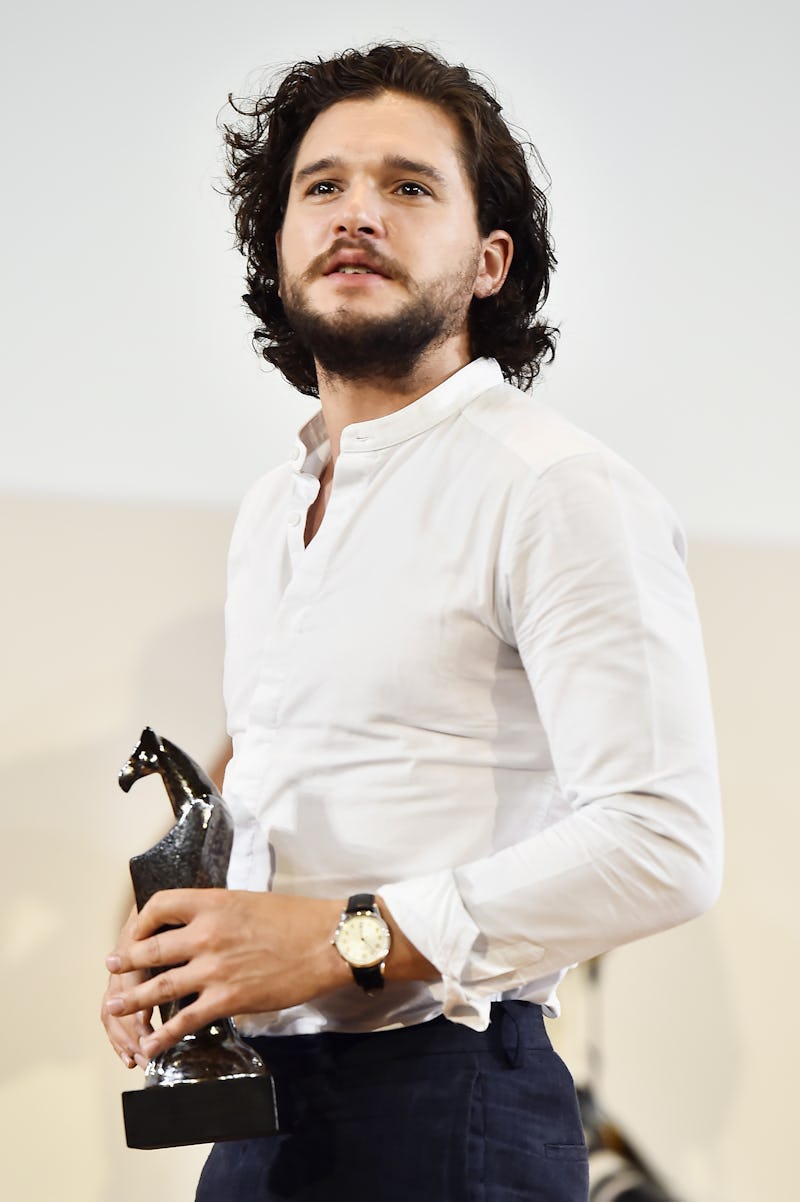 Stefania M. D'Alessandro/Getty Images Entertainment/Getty Images
He's one of the main stars of the incredibly popular HBO show Game of Thrones, but how much do you really know about what Kit Harington is like in real life? You know, when the television cameras stop rolling. Long before his role on GoT, Harington (whose birth name is Christopher Catesby Harington) was born in London on Dec. 26, 1986. His parents are former playwright Deborah Jane (Catesby) and businessman Sir David Richard Harington, 15th Baronet. Isn't that cool that his father straight up has a title? Don't worry though, Harington claims that despite his ancestors, he isn't a "posh boy."
According to MR PORTER, Harington lived in west London until he was 11 years old when his family moved to Worcestershire, a more rural area of England. In a 2013 conversation with Interview magazine, the actor explained his nickname, saying, "I was called Kit from day one, really, I only found out my name was Christopher when I was 11."
When he was 17, Harington first became interested in attending drama school after seeing a production of Hamlet, Harington explained to MR PORTER. He then went on to attend the Central School of Speech and Drama. While in school, Harington landed a role in the Albert in the National Theatre's adaptation of War Horse, his performance in resulted in critical acclaim and recognition. From then he went on to perform in a number of theatrical productions and was cast as Jon Snow in his first television project.
But outside of his professional career, here are 11 things to know about what Harington is like in real life.
1. He's Afraid Of Spiders
In an interview with BigPond Movies, Harington admitted he's most afraid of spiders, but he's also frightened by "syringes and injections." Apparently he regularly passes out when he has to get a shot or injection of some sort.
2. His Favorite Book Is 1984 By George Orwell
In the aforementioned 2013 interview, Harington told Interview magazine his favorite fictional character is Winston Smith from 1984, and the novel is his favorite book. Fun fact, Harington once worked in a bookstore and used to resent George R.R. Martin. "I remember cursing him," he told Zap2It. "I couldn't stand that I was constantly having to carry down and replace all these f*cking books. I'd fill up the shelves and they'd sell out in a day!"
3. He's Also A Harry Potter Fan
Harington told CNN that he even auditioned for a role in one of the Harry Potter films.
4. He Enjoys A "Good Cry"
"I like a good cry every now and then," he explained to Elle in January 2017. "It releases something. There are times in my life when I'm meant to cry, but I don't actually cry. But then I can be walking down the street and it's been a few months, and things get on top of me — that's when I find myself crying." Honestly, who doesn't find relief in crying at times when they feel overwhelmed?
5. He Auditioned For GoT With A Black Eye
According to Vanity Fair, Harington got into a fight at a Mc Donald's the night before he auditioned for GoT that resulted in him having a black eye.
6. He Seems To Enjoy Skinny Dipping
"It's nice to go skinny-dipping in their pool," Harington said of Chateau Marmont during an interview with Rolling Stone back in 2014.
7. Before GoT, He Had Short Hair
Harington claims to have never grown out his hair or beard before GoT, but is now contractually obligated to keep his hair long. Apparently he's looking forward to cutting it once production on the HBO series concludes. (Here's a throwback photo of what he looked like with shorter hair.)
8. He's Engaged To His GoT Co-Star Rose Leslie In Real Life
The two first met on the set of GoT. Harington and Leslie (who played Ygritte) regularly walk the red carpet together, and got engaged in the fall of 2017.
9. He's Not Active On Social Media, Despite All The Fan Accounts On Instagram
"I'm not a tweeter," Harington told MTV in 2012. "I have to talk about myself enough in publicity and stuff that I don't want to do it in my free time as well." But you never know, people change their minds, maybe once day he'll embrace Twitter.
10. He's Friendly With His Co-Stars
The GoT costars appear to be a close bunch.
11. He Loves His "Mum"
According to a popular Tumblr post, when asked during an interview what he considered the "best thing in life," Harington responded by saying, "My mum." After being asked why, he elaborated by explaining, "'cause she is my mum!"
All in all, Harington certainly seems like he'd be a fun person to hang out with. Maybe to go and see a sad movie with? Just be sure to pack extra tissues, because remember — he enjoys a good cry.