The Next KKW Beauty Product Is On Its Way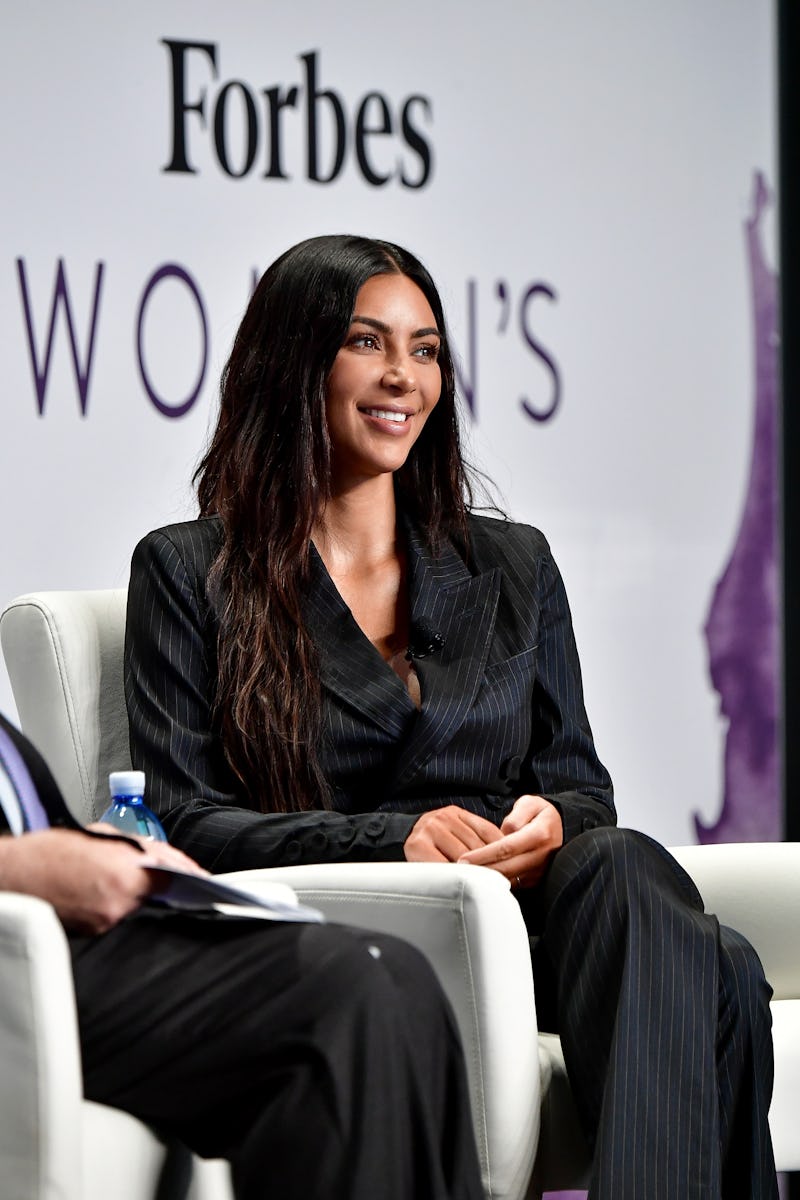 Dia Dipasupil/Getty Images Entertainment/Getty Images
Kim Kardashian West is having a major moment — not like she isn't always, but this seems different. The reality star and media mogul has branched out into the role fans always knew she was born to have: beauty creator. Now, KKW Beauty's next product may be in the works, and Kardashian West's brand took to their Instagram account on Wednesday to tease the mysterious new KKW goodie.
In the image posted to the KKW Beauty account, Kardashian West is seated in front of some seriously blinding studio lights, and like always, she looks stunning. It's the image's caption, however, that grabbed fans' attention. According to the accompanying message, the photo is for a new KKW Beauty campaign. Of course, the image has fans of Kardashian West looking intently at her makeup for clues as to what's coming next for the already successful brand.
One thing that is definitely out of the question: a contouring and highlighting product. The brand's first launch was the KKW Beauty Contour & Highlight Stick, and considering that the sticks sold out during both their launch and their subsequent restock, it seems she's got the market covered on these types of products. As for lipsticks, Kardashian West already has four creme lippies in partnership with Kylie Cosmetics, so the nude lip in the image is likely out of the running for the next KKW Beauty product.
What possible products does that leave for Kardashian West to debut?
Kohl Eyeliner
Kardashian is rocking some serious liner in the photo, and it's the most obvious choice based off what she's wearing. With dark liner in her water line and a slightly smudged wing, the liner steals the show. Could it be next?
Concealer
In her collaboration video with Jaclyn Hill, Kardashian explained that her first experience with makeup was using her mother's concealer all over her face. In the image, that gorgeous winged line could have been cleaned up and made extra sharp using a KKW concealer. Plus, she has already revealed that fans can expect a concealer kit next. But is it too obvious? It might be.
Pressed Highlight
Kardashian West is also rocking a serious glow. It's not just on her cheekbone, either. Her shoulders and collarbone seem to have a stunning glow to them as well. While her contour sticks do have a highlighter, the formula is not nearly as blinding as what she's wearing in this image.
Kardashian West clearly has something up her sleeve. And based off that photo, whatever the next KKW Beauty product is, it's going to look incredible.