Seriously, When Did Selena Gomez & Justin Bieber *Actually* Get Back Together?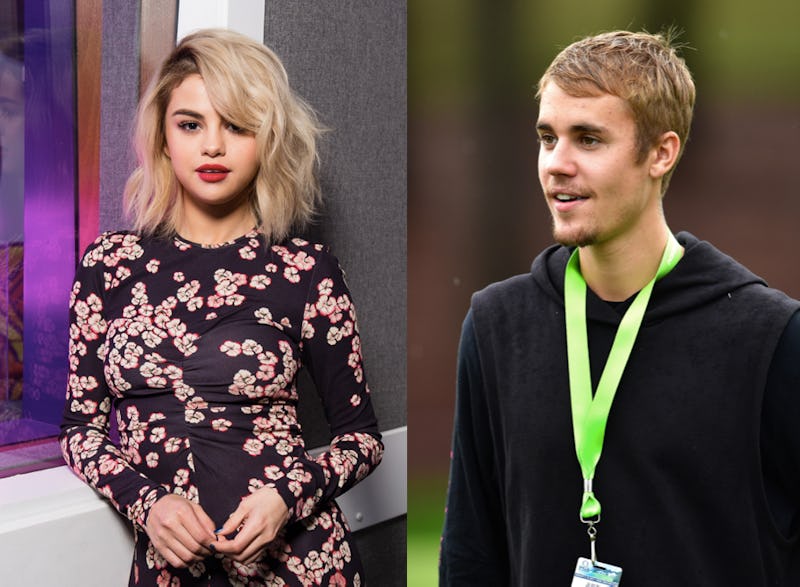 Jeff Spicer/Getty Images Entertainment/Getty Images; Stuart Franklin/Getty Images Sport/Getty Images
As the year's biggest night in music approaches, fans are eager to see their favorite musicians win awards. It's also heart-pounding to see who shows up together. Speaking of, when did Justin Bieber and Selena Gomez get back together? It's like the world blinked, and suddenly they were a full-on couple again. It has surprised fans, and more than that, it already reportedly caused discord between Gomez and her mom. So, what's the problem? Are they really that bad for one another? Well, Bieber and Gomez have always been supportive of one another's careers, and now that Gomez has decided to go public with her health struggles — including the lupus that caused her to need a kidney transplant in 2017 — it likely only helps to have a loving boyfriend in her corner. The question of when they got back together, though, remains.
Bieber and Gomez first met years ago, reportedly in 2010. (A famous anecdote of their relationship is their first date was supposedly getting pancakes at a Philadelphia IHOP. Amazing.) They officially went public in February 2011, at the Vanity Fair Oscars party. As People reports, Gomez spoke to Seventeen about their relationship later that year for the first time. Several years, breakup songs, makeup songs, social media scandals, and life lessons learned later, and here they are; together again. How and when did the pair reconnect? That might be anyone's guess at this point. They also led on fans for some time, refusing to confirm that Bieber-Gomez was officially A Thing until well after they had become one.
Prior to Bieber, Gomez dated Nick Jonas for a short period of time. Bieber was the star's first big relationship, though, as it lasted until at least 2014. There were rumors of a reconciliation in 2015, and again after Gomez's split from The Weeknd, but it wasn't until late 2017 that they were officially back on. Early in the summer, Bieber and Gomez were caught driving together and going on coffee runs. That's innocuous enough, right? Friends can do that. ("Friends listen to 'Endless Love' in the dark.") But as The Sun reported, they were encouraged to reunite by a shared pastor. The two have always centered themselves on religion, and actually visited churches and attended bible studies as a couple. For real.
Supposedly, the reconciliation began when Gomez was hospitalized for her kidney transplant. According to Us Weekly, Bieber found out about it from the press and was hurt that he didn't hear it from the singer herself. Texting put them on track for eventually getting back together. Since the actual timeline of Gomez's surgery is unknown, though, fans can't say for sure when they got back together. Gomez first went public with her surgery on Instagram, when she posted an intimate shot of herself with her friend and donor in hospital beds. At that point, she was well into her recovery, so she had been recuperating for some time. If the rumors are true, she'd already been texting Bieber by that time. Assuming the procedure took place in early-mid June 2017, it's safe to say that they were officially back on by late summer, early fall 2017.
News of the Gomez-Weeknd breakup didn't hit until late October or early November 2017, which makes this timeline murky. How long did Gomez and The Weeknd actually date? And what was her relationship to Bieber during that time? Gomez, you're tricky to figure out.
In the end, until the pop stars come clean themselves, fans may never truly know when Gomez and Bieber got back together. And if you're reading this, The Weeknd, try not to feel so down. Remember: The heart wants what it wants.