Details About Meghan Trainor & Daryl Sabara's Relationship Will Make Your Heart Burst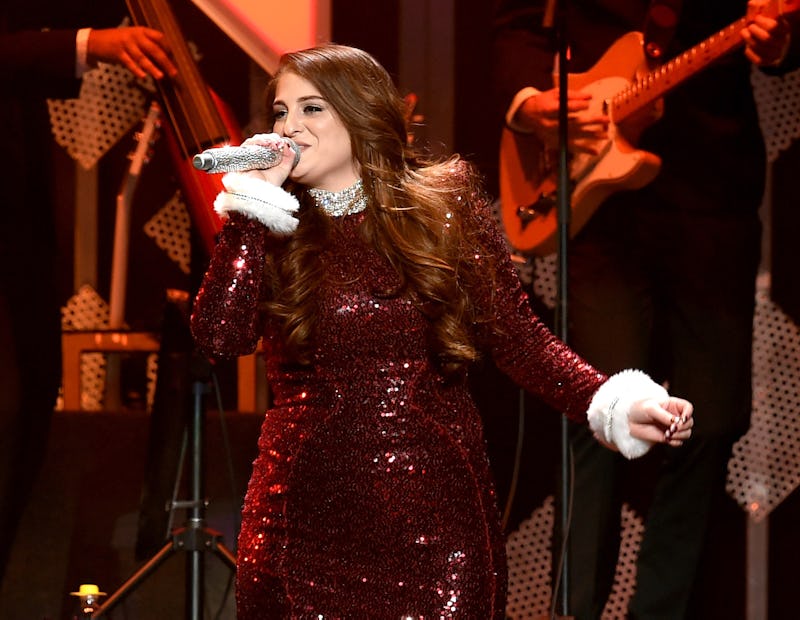 Kevin Winter/Getty Images Entertainment/Getty Images
Kicking off what's guaranteed to be a holiday weekend of proposals, Meghan Trainor and Daryl Sabara got engaged on Friday. The singer shared the cutest video of the Spy Kids star getting down on one knee in a light-filled tunnel. But when did Meghan Trainor and Daryl Sabara start dating anyway? Fans may be eager to look back at their love story now that they're making things official.
As it turns out, Trainor and Sabara started dating in July 2016, according to E! News. The site points out that the pair celebrated their one-year anniversary on Instagram. However, if you don't remember things starting as summer romance, that's because rumors Trainor and Sabara were together first spread a few months later in October. In any case, it's sweet they kept things under-wraps at first and just focused on getting to know each other privately.
In her Cosmopolitan cover story for May 2017, Trainor shared details about their first date. She candidly recalled the hilarious, yet adorable meeting:
"We went on a double date — bowling and karaoke. He kissed me at the bowling alley. I told my security to step outside 'cause I didn't want to be watched. LOL. He was the best kisser ever. I know I'm really good at kissing, but I was shocked when he was."
And if that wasn't enough of an indication that they were going to last, on Friday, Trainor shared an Instagram photo gallery soon after the engagement news with a slew of pics with her and the actor. She wrote, "I'm so happy it's you @darylsabara I knew it from the moment I met you." Do you see that? She's known since day one.
Not only did the "Hopeless Romantic" singer know Sabara was the one, but she also predicted their proposal — sort of. In that same Cosmo interview from the spring, she revealed she'd even written a few tracks about him. She said, "I wrote six songs on the road about him in front of his face. One is called 'Marry Me.'" Honestly, that's super sweet.
As for the engagement itself, both Trainor and Sabara shared the proposal video on their respect Instagrams, along with heartfelt captions. She wrote,
"I SAID YESSSS!!!! For my 24th birthday, the love of my life @darylsabara made all of my dreams come true. He proposed to me under a tunnel of beautiful Christmas lights and surprised me with my family and friends. I'm still in shock. I've never been this happy! Thank you Daryl, my family and friends for making me feel like a real princess"
And in his caption, Sabara echoed her enthusiasm, writing, "Happy birthday to my soulmate. Thank you for changing my life forever and thank you for saying yes! You are the most beautiful fiancé in the world."
In case their love story couldn't get any more adorable, Trainor isn't the only one who's been smitten from the beginning. Sabara's post celebrating their one-year anniversary in July talks about how he's been "mesmerized" since way back when. He wrote,
"Took this video at the beginning of your tour. From the moment I met you I was mesmerized by everything you said and everything you do.You are the greatest person I know, and I'm so lucky to call you my best friend. I will love you forever and for always. You are my whole world.Thank you for the most amazing year. Happy Anniversary @meghan_trainor"
That caption was accompanied by a Snapchat video of Trainor singing with "I love her" written in big letters.
And the awe of talent goes both ways. On his birthday this past year, Trainor shared a throwback photo of Sabara circa his Spy Kids days. The caption will make you both laugh and smile: "Happy birthday to the cutest, nicest person I've ever met. What a legend. I love you so much @darylsabara."
Based on simple math, the two have been together for a year and a half, but as their comments about each other prove, when you know, you know. And now, they're taking their relationship to the next level with an engagement ring. Congrats!