Here's Exactly When You Can Start Buying Girl Scout Cookies This Year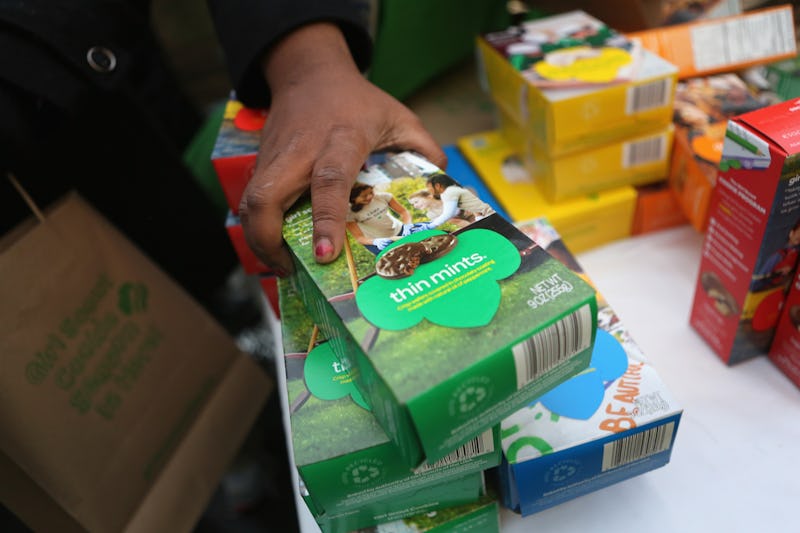 John Moore/Getty Images News/Getty Images
At a time when blizzards are stopping cities in their tracks and our president is blabbering on about nuclear war as if it ain't no thang, the emergence of Girl Scout Cookie season is one little shining beacon of light in the darkness. Not only do Girl Scout Cookies taste delicious, but the message behind them is incredibly empowering for young girls. Win-win. So, with the new year in full swing, I'm sure you too are wondering when Girl Scout Cookies come out in 2018.
Luckily, you don't have to wonder too much, because Girl Scout Cookie season is officially here: According to a press release from the organization, Jan. 3 was the official launch of the cookie season. Huzzah!
While cookie season is always an exciting time, it's also important to recognize that this is a special year for the Girl Scouts, as the organization is celebrating its second century selling cookies. In other words, Girl Scout cookies have been around for 101 years! And that's not even the best part: to honor this monumental anniversary, the Girl Scouts are bringing back its Girl Scout S'mores cookie, which made its debut last year.
If you're unsure if you want to buy cookies this year, it's worth understanding why the Girl Scout Cookie program is so important. There are over one million girls who participate in the program each year. Across the country almost 800 million dollars in sales is brought in through the purchase of Girl Scout cookies. Every cent of the money raised remains with the chapter of the girls who earned it, and it's then used to allow the girls to engage in incredible experiences throughout the year while working to enrich and aid their community. Above all, the Girl Scout Cookie program allows young girls to develop leadership skills they can use for the rest of their lives.
I remember what it was like being a Girl Scout myself, going door to door with my friends explaining how important the program was and being so excited when someone bought some of the cookies. As a young girl, it was an incredibly rewarding experience to have.
"The most valuable business lesson I ever learned was thanks to the Girl Scout Cookie Program," said GSUSA CEO and rocket scientist Sylvia Acevedo in a press release about the Girl Scouts' 101 year anniversary selling cookies. "I learned not to take 'no' for an answer, and as a young woman pursuing a career in STEM, I heard 'no' all the time. The skills I gained from selling Girl Scout Cookies pushed me to excel in a career that was outside the norm for girls like me."
Thanks to modern technology, Girl Scout members who sell Girl Scout cookies can now manage their cookie business online, via the organization's Digital Cookie platform. Currently in its fourth year, the site works to teach girls about running and managing an online business.
Additionally, it's important to take the time to buy cookies directly from the Girl Scouts troops, so you can be sure your money is going to the actual chapter of the Girl Scouts you're buying from, rather than a third-party vendor who is reselling the cookies.
I don't know about you but I'm eagerly counting down the days until I can buy one — or maybe 10 — boxes of Girl Scout cookies. Let's be honest, cookies just taste better knowing you're supporting a girl going after her dreams. The next generation of girls deserve every opportunity to become a leader, so I for one am thrilled that Girl Scout Cookie season is nearly upon us once more. To find Girl Scouts selling cookies near you, visit www.girlscoutcookies.org.
Correction: A previous version of this story misrepresented when Girl Scout Cookie season began. It has been updated to accurately reflect the official 2018 start date, and to more clearly explain how the Digital Cookie Platform works.