The 2017 Oscars Will Go On, And On, And On...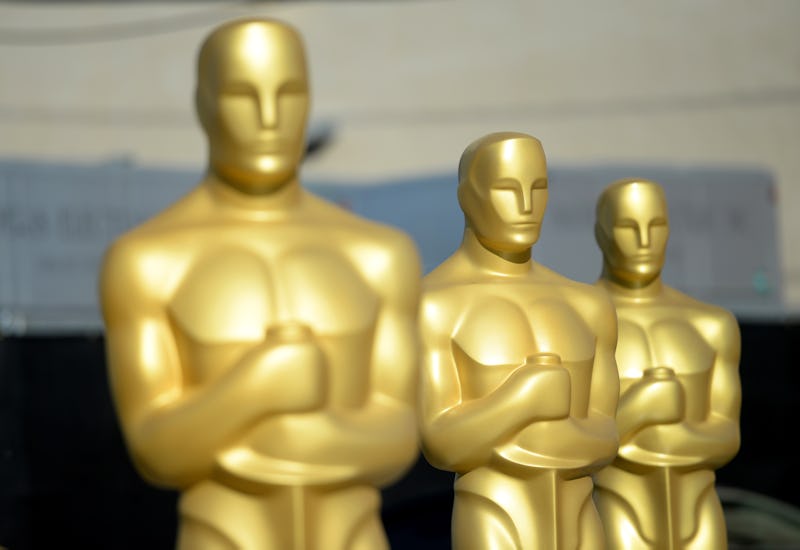 Kevork Djansezian/Getty Images Entertainment/Getty Images
When it comes to the 89th annual Academy Awards, there are a lot of questions that beg to be answered. Which film will take home Best Picture? Who will win Best Actress? Why isn't Deadpool nominated for anything? When do the Oscars end? By that I don't mean, "Oh god, when will this whole thing be over?" Awards season is my absolute favorite time of year, and the Oscars are basically my Super Bowl. No, I mean literally, at what time does the ceremony finish? This is crucial information for anybody who can't watch them live and needs to set their DVR, or who has to wake up early on Monday and needs to know what time they'll get to go to bed.
By now, most Oscar fans will know that the ceremony is scheduled to run for three hours each year; but the exact end time is still a bit unclear. The official Oscars website has the event listed as starting at 7:00 p.m. ET — so does that mean it ends at 10:00? Well, no. 7:00 is actually the time that the red carpet broadcast begins, not the ceremony itself, which is due to begin at 8:30. So it'll be over at 11:30, right? Well, no. Probably not. Although ABC's schedule indicates that Action News 11 is expected to start at 11:30 that night, we all know that's not going to happen.
With 24 categories to fit into three hours, that's 7.5 minutes per award. More than enough time, right? Well, not once you start adding in the host's monologues, the musical numbers, the In Memoriam montages, the rambling acceptance speeches, and of course (bane of my existence) the commercial breaks. Suddenly 180 minutes doesn't feel so long; and it's not. It's a widely-known secret by now that the Oscar ceremony will run over time every year. The only question is by how much.
Helpfully, Slate put together a chart a few years ago illustrating the various Oscar ceremony run times over the decades, with information provided to them straight from the Academy of Motion Picture Arts and Sciences itself. According to the chart, the annual event reached its bloated apex around the turn of the century: the 2002 ceremony, which was hosted by Whoopi Goldberg and saw A Beautiful Mind win Best Picture, ran a mind-numbing four hours and 23 minutes. Yes, really. By the time the chart was published, the Academy had managed to trim things down a bit, with the 2011 ceremony coming in at a mercifully brief three hours and 15 minutes. (If co-hosts James Franco and Anne Hathaway were an unmitigated disaster, at least the running time wasn't.)
In the five years since then, the ceremony has been creeping steadily back up again, with the 2016 broadcast clocking in around three hours and 40 minutes, despite the fact that the Academy had implemented a "thank you scroll" across the bottom of the screen that was specifically designed to help acceptance speeches move faster and thus help the ceremony run shorter. (No word yet on whether or not that new tradition will continue in 2017 despite its apparent failure last year.)
So if you're setting your DVR and want to make sure that the recording doesn't cut off just as Warren Beatty and Faye Dunaway are about to open the envelope for Best Picture, you should go ahead and set it for a full four hours just in case. (Honestly, if it runs longer than that… just forget it. You can read about it on Facebook the next day.) And if you're wondering when you can go to bed to rest up for that important meeting you have on Monday morning, the answer is definitely no earlier than midnight. If you need plenty of beauty sleep, you better stock up on Saturday night; because when it comes to the Oscars, the show will always go on — and on, and on, and on, and on…