The Town Of Castle Rock Will Look VERY Different When The Horror Series Returns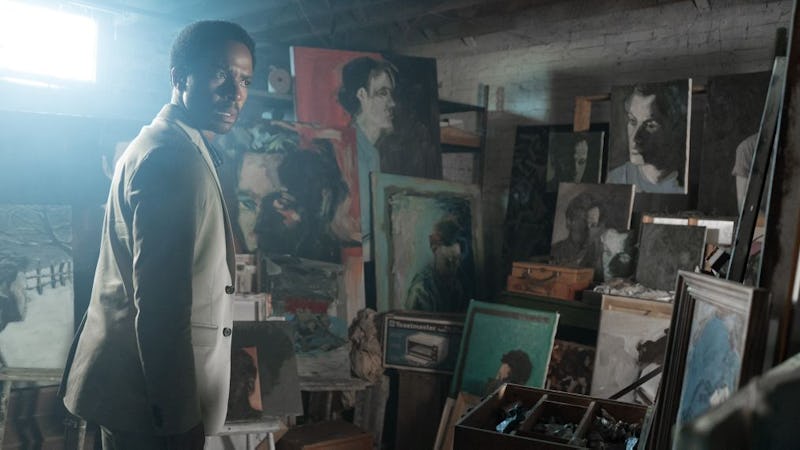 Hulu
It may feel like you only just arrived in the town of Castle Rock, Maine, and met its haunted inhabitants… but your visit is already coming to a close, as the first season of the Hulu series wraps its run with only one more episode. When does Castle Rock Season 2 premiere? After the finale, titled "Romans," drops on the streaming service on Sept. 12, viewers will want to know how quickly they can book their return ticket to the spooky town of Stephen King lore.
The bad news is, Hulu hasn't announced a return date yet — but it's not too hard to make a guess. Unlike Netflix or HBO, where the wait between seasons can often be of unpredictable length, Hulu has more in common with basic network channels, in that its premieres tend to remain relatively consistent: both seasons of its original series Chance premiered in October; both seasons of Shut Eye premiered in December; both seasons of The Handmaid's Tale so far have premiered in April. If Castle Rock also remains consistent, viewers can expect it to return in July 2019.
The good news is, Hulu has officially renewed Castle Rock for Season 2, according to Deadline, so fans don't have to worry about the series getting cancelled and ending the story of Henry Deaver on a cliffhanger. Actually, fans needn't have worried about that anyway, for one simple reason: Castle Rock is an anthology series, meaning the show will completely reboot itself next year. "Romans" was always designed to be the conclusion of the story of Henry, Molly, and The Kid… so even if Castle Rock had been cancelled, viewers would still have gotten resolution.
Not only will the Hulu show be telling a whole new story next year, but the town of Castle Rock itself will look very different. That's because Season 2 will feature "a completely new story and cast," as The Verge reported co-creator Sam Shaw teasing at the show's New York Comic-Con panel in October of 2017.
That means that, as an anthology series, Castle Rock has more in common with Fargo than American Horror Story. While the latter show tells a new story every season, they are all acted out by largely the same company of players, with some actors — like Sarah Paulson and Evan Peters — having appeared in all eight iterations and counting.
If Shaw's words can be believed, Castle Rock cast members like André Holland, Sissy Spacek, Bill Skarsgård, Melanie Lynskey, and Jane Levy won't be returning in new roles for Season 2; rather, the new story will be acted out by a brand new group of performers. The only connective tissue the seasons will have will be the title of the series… and the eponymous town in which all the spooky stories take place, like the crime-riddled town of Fargo, North Dakota.
Also like Fargo, one way this format could make sense would be if subsequent seasons all took place during different time periods. Even if Season 2 told a different story, viewers might be wondering what Henry and Molly were up to if it still took place during present day (assuming they make it out of Season 1 alive, of course). But if Season 2 were to flash back to a period in Castle Rock's past, then those questions would be moot.
In fact, Shaw and his co-creator Dustin Thomason may already have introduced the device that will allow them to explore multiple stories within one town: the Schisma. The woods outside Castle Rock are home to a phenomenon that allows highly-attuned people to slip in and out of different time periods and realities, walking straight out of one version of Castle Rock and into another one decades earlier (or later). Knowing that there are already many different versions of the town stacked atop one another like film negatives should make it easier for viewers to accept things when the Castle Rock of Season 2 looks both eerily familiar… and strangely different.