Here's Where 'Divorce' Goes From Here, According To The Showrunner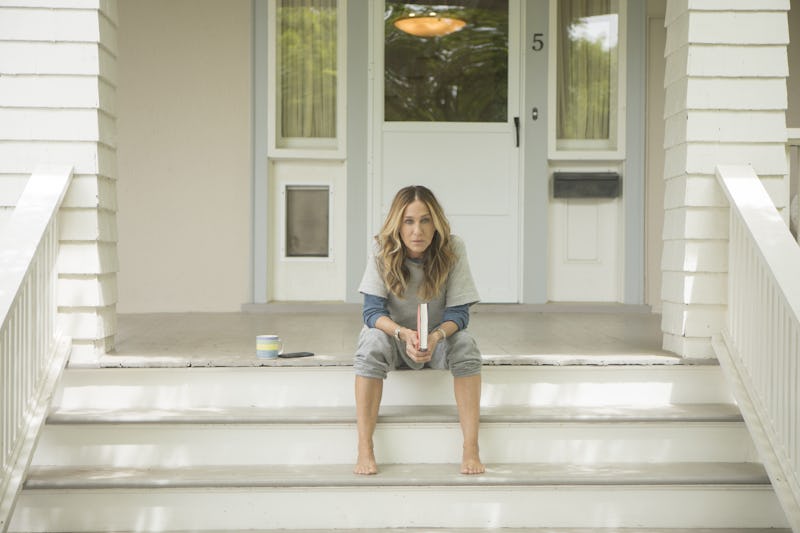 Craig Blankenhorn/HBO
For the second season of HBO's Divorce, Frances and Robert finally went through with the title of the show. But even though the act of divorce is said and done, the series continues to follow their complicated relationship. With the Season 2 finale on March 4, you'll have to wait and see what becomes of them when Season 3 of Divorce premieres. While HBO hasn't officially renewed the Sarah Jessica Parker and Thomas Haden Church series yet, showrunner Jenny Bicks spoke to Collider about her plans for Divorce Season 3 and it seems there will be plenty of dysfunction to come.
Season 1 of Divorce (creator: Sharon Horgan) premiered in October 2016 and consisted of 10 episodes that ended in December. Season 2 premiered a little more than a year later in January 2018 and only had eight episodes, which explains how the finale crept up so quickly. So if HBO does, in fact, renew Divorce, it stands to reason that Season 3 will premiere sometime in 2019.
For Season 2, Bicks replaced Paul Simms as showrunner. According to Deadline, Simms had left because of creative differences. In an interview with IndieWire, Bicks said she strived to give Season 2 "more hope" and "more forward movement." That also meant making the divorce actually official, which is how Season 2 started. "To me, I think there's so much story to tell once you sign those papers that it's equally, if not more so, interesting," Bicks said to IndieWire.
In her interview with Collider, Bicks said that she does already have ideas for a Season 3 — and she didn't mention the prospect of not getting renewed. "There's stuff I'm interested in exploring, staying tonally with where we've landed in the second season, and finding ways to put them into even more predicaments," Bicks said. She continued:
"Frances is somebody who's always wanted to live in the city. What would happen, if she moved to the city, now that she's single? What does that look like? What does Robert's success look like, now that he has money? He's never had money. He's a complete f*ck-up. For him, money is a challenge."
Although their kids, Tom and Lila, are still in school in the suburbs, previews for the Season 2 finale show that Frances may be joining professional forces with Skip Zakarian after he poached Sylvia from her. That could possibly lead her to relocate to New York City. And Robert and Jackie's real estate partnership appears to be moving forward, which will give Robert that cash flow that Bicks mentioned.
But the main reason people tune into Divorce is for the personal relationships. "Even as you have a relationship coming apart, whether you're married or you're breaking up with someone [you've] been dating, there's still always potential for something new," Bicks told Collider. "What was fun about Season 2 was that potential. The word seems so final, but there's nothing final about divorce. It never stops. So, it's a show called Divorce, where you're just exploring the realms of relationships."
Robert's relationship with Jackie has been pretty healthy so far, but cracks have started to show. It's quite possible that Robert isn't ready for the same type of commitment that Jackie is, so there could be a fallout from that in Season 3. As for Frances, she just ended things with Andrew during "Going, Going ... Gone," so she's open romantically — and will be seeing Skip again. Bicks also spoke to Collider about the possibility of Robert and Frances getting back together and made it pretty clear she has no plans on forcing that story line to occur. Then, there's Dallas, who is dating a younger man from the tennis club and Diane, who will continue her outrageous shenanigans with her husband Nick.
A lot can change from one half-hour episode to the next on Divorce, so if Season 3 does happen — as Bicks seems to think it will — expect for the unexpected. Because just like in real life, life on Divorce rarely goes according to plan.