Season 2 Of 'Pose' Ought To Be Worth What Might Be A Long Wait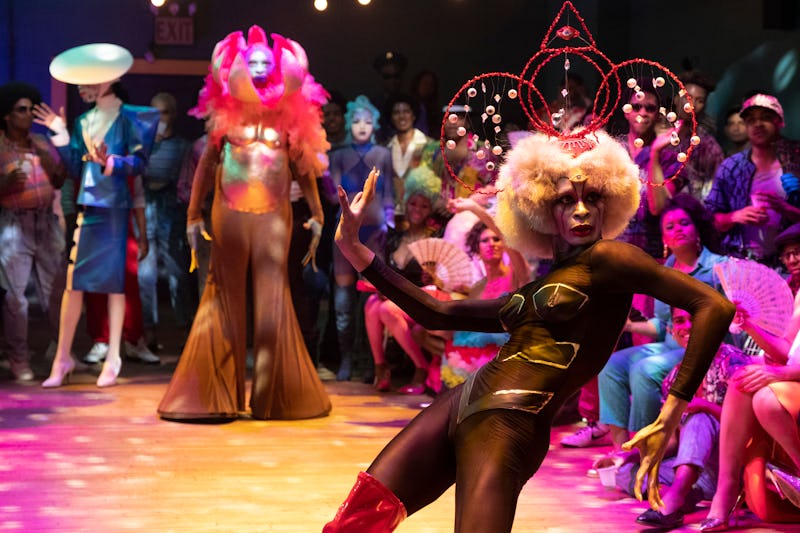 JoJo Whilden/FX
The clock is striking midnight, but no one wants to leave the ball. With the freshman season of Ryan Murphy's new FX drama coming to a close on July 22, fans everywhere will be demanding to know: when is Pose Season 2? So much is left up in the air heading into the final episode — appropriately titled "Mother Of The Year" — and so much will probably still be left up in the air when the credits roll, as finales are wont to do. Fortunately, the question of whether or not Pose will return won't be one of them.
On July 12, a few days before Season 1's penultimate episode aired, FX officially announced that Pose was renewed for Season 2, and network CEO John Landgraf issued a statement in support of the groundbreaking series, as reported by The Hollywood Reporter. "Ryan Murphy has once again revolutionized television with Pose, an incredibly engaging story of creativity, courage, compassion, love, and family at a pivotal time in our culture," Landgraf's statement read. "As television critics have universally acknowledged, there is simply nothing like Pose on TV, so effortlessly excelling on every creative level and earning a place in television history for its infectiously inclusive spirit."
Very few details about the show's second season have been revealed thus far; THR's report only indicated that Pose would return sometime "in 2019," and that its episode count had yet to be determined. While it's normally safe to assume that shows will premiere around the same time each year, FX's track record doesn't exactly bear that idea out. While some shows (like Murphy's own American Horror Story) air fairly regularly, even more have fairly erratic and unpredictable schedules.
Seasons 1 and 2 of Noah Hawley's Legion premiered 14 months apart — only slightly longer than normal. But Hawley took a full 18 months between each of the first three seasons of his anthology series Fargo. The Assassination Of Gianni Versace premiered just shy of a full two years after The People v. O.J. Simpson, making viewers wait an excruciatingly long time for more American Crime Story. And Feud, which debuted its first season in March of 2017, has yet to follow it up with another installment — although a season based on the relationship between Prince Charles and Princess Diana is supposedly still forthcoming.
That unknown episode count is intriguing, though. If Season 2 were going to have the same number of episodes, you would think FX would just go ahead and announce it. Of course, it's possible that Ryan Murphy and his co-creators Brad Falchuk and Steven Canals simply haven't decided yet how many hours their next story will take to tell — but it's also possible that the team is negotiating an expanded season with the network.
While any fan would likely be overjoyed to hear about a 10- or 12-episode season of Pose, it goes without saying that more is not necessarily always better. Legion's episode order increased from eight to 11 in Season 2… and lost a lot of viewers in a meandering, slow season in the process. Meanwhile, American Crime Story's episode order actually went down from 10 to nine in Season 2… which proved the perfect amount of time to tell the tragic story of Andrew Cunanan.
Regardless of when Pose Season 2 airs, or how many episodes it contains, it will be remarkable not just for being a first in many ways — but also for being a last. Pose is the last series that Murphy created for FX before leaving for the streaming world. Netflix struck a $300 million deal with the über-producer back in February — the largest deal in television history, as Deadline reported at the time.
Hopefully that was money well-spent. If Pose is any sign, Murphy has plenty more groundbreaking stories to tell.