The 'Runaways' Writers Have Big Plans For Changing The Comics In Season 2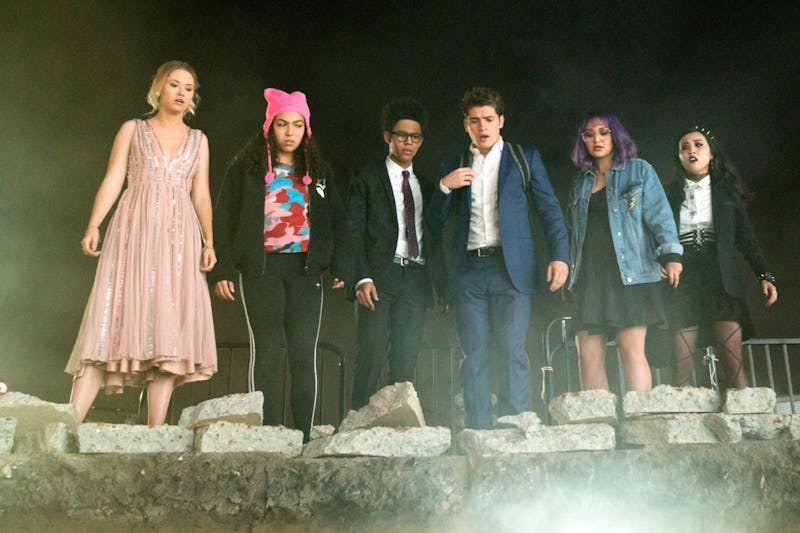 Hulu
After airing only nine episodes, Hulu's new superhero series is already preparing to wrap its freshman season on Jan. 9 with its tenth and last episode, "Hostile." With the Runaways finally prepared to face off against their villainous parents, how "final" will the finale be? Fortunately, Hulu announced just hours before the finale that Marvel's Runaways return for Season 2. Fans about to witness the end of these teenage heroes, but the date of their return is still unknown.
UPDATE: Per a Hulu press release, all episodes of Runaways Season 2 will be available for streaming on Dec. 21.
EARLIER: Historically, it's been difficult to predict the future of shows that air on platforms like Hulu, Netflix, and Amazon, since streaming services don't typically release ratings information. Instead, all we have to go on is buzz, the words of the cast and crew, and intuition — and by those metrics, it was pretty safe for fans to feel confident that Runaways (producer: Emma Fleischer) hasn't run out of road quite yet, even before the renewal news.
The new show has been highly anticipated since it was announced in August 2016 that Gossip Girl's Stephanie Savage and Josh Schwartz would be adapting the comic by Brian K. Vaughan and Adrian Alphona to the small screen, thanks to the source material's depiction of a diverse group of heroes and tackling of LGBTQ storylines. The show built buzz among fans when it debuted its first episode at New York Comic-Con in October 2017, and premiered to acclaim from critics in November, garnering a Certified Fresh score of 83 percent on Rotten Tomatoes. Although its U.S. viewership numbers are unknown, on Showcase (the network on which it airs in Canada), it earned the highest-rated premiere of the fall.
Even if it didn't have all those accolades, chances were pretty good that Runaways would get another shot. Most Marvel shows are given at least a second chance, from the wobbly Agents Of S.H.I.E.L.D. (which vastly improved past its first season) to the low-rated Agent Carter, and the critically maligned Iron Fist. ABC's big fall premiere of Marvel's Inhumans is pretty much the exception to this rule — and there's nothing to indicate that the performance of Runaways has been anywhere near as disastrous as that IMAX-sized misfire.
So it's no surprise that there were already rumors that Runaways Season 2 would be happening. Even bfore Hulu released their statement clarifying the show's future, odds-tracking website Renew Cancel TV reported last week that "sources" confirmed to the site that Runaways has already been officially renewed by the streaming service, which is just waiting for the opportune moment to announce the decision (likely sometime immediately before or after Jan. 9's finale).
In a December interview with Slash Film, Savage and Schwartz confirmed the existence of long-term plans for Runaways, which speaks to their confidence about the longevity of their show. When asked if they were planning to extend the comic's first arc (which wraps up fairly quickly and in deadly fashion), the writers concurred. "Yeah. Our whole thing was how do we open that up, live inside that story for as long as possible? Because the conflict between parent and kids is so good," Schwartz said. "It will evolve. It will change. Dynamics will shift. Alliances will be forged. It will not be the static story. We want to live with that as our central conflict for as long as we can."
Schwartz acknowledged that, when Vaughan was originally writing the comic, he and Alphona "thought they were getting cancelled every issue so they were churning through story. It was really the story of these kids. I think he really relished the idea of, oh, we actually get to delve into the parents' stories now too and really flesh those characters out. It was important to us that there were no true villains in the show. That was something that he really got excited about, to be able to dig into what those stories are."
"The relationships between the kids too as well and the romances that get built very quickly through a few accidents in the comic, get to be really fleshed out and explored more deeply in the show," Savage told Slash Film. "You're not just like two people like each other and then they kiss. You've got to get there."
The fact that the writers are taking their time building the relationships and the plot slowly rather than burning through the source material as quickly as possible is a great sign for the long-term future of Runaways. Fans should be able to relax and watch the Season 1 finale in peace, knowing that the Runaways aren't going anywhere (ironically enough).