Shark Week 2018 Already Has Some Jaws-ome Things Planned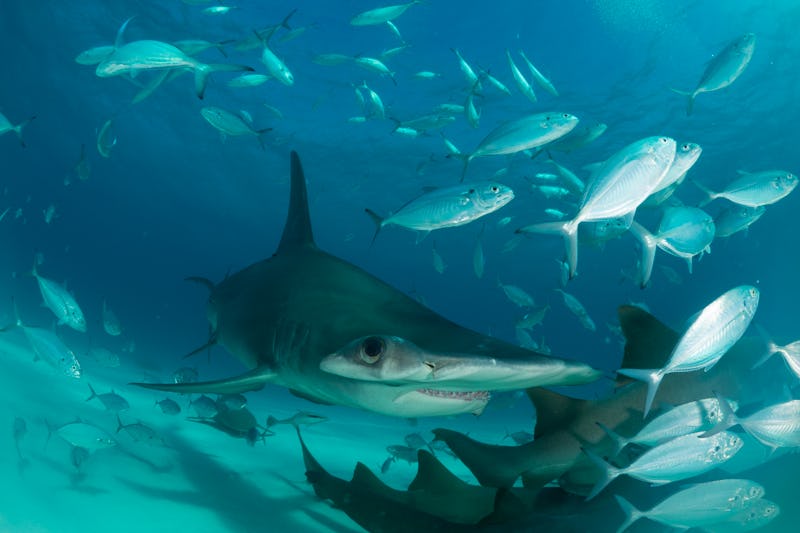 Copyright Discover Communications, Inc
It's never too soon to start wondering when the next one is happening — so, let's get straight to it: When will Shark Week 2018 be broadcast? After all, shark fans have got to know so they can mark it down in their calendars and cancel all other social obligations for that one week.
Unfortunately, no premiere date has been set as of yet — but that's certainly understandable, seeing that Shark Week 2017 just ended on Sunday, with 2018's programming logically close to a year away. Still, although there's no official air date yet, it's safe to say that it'll follow the grand Shark Week tradition of airing during the summer — though it's tough to narrow it down further than that. After all 2017's Shark Week began during the end of July, 2016's started way back in early June, 2015's started near the beginning of July, and 2014's started during the first week of August — suffice it to say, there hasn't historically been a set week (or even month) for the program, so that's a bit of a wild card. Basically, we could be getting Shark Week anywhere from early June to late August 2018.
Still, the proceedings are going to be more than worth waiting for — after all, next year is Shark Week's 30th anniversary, so it's sure to be an even bigger affair than normal. According to Deadline, the Discovery Channel already has some special things planned with their usual team of scientists and cinematographers, and are planning to debut some new technology ("from genetic profiling to miniaturized camera tags") in order to "peer more deeply into the shark ecosystem." Sounds pretty exciting already, right? And more details are sure to follow as we get closer to that landmark 30th season.
And hey — luckily, there's still plenty of shark-based entertainment to keep you occupied while you wait out the long, long Shark Week-less months until it's time for the special to air once more. Roku, for one, is offering streaming for a lot of fun shark-themed programming, from Sharknado to Jaws. You could also catch up on more recent shark attack movies, like the Mandy Moore-starring 47 Meters Down, or the Blake Lively-starring The Shallows. Heck, any movie on this list of the top shark movies will help fill the void Shark Week has left in your heart.
So, with all that in mind, let the countdown to Shark Week 2018 commence!