Everything Fans Of 'The Good Doctor' Need To Know About Season 2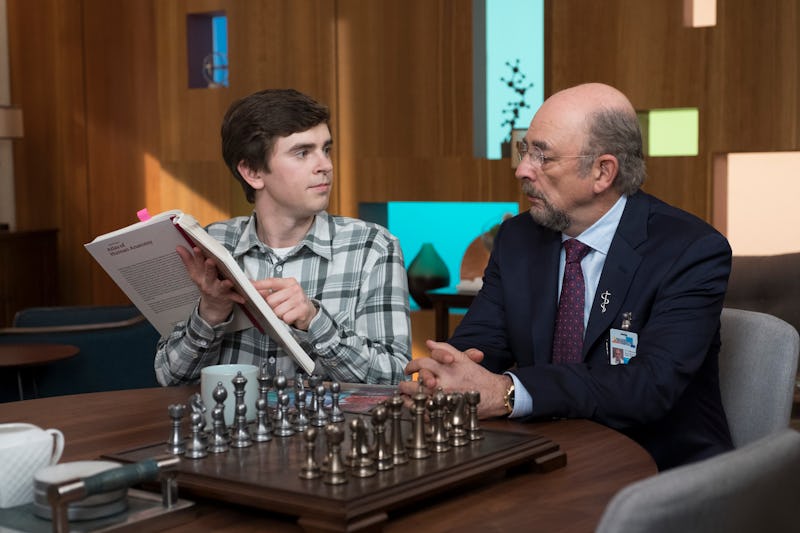 SOURCE: ABC/Eike Schroter
The first season of The Good Doctor is almost over, and the past few months have taken fans on a wild ride. ABC renewed the medical drama for a second season earlier this month. And after Monday night's Season 1 finale, the show's audience will be eager to know when The Good Doctor Season 2 premieres. With all of the cliffhangers that are bound to happen in the finale, fans won't want to be in for a long wait.
UPDATE: According to The Hollywood Reporter, The Good Doctor Season 2 will premiere on Monday, Sept. 24.
EARLIER: The Good Doctor has been a huge hit with fans during its first season, adding an original angle to the standard medical drama TV genre. Freddie Highmore's character, Dr. Shaun Murphy, has a real condition called savant syndrome, in addition to having autism. Highmore's character isn't inspired by any one person, though the show is certainly raising awareness about the syndrome. The unique drama has clearly struck a chord with its audience, too. When Deadline reported that the show would be renewed for a second season, the outlet pointed out that it's ABC's most-watched new TV show in 13 years.
During an interview with The Sydney Morning Herald just after the show's renewal was announced, Highmore explained what he thinks makes his character so appealing to audiences. He told the outlet:
"I think there's something about Shaun's optimism and hopefulness that has resonated with people. He always sees the good in people and has a positive view of humanity and the human condition in a time when there's so much negativity. Shaun speaks not only to people who have autism, or are close to those who do, but to anyone who feels somewhat different, or feels like society has maybe not dealt them a fair hand, or that they've been discriminated against in the work place. He speaks to people who feel that they haven't had their fair shot in life, or their chance to shine."
In the Season 1 finale, viewers will likely learn more about the fate of Richard Schiff's character, Dr. Aaron Glassman. Dr. Glassman has been diagnosed with brain cancer, and Shaun is having trouble accepting the news. And during the 2018 Paley Festival, executive producer David Shore teased that Shaun might make a mistake at the hospital, possibly because he's distressed about Dr. Glassman's diagnosis. Here's what Shore said of Higmore's character at the Paley Festival — it sounds ominous:
"I've wanted to challenge Shaun throughout the year. When would he make a mistake? What would cause him to make a mistake? What would be too much for him? This is that crucible that we put him on. [Glassman] is the most important man in the world to him and he's being asked to face the mortality of that man."
There's also the question of whether Chuku Modu's character, Dr. Jared Kalu, will return for The Good Doctor's second season. Last week's episode revealed that Dr. Kalu was accepted to a residency program at a hospital in Denver. Hopefully, Monday's episode will reveal whether he decides to accept the new job or to stay at San Jose St. Bonaventure Hospital.
ABC hasn't revealed when The Good Doctor's Season 2 will air, but it's safe to say the cast is just as excited about the episodes ahead as fans are. In an interview with Fan Fest published last week, Tamlyn Tomita, who plays Allegra Aoki on the show, said the cast is "still riding high" from the renewal news.
If the drama's second season follows the patterns of Season 1, fans won't have to wait too long for the show's return. The Good Doctor's first episode aired in September 2017, so it's a safe bet to guess that Season 2 will start airing this September. And, as Deadline pointed out, the season could have as many as 18 episodes, the same number as Season 1. Monday's season finale will likely include plenty of cliffhangers, but fans can rest assured knowing that more episodes of The Good Doctor are on the way.