NikkieTutorials x Ofra Round 3 Is Coming Soon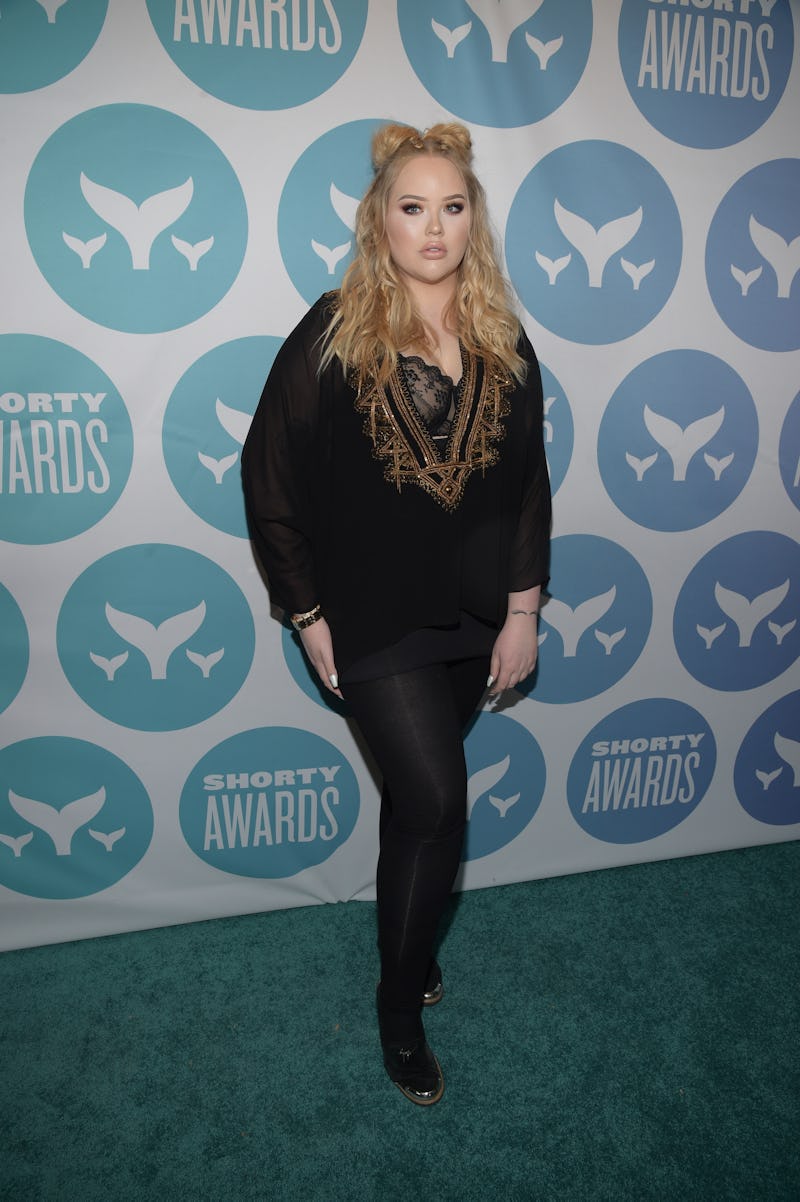 Jason Kempin/Getty Images Entertainment/Getty Images
Just when you thought 2017 was the year of the influencer collaboration, 2018 comes around to show last year up. There's a new influencer x brand collab (but also kind of an old one) coming beauty junkies' way. The new NikkieTutorials x Ofra Cosmetics highlighter marks round three for the brand and the beauty guru, and this baby looks so, so good.
If you're a fan of gorgeous highlighters, there's a good chance that you're well-acquainted with both Ofra Cosmetics and NikkieTutorials. While there's no shortage of gurus out there who love a great glow, Nikkie may just be the queen of a blinding highlight. In fact, it's incredibly rare to see her without one. That's probably why Ofra chose to partner with her on multiple projects. Their latest? A holographic space-themed glow that'll knock your socks off.
The new highlight called Electro Glaze is a gorgeous pressed powder formula with a lilac shift, and it's basically all of the trendiest types of glow in one product. Not only is it giving serious holographic vibes, but the purple hue is perfectly in line with a move toward more colorful highlighters. Basically, it's your one stop glow product, and it's coming at you so soon!
How soon can you get your hands on the new NikkieTutorials x Ofra highlighter? According to the brand's Instagram page, the new beauty can be all yours come Aug. 21. That means you've got less than a week to wait until you can glow like the glow queen herself.
If you're already in love, there may be even more good news for you. According to popular beauty Instagram account TrendMood, the highlighter isn't he only thing coming from NikkieTutorials and Ofra. Sophie Shab, the owner of TrendMood, has reported that Electro Glaze is just a part of an entire collection of otherworldly product including another highlighter called Space Baby. Given NikkieTutorial's previous work with the brand that actually makes a lot of sense, even if it hasn't been confirmed by Ofra just yet.
After all, in her most recent work with the brand, Nikkie did develop an entire set of products. The Glow, Baby, Glow collection featured not one but three different highlighters (Glazed Donut, Glow Goals, and Blind the Haters) as well as a brand new liquid lipsticks in Duchess.
Perhaps the most notable thing about the Glow, Baby, Glow collection, though, is that it was actually a follow-up launch to the brand's original work with the guru at the beginning of 2017. The three individual highlights of Glow, Baby, Glow are actually the three hues found in her original tri-color Everglow highlighter. Alongside that first highlight, Ofra and Nikkie also released three individual liquid lipsticks.
While it's yet to be seen if Electro Glaze is part of a larger, galactic-themed collection from NikkieTutorials and Ofra, the news of a new highlighter is exciting regardless of whether or not it has friends. Even more exciting? It's coming to you in less than a week. Mark your calendars for Aug. 21 and get ready to glow.