Start Planning Your Trip To SUR, Because 'Vanderpump' Season 7 Is Filming Soon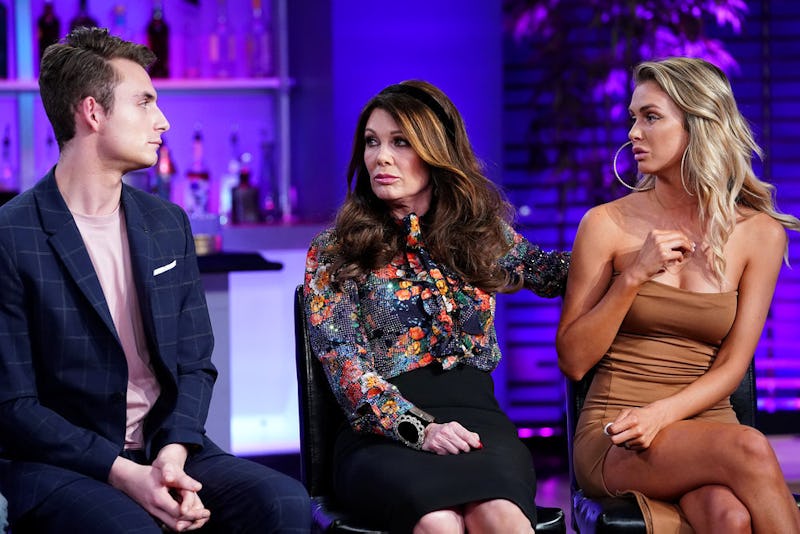 Nicole Weingart/Bravo
Season 6 of Vanderpump Rules is just about over (as soon as the never-ending reunion episodes wrap up), and the good news is that Bravo has renewed Vanderpump Rules for Season 7, per Variety. Why wouldn't they? The SUR drama is just too good to pass up. Hello, ratings! Of course, viewers like you and me have to wait for Season 7 to get rolling before it can make it to screens — when does Vanderpump Rules Season 7 start filming?
In seasons past, Vanderpump Rules has premiered in the late fall/early winter (for instance, Season 6 premiered in December) and ended in the late winter/early spring (it's wrapping up Season 6 now, in late May). The show runs for six months, and they film for almost that long, too. Season 6 opened at Scheana's masquerade birthday party, and her birthday is May 7, 1985 (she's a Taurus, FYI).
In the first Season 6 reunion episode, Scheana mentioned that Rob, her boyfriend in Season 6, broke up with her right after filming. According to Us Weekly, they broke up in October, so that means that a typical filming schedule of Vanderpump Rules runs from the early summer to the late fall. It always includes Stassi's and Ariana's birthdays, which are in June, and the L.A. Pride events, which are in June, as well. This shooting schedule allows for maximum events, maximum drama, and probably maximum scenes in bikinis.
That means that Season 7 of Vanderpump Rules has either already started filming or will start in the coming weeks. Bravo just announced the renewal in early April, so no airdate is set yet, but viewers can probably expect it to be nearly 2019 when Season 7 of Vanderpump Rules premieres. It's a long time, but Vanderfans can enjoy their own respective summers while sleeping soundly, knowing that the cast of Vanderpump Rules is causing havoc that we'll all enjoy in the cold, dark winter months.
And in terms of drama, here are some storylines that should be front and center in Vanderpump Rules Season 7:
Scheana Playing The Field
Scheana is hardly ever single — her divorce was finalized while she was with Rob — so I think it would be nice to watch her date around a little bit, maybe meet some new people and not commit to any of them. Just like, love yourself for a little while, girl. Who needs a man when you can just have some friends over to drink wine and stuff? She could take some cues from Season 5 of Southern Charm on this one.
Lala & James As Enemies
Lala and James were besties for a while, but according to Us Weekly, these two are no longer pals. Lala told the magazine that their relationship was "nonexistent," explaining, "I have him blocked from my cellphone to all social media. You know you come for me, but when you come for my man, game over." Oh, I really want to know more about this one.
Jax Treating People Nicely
Jax's dad passed away in December, causing Jax to, as he said on the reunion, rethink a lot of his life, including his relationship with Brittany. Now he realizes that she's a good person (she always was?) and that he needs her, or some nonsense like that. What so many fans want to see in Season 7 is Jax finally coming to terms with his own demons and treating his friends and girlfriend well. That would be super cool. Which leads me to…
The Toms Making No Excuses
Toms Sandoval and Schwartz are definitely entertaining on Vanderpump Rules, but they also continuously make excuses for Jax. Jax is a grown man, and he should answer for his own crimes. The Toms also aren't the most responsible of guys — remember when they went out partying in Vegas and it made them late for their meeting with Lisa? — so them moving into adulthood with Tom Tom could be nice.
Vanderpump Rules fans can rest assured that Season 7 is happening — they'll just have to wait a while to see all the summer drama play out on Bravo.