Jaclyn Hill Is Naming Her Makeup Line's Products & It's Officially Time To Start Freaking Out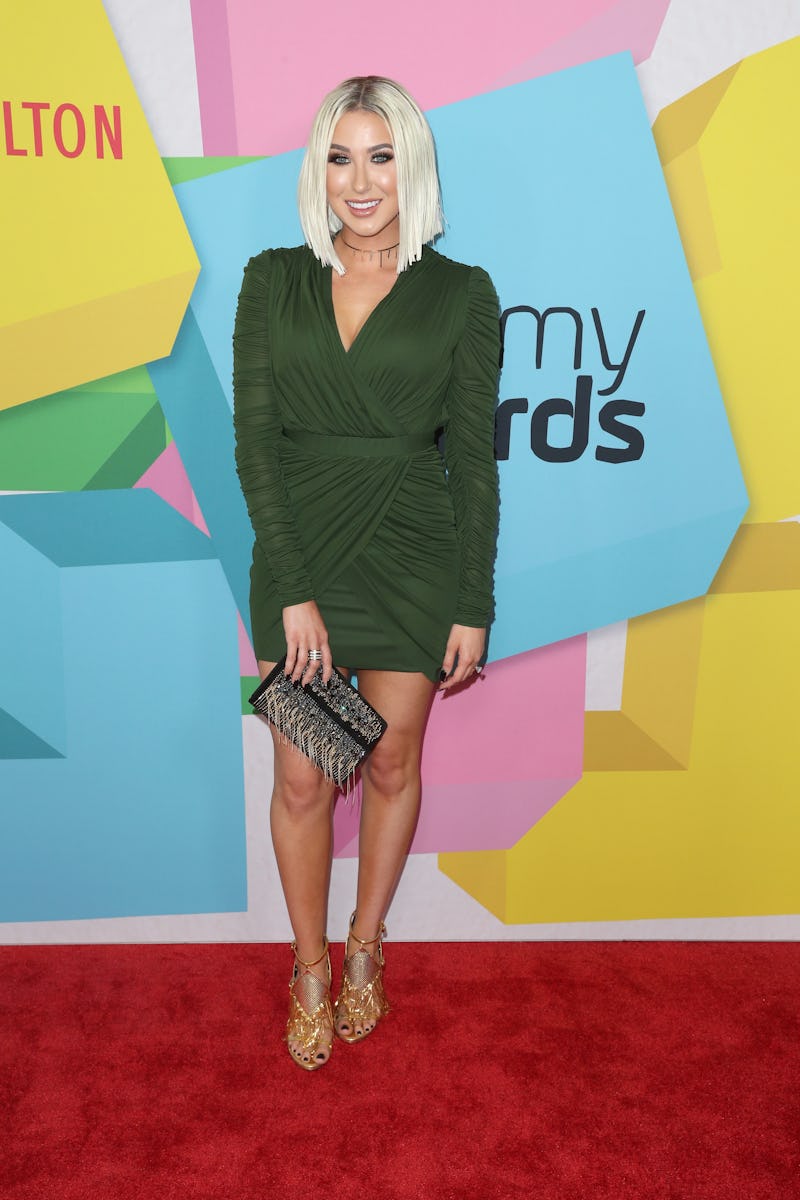 Joe Scarnici/Getty Images Entertainment/Getty Images
It's not all Morphe collaborations and meet-and-greets for Jaclyn Hill. The YouTube beauty mogul has been teasing her own line of products for some time now. On Nov. 7, she finally gave more than a tidbit of information on the upcoming release. Jaclyn Hill's makeup line is officially receiving product names, and Becca's Champagne Pop creator may have even showcased a potential lipstick shade to her Twitter followers.
Hill took to her Twitter to post an image of a lipstick filled with tiny holes, a manufacturing flaw in the formula. She remarked to her followers on how unsatisfying the defective lippie looked. While that seems fairly innocuous, a response to a fan's question led to clues about whether or not the lipstick is actually from Hill's own makeup line.
When a fan asked what brand the lipstick was, Hill responded that it was actually a defective lab sample. So could this lipstick — even with its issues — be a potential shade from Jaclyn Hill Cosmetics? Maybe. However, some fans may note that Hill is intricately involved in Morphe product development — like her work on the 35O2 palette — and the lippie could be a Morphe sample.
However, the image wasn't the only tweet that lead fans to believe she was talking about her own brand. She told one fan that she was "learning a lot today" while at the lab. Then, a few hours later, she explained to fans that she's officially naming Jaclyn Hill Cosmetics products, and pandemonium ensued.
The tweets definitely seem like a linear progression. If Hill is naming products at a lab, then surely that sample is from her own line. Given that's it's a peachy pink shade — a Hill staple — Jaclyn Hill Cosmetics seems to be taking off for sure now.
Hill has been in development with her cosmetics line for some time, and this actually isn't the first sneak peek into a product fans have received. Back in May 2016, Hill used an undisclosed lipstick in a YouTube tutorial that was quickly picked up by beauty Instagram account TrendMood as belonging to Hill's line.
In fun connections, the shade should look ultra familiar, as it nearly perfectly matches the defective shade that Hill recently posted.
Of course, Hill also immediately got questions about the delay of her makeup line. Fans have known that she's been working on it for years now, and Hill was honest about the time frame, explaining in one tweet that she won't launch anything that she doesn't believe is perfect.
In a second tweet, she explained that while she did launch a collaboration in 2017 — the Morphe x Jaclyn Hill palette — launching her own business is a much different endeavor.
Regardless of when Jaclyn Hill Cosmetics will launch, fans are excited for the products to come.
No matter what the lipstick name or when Hill-crafted products comes out, they're going to be "poppin."
Of course, in true Jaclyn Hill fashion, it'll be a serious dance party for fans.
For those asking about more details from Hill, the requests are done in a loving way.
If you've already got your compacts of Champagne Pop and Prosecco Pop and both the old and new packaging of the Jaclyn Hill x Morphe palette, get ready because there's much more where that came from. If Hill is naming products for her cosmetics line, and it's only a matter of time until these heavenly products drop.