Jesse James Decker Fans Are Flipping Out Over Her New Halloween Sweatshirt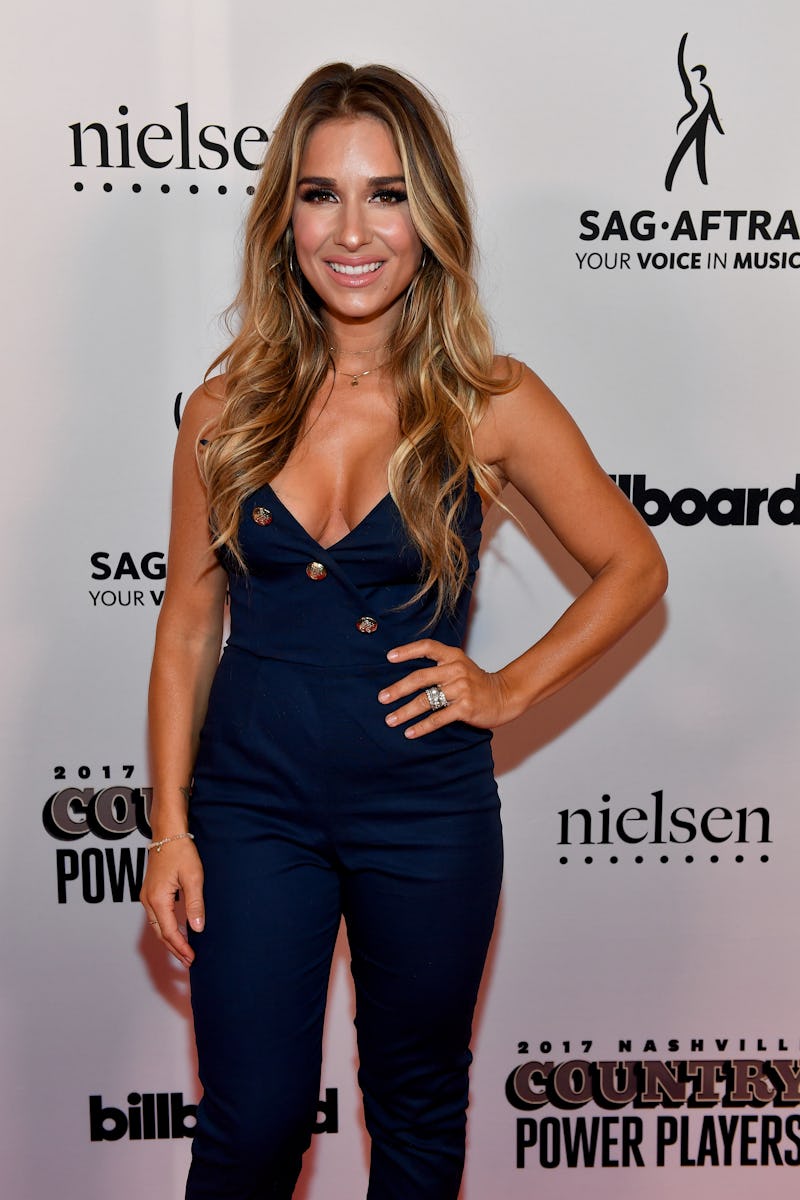 Jason Davis/Getty Images Entertainment/Getty Images
Once you outgrow trick-or-treating, it can be hard to get into the Halloween spirit if you're not that into the whole dressing-up-and-going-to-Halloween-parties thing. But leave it to Jessie James Decker to come up with the perfect solution to that — the "Baddest Witch on the Block" sweatshirt from her latest Kittenish collection, which is the perfect accessory for fall.
If you're feeling overwhelmed by Halloween costume choices or feel like you need something special to sport while handing out candy to trick-or-treaters (and to wear in the weeks leading up to Halloween), this just might be the perfect sweatshirt for you. A product from Decker's Kittenish clothing line, it's a fun way to get into the Halloween spirit even if you're not planning to dress up this year. So when can you get it?
According to the Kittenish Instagram and Decker's account, the Baddest Witch on the Block sweatshirt will be available "this week." So you'll be able to order the comfy new lounge top before the first week of October is even over. And, that'll give it plenty of time to arrive before Halloween so that you can show off your spooky style leading up to the actual holiday.
It's super cute, right? The cozy grey material goes with everything, and the message is fun, holiday-appropriate and just a little cheeky. Fans flipped over the sweatshirt too, letting friends (and Decker) know how much they loved the new piece.
"I need this" was the most common message from fans, so you can bet this sweatshirt is going to be super popular when it hits the website.
Fans have also been tagging friends in their tweets about how much they need the sweatshirt. Gift suggestions?
Of course some fans promised to buy two (so it looks like some lucky friends will be getting the sweatshirt as a gift).
Although you can't buy it on the Kittenish website just yet, you can get 15 percent off your purchases on the site while you're waiting for it to go on sale. That's right, using the code "JJD" will get you 15 percent off your total price. And considering JJD's collection with Kittenish is actually super affordable, you don't have to feel bad splurging on a few pieces from the collection.
Kittenish Logo Sweatshirt, $50, Kittenish
This Kittenish sweatshirt from a previous collection is similar to the Baddest With on the Block sweatshirt, so chances are good it'll ring in at an under-$50 price point and fit similarly to the only Decker is wearing in the Instagram above.
If you just can't wait for the new sweatshirt to hit the Kittenish website, there's plenty of other pieces to peruse while you're waiting for it to go on sale. Beyond the sweatshirt, there's tons of fun new arrivals on the Kittenish site right now.
Southern Girl Stripe Crop Top, $40, Kittenish | Southern Girl Stripe Crop Pants, $60, Kittenish
How great is this crop top and pants set? You can get the Southern Girl Stripe Crop Top for $40 on the Kittenish website now and the Southern Girl Stripe Crop Pants for $60.
Gold Tee, $35, Kittenish
And how cute is this Gold Tee? (Named after JJD's EP, of course). It's $35 and on sale on the Kittenish website now as well.
Pacific Tie Dye Romper, $70, Kittenish
Clinging to summer a little longer? The Pacific Tie Dye Romper is on sale on the Kittenish website now as well for just $70.
Of course if you're ready for fall to begin, you're probably going to love all the fall releases JJD's Kittenish team is inevitably coming up with. And although the Baddest Witch on the Block sweatshirt is the first real fall piece that's been teased on Instagram, more will certainly follow. Stay tuned to see more about the collection and release dates on the brand's Instagram.