Meghan Markle Can't Stop Wearing These Sneakers & You Can Own Them Too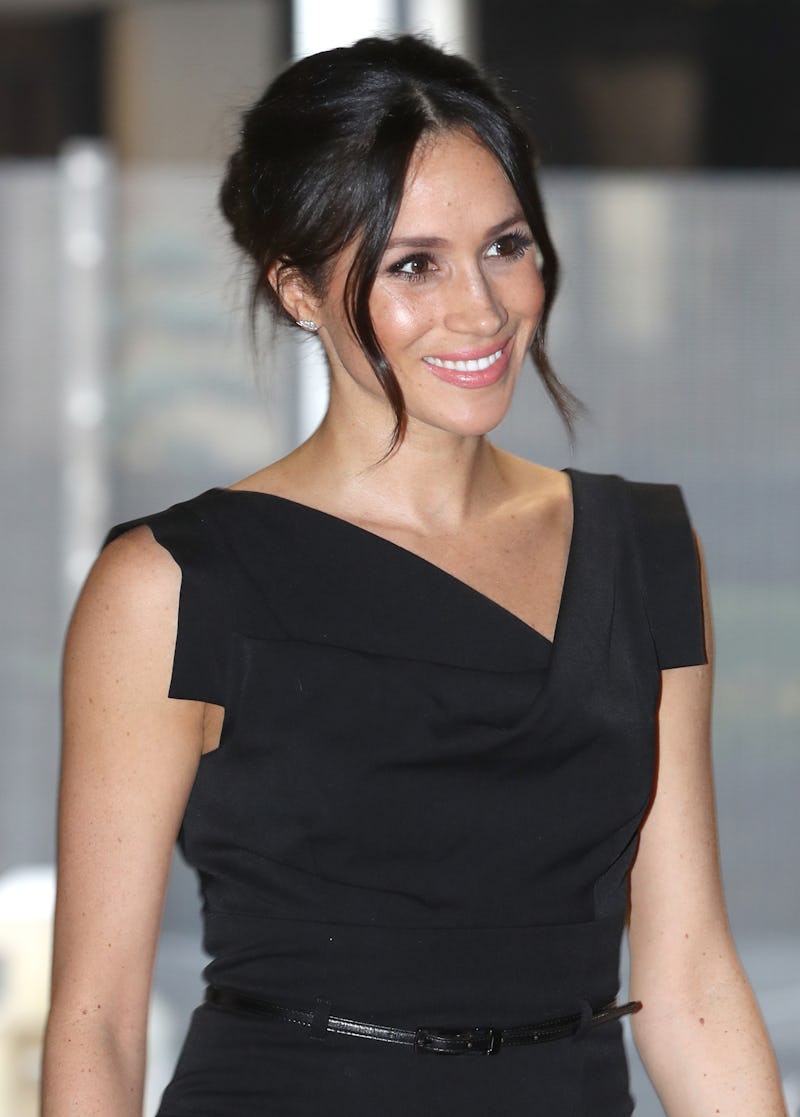 Chris Jackson/Getty Images Entertainment/Getty Images
Meghan Markle is known for her minimalist taste, stepping out in the chicest cigarette pants, creme turtleneck sweaters, cashmere wrap coats, and streamlined midi dresses. But every now and then we catch a glimpse of her in casual wear, and she rocks pieces that can be found in our own closets. Case in point: Meghan Markle loves white Reebok sneakers.
The women in the royal family are style icons, and while it's true that they wear designer pieces that can be found on runway catwalks, they also dress in attainable items that any of their fans can scoop up and buy. From Kate Middleton wearing a white blazer from Zara and sailor pants and plaid pumps from J Crew, to Markle donning a contrast navy and white coat from J Crew, these are all pieces we can order online and make our own.
Which is why it's so exciting that Markle's off-duty style is peppered with mid-range classics. Her fans can channel her without breaking the bank.
Now that Markle is a Duchess-to-be, she doesn't have much downtime in between her philanthropy and royal engagements. But way back in 2016 when she was a Suits star and filming in Toronto, paparazzi has caught her multiple times walking around the studio set or headed off to yoga wearing the iconic white shoes. Specifically, she had a penchant for the Reebok Women's Classic Leather Sneaker with the gum soles, which are just a mere $75.
She has sported them in many ways, and all of them casual, usually dressed up in leggings, a beanie, and warm jacket. Sometimes she was dressed up in a slouchy beanie, black peacoat, and capri leggings, other times she had a green utility jacket and skinny jeans on, and other times she had a wax canvas jacket and Under Armour leggings.
And seeing how white sneakers have had a major sartorial moment these last couple of years, you just might already own a pair in your own closet. If you don't you're in luck, because they are still for sale.
If you love Markle's style and are curious what other affordable pieces she wore that you could potentially shop, check out some of her greatest hits below.
Markle's Brown Everlane Tote
Making an appearance at the Invictus Games in September of last year — where she attended tennis matches that were organized to support wounded service members — Markle took a minimalist approach to the sporting event by donning a white button up shirt, jeans, and the Everlane Day Market Tote, which clocks in at $165.
Markle's Go-To Birdie Ballet Flats
Markle loves a good ballet flat, and one of her go-to brands is Birdies, which is single-handedly reinventing the house slipper. Often times lined with either faux-shearling or quilted satin, these shoes are perfect to wear around the house, but the rubber soles and support arches also make them chic to wear outside. She has worn them everywhere from the studio set while filming Suits, to the farmers market while shopping for flowers, and you can make this exact pair yours.
Markle's Aritzia Dress Belt
While visiting Nottingham Academy in December, Markle met with the staff and students that were involved in the Full Effects project, which helps to deter kids in the area from becoming involved in youth violence and gangs. She wore slouchy boots, a flaired midi skirt, and turtleneck to the occasion, and accented the outfit with an affordable belt from Aritzia.
Markle's J Crew Coat
Markle showed up to Birmingham on International Women's Day, where she was going to meet with Stemettes, a program that encourages girls to pursue careers in STEM. She wore a J Crew piece to the occasion, wrapping herself in a $300 navy and creme contrast topcoat. While on the pricier side, it's still J Crew and any of us could have nabbed it during their winter sale — if it didn't immediately sell out after seeing Markle wear it!
Whether you wear Reeboks or an Everlane tote, it's pretty amazing you can channel a royal on a mid-range budget.