Taylor Swift Created An "Old Taylor" Phone Case & Here's How You Can Get It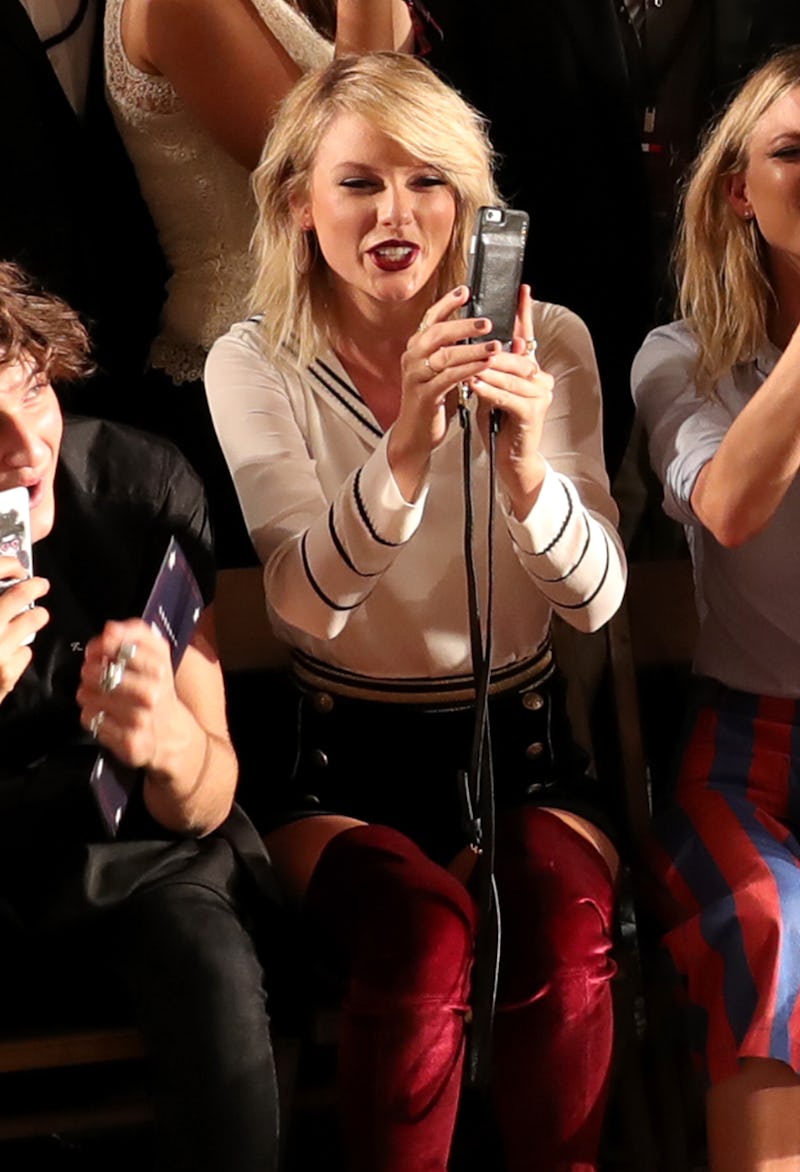 Neilson Barnard/Getty Images Entertainment/Getty Images
Taylor Swift might be back on the music scene, but apparently the old Taylor is still dead — and there's merch to prove it. On top of snake rings and "rep" gear, Taylor Swift created a phone case with her now infamous song lyric on it. If you're looking for a subtle but quirky way to show your Swiftie status, this is the accessory for you.
By now you've probably heard the lyric, "I'm sorry the Old Taylor can't come to the phone right now. Why? Oh, 'cause she's dead." It was an instantly iconic line for Swift's first single off Reputation titled "Look What You Made Me Do." Oddly enough, Swift didn't have any merch with the line on it — until now.
A phone case has popped up in Swift's online merch store and it does the line justice. The rose gold and clear outlined accessory reads, "I'm sorry, but the Old Taylor can't come to the phone right now..." Honestly, I don't know how someone didn't think of this sooner.
The case is only available in one color, but you can stock up no matter what version of iPhone you have. As far as the price goes, it depends on how big your phone is. The iPhone six plus, seven and eight plus, and X are all $40 each, while the regular six, seven, and eight are all $35.
Are you ready for it..?
The Old Taylor Can't Come To The Phone Right Now Phone Case, $35-$40, store.taylorswift.com
Whether you're looking to show the "new year, new you" mentality or are just looking to show your love for Swift, this is the perfect phone case for you. Swift has proven throughout her new album that she's not technically a New Taylor. After all, her love sick and slightly petty ways are still very much intact. Fans have debated the line since it came out, so I'll let you decide for yourself.
To no surprise, fans are already loving this phone case. But it turns out Swift actually uses it, too. According to her Instagram, Swift went on a Target run to buy her own cd and take pictures with fans. It didn't take long for people to spot that Swift was using her own phone case. Whether you're a fan of Swift or not, this is pretty darn hilarious.
This isn't the only bit of new merch in the online shop, either. You can now shop a patch-looking sticker set and a snake keychain, in addition to all the initial creations. Or you can opt for a very meta looking black sweatshirt that has a picture of Swift wearing the same sweatshirt on it. No, I'm not making this up.Oh, and you can also get a pop socket with the singer's face on it, if the phone case isn't enough.
Needless to say, fans are loving the phone case, and the fact that New Taylor is a fan of, well, New Taylor, just just the rest of us.
If this isn't the funniest thing you've read all day, then I don't know what is.
It's not just a great lyrics, it's also an adorable phone case. It's a win-win situation.
Written in all caps — just like the phone case. This is next level fandom right here.
The Swift fans have spoken, and this is their new favorite moment.
Next. Level. Ish.
New Taylor, new phone habits.
What a cute little insult.
Is Swift a true fan of herself or a walking billboard? The world may never know.