Jasper Is Investigating Harper On 'The Royals'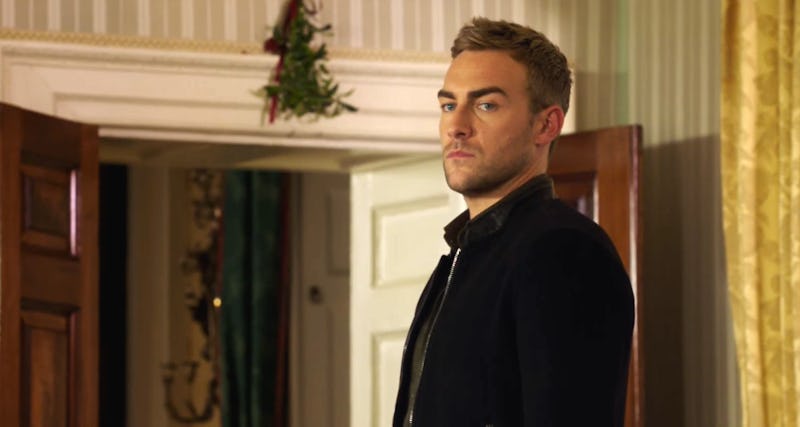 E!
It's never comfortable to live with someone after a breakup, so perhaps it was for the best that Jasper left the palace on The Royals. Jasper was missing from the entire Jan. 22 episode, "The Counterfeit Presentment of Two Brothers" and while I don't actually mean that it was a good thing, his absence did add some intrigue. Not only did he break Eleanor's heart when he ended things between them during Christmas, but then he disappeared for an episode — so, will Jasper be back on The Royals? And what is he up to?
For Jasper and Eleanor 'shippers, one positive aspect about Jasper actor Tom Austen missing in "The Counterfeit Presentment of Two Brothers" was that fans could see how Eleanor is recovering from their breakup. Rather than self-medicate with drugs and alcohol like she would have done in Season 1 and Season 2, she threw herself into planning the People's Gala and her brothers' boxing match. Although she is upset, Eleanor is dealing with her heartbreak in a pretty healthy way that shows how much the princess has matured and also how much she cares for Jasper.
Yet, let's not act like it was OK for Jasper to end things with Eleanor during the Jan. 15 episode. He broke up with her because an American reporter — Harper Day — was threatening to write about Jasper and Eleanor's relationship. In order to protect Eleanor's personal life from being exposed, he broke up with her and then apparently asked his boss James Hill for some time off with no indication on where he was going. As fans know that Jasper is head over heels in love with Eleanor, there is no doubt in my mind that he'll come back, but where is he?
As Jasper's father was the one who apparently tipped off Harper, I thought Jasper might have gone home to America to confront his con artist dad. Yet, during the Jan. 22 The Royals postshow — the Royal Hangover — on Facebook Live, creator Mark Schwahn teased where Jasper might be. Schwahn hinted that Jasper is investigating Harper to get more background information and dirt on her so that he can put this reporter in her place. Since Jasper leaving the palace didn't stop Harper from trying to get information from Eleanor directly during an interview, Jasper is doing the right thing by gathering intel on her — even if I do wish he had just told Eleanor the truth in the first place rather than lie to her.
Although Jasper didn't appear in the preview, Schwahn also said that everyone's favorite bodyguard will be back for the Jan. 29 episode. That means the Jasper drought will be over before you know it. And when he returns, he better be able to win back Eleanor while simultaneously taking down Harper.