Justin Timberlake Has A Great Excuse For Ditching Jessica Biel At The Emmys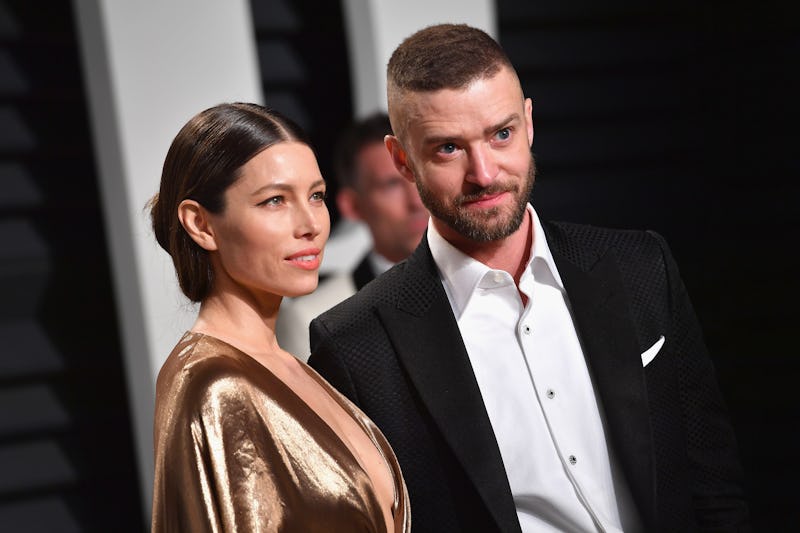 Pascal Le Segretain/Getty Images Entertainment/Getty Images
The 2017 Emmys red carpet is overflowing with some of the most talented celebrities in the business, but one person seems to be missing. Jessica Biel is presenting during the show, but where is Justin Timberlake during the 2017 Emmys? As it turns out, the "Can't Stop The Feeling" singer has a pretty good reason for skipping out on this season's awards show.
JT is actually headlining Sunday at the 2017 Rock In Rio music festival in Rio de Janeiro, Brazil. The infamous music festival originated in 1985 and has since become a worldwide event. Each year, fans in Lisbon, Vegas, Rio de Janeiro, and Madrid come out to listen to their favorite acts rock the mic. Legendary artists like Queen, The Go-Gos, ACDC, and Rod Stewart have been headliners in previous years, so Timberlake is totally within good company.
While it'll be a total bummer not to catch Biel and Timberlake together in all of their glamorous red carpet splender, at least fans could possibly get their hands on clips from JT's awesome festival set. Biel, however, is no stranger to lighting up red carpets by herself, and the 2017 Emmys was of no exception.
Biel stunned in her Ralph and Russo Couture gown, and with her new project The Sinner doing magic on the small screen currently, the talented actor had tons to talk about. Biel, who's not only the star, but also an executive producer, talked about her admiration for the show and shared how much she loved being completely hands on with the production.
During the show, the talented actor was a presenter for alongside Shakespeare In Love's Joseph Fiennes, but no one could help but fawn over her style and grace.
One thing's for sure: underestimating Biel is possibly the worst thing one could do right now, because everything she's giving is on point. From shaking up primetime television with a dynamic drama, to having total red carpet domination with her amazing awards show ensemble, Biel is absolutely on her A game. And fans who were taken aback by the actor couldn't help but sing her praises on Twitter, either.
Aside from her career updates, Biel also dished to Giuliana Rancic about her little one's milestones. According to the wife and mother, baby Silas isn't such a baby anymore. The 2-year-old tot is forming complete sentences, and doesn't bite his tongue when it comes to telling his parents how he feels. And as bittersweet as it is to hear that Silas is growing up so fast, it's nice to hear that the little guy has so much personality. But hey... with parents like Justin Timberlake and Jessica Biel, being able to steal the show is pretty much engrained in his DNA.
It's got to be tough to be married to someone who's in high demand — as is the case for both sides of this couple — but Timberlake and Biel seem to be handling the pressure graciously. Sunday night is a big one for both of the spouses, and not being able to be there in the flesh for one another has to be a bit tough. Luckily for the happy couple, social media can play a major part in keeping them abreast all of the major moments from both of their big nights.
Biel and Timberlake are definitely giving off some major working husband and wife goals right now. But seeing as power couples like JAY-Z and Beyoncé and Will Smith and Jada Pinkett Smith have been juggling marriage, kids and busy work schedules for years before them, Biel and Timberlake doing so only further proves that having "it all" is possible.