The Former Miss Colombia Has Been Up To A Lot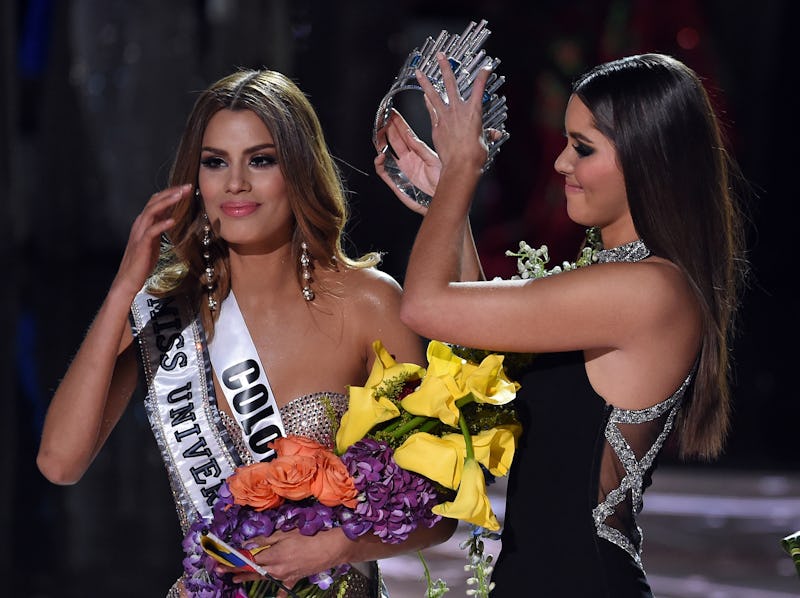 Ethan Miller/Getty Images Entertainment/Getty Images
Imagine that thing you've spent years of your life trying to achieve. Imagine that after all the hard work you've put in, countless hours working to become everything you needed to be to succeed at your goal, you get it. You finally get what you've wanted, only for Steve Harvey, of all people, to tell you he called the wrong name and you actually fell short of winning. That's exactly what happened to Ariadna Gutiérrez, Miss Colombia, at the 2015 Miss Universe pageant. After that tough moment, and now that the competition has returned to crown another winner, you may be wondering what Miss Colombia is doing now.
In the year since her loss, Gutiérrez has made it clear that she felt she had been done wrong. Gutiérrez told Colombia's W radio that "It was very humiliating for me, but also for the whole country and for all the people not only from Colombia, but the other Latinos that were in the auditorium." Despite the negative experience, Miss Colombia hasn't let her loss get her down and has been chasing opportunities that may not have been available had she been all wrapped up in her role as Miss Universe.
Visiting The Happiest Place On Earth
Gutiérrez may have almost been Miss Universe, but that doesn't mean she's immune to the charm and magic of Disney World.
Geeking Out Over Beyoncé
Much like the Queen Bee herself, Gutiérrez has been given a bushel of lemons and is making lemonade.
Filming Her First Hollywood Blockbuster
Gutiérrez makes her film debut in xXx: The Return Of Xander Cage, and could be on her way towards being a major presence in other future action-adventure films.
Celebrating A Birthday
At 23 years of age, Gutiérrez has already had a lifetime of memorable experiences, and she doesn't seem to be slowing down any time soon.
Throwing Shade From Afar
Hell hath no fury like Ariadna Gutiérrez scorned.
Even without the title of Miss Universe, Gutiérrez has managed to grow her brand and accomplish her goals in the year since she was almost crowned. Having the rug pulled out from under you is a universally awful experience, but Gutiérrez shows that the best way to bounce back to to just keep on living.