The Internet Is Obsessed With Justin Trudeau's Chewbacca Socks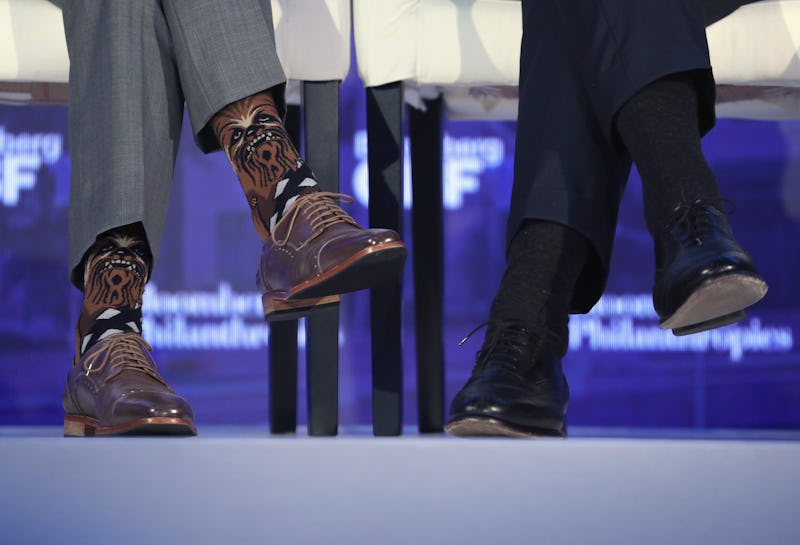 John Moore/Getty Images News/Getty Images
Everyone's favorite Canadian politician wowed world leaders with his sock game yet again. Justin Trudeau's Chewbacca socks might just be the best pair the Canadian PM has brought out yet. In case you've missed it over the past several months, in addition to being an equal rights supporter, feminist icon and total dreamboat, Trudeau is kind of into socks. And considering he's in New York for the United Nations General Assembly, what better opportunity to test out a pair of Chewbacca socks?
That's right, the Canadian PM actually wore socks emblazoned with the face of everyone's favorite wookie at the 2017 UN General Assembly. Not only did he wear them on stage for a panel at the Bloomberg Global Business Forum, he also rocked the socks alongside Melinda Gates for a talk at Goalkeepers 2017.
This isn't the first time Trudeau has rocked a pair of colorful socks at a public appearance, but it is the first time he's met with major world leaders and spoken at huge financial conferences wearing them. You have to give him credit for owning his look though — Trudeau looked completely at ease on both stages while wearing his fun socks. Check out his look.
Cool as a cucumber, right? But let's see those socks.
That's what we're looking for. It's hard to miss Trudeau's Chewbacca socks, especially next to the black-on-black shoes and socks look next to him.
Here's the socks in all their glory. Clearly they were a focal point for some of the event photographers.
Trudeau also rocked them at a second panel later in the day. And needless to say, people were fans of this look from the Canadian PM.
People were loving Trudeau's fun socks, which went viral pretty much instantly.
Trudeau (and his socks) aren't the only great thing about Canada.
Even Star Trek star William Shatner got involved in the fervor over Trudeau's socks (but he wasn't exactly a fan).
Of course it's not the only time that Trudeau has rocked fun socks at public events.
Trudeau famously wore Eid-themed socks at Pride earlier this year.
He also wore a pair of fun polka-dot socks on Live With Kelly and Ryan this summer, and the hosts even gifted him a pair with their faces on them.
But of course, Trudeau's Chewbacca socks take the cake. So where can you buy them?
It looks like Trudeau is rocking Stance socks from its Star Wars-themed collection, and you can purchase the socks on the Stance website.
Chewie Socks, $20, Stance
That looks like it's the exact pair, right? The Star Wars collection doesn't just have Chewie socks, though. It's pretty much a treasure trove of Star Wars-themed socks.
Leia Socks, $20, Stance
Fan of Princess Leia? You can wear a pair of socks with her face (and her famous buns) on them.
Vader Socks, $20, Stance
More of a villain fan? You can showcase your love of Darth Vader with this pair of gray, black and red socks.
BB-8 Socks, $20, Stance
And of course the collection wouldn't be complete with an appearance by the adorable robot BB-8.
The Force 2 Collection, $280, Stance
Of course, if you want to really go all out, you can spend $280 on the Stance Force 2 Star Wars collection, which includes 12 pairs of socks and a mystery 13th pair. Considering Trudeau has rocked Star Wars socks before, it's fun to imagine that he owns this entire collection and rocks Star Wars socks on the reg.
And although not all politicians can be as cool as Trudeau is, it's fun to have him gracing the U.S. with his presence (and amazing socks) for a few days.