Here's Where You Can Buy Meghan Markle's Favorite Tea Online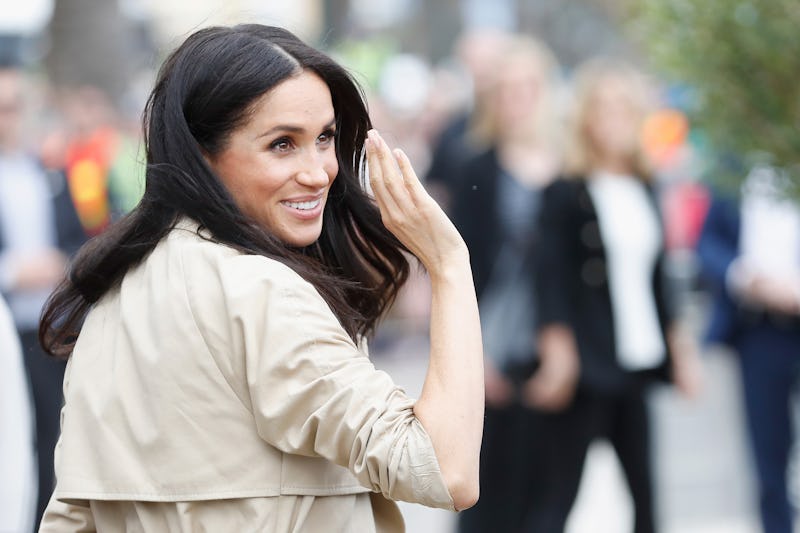 Chris Jackson/Getty Images Entertainment/Getty Images
Meghan Markle and Prince Harry have only been married for five months, but she's already a favorite on the global stage — which means, of course, that pretty much any items she's spotted with are practically guaranteed to sell out almost immediately. So, hey, let's add another thing to the list, shall we? If you've been wondering where to buy Meghan Markle's favorite tea, good news: Taking your tea like a Duchess is easily accomplished.
As you have no doubt heard by now, Markle brought a homemade loaf of banana bread with her when she and Prince Harry visited the Woodley family at the Mountain View farm during the New Zealand leg of their current royal tour. Said Benita Woodley according to Hannah Furness, Art and Royal correspondent at the Telegraph, "[Meghan] said if you go to someone's house you always bring something, so she did." (As someone who is also of the "When someone offers you their hospitality, you bring something as a thank you" school of thought, I approve.) The banana bread was a hit, both with the Woodleys and across the internet — but the baked good wasn't the only treat Markle brought; she also gifted the family a tin of Fortnum & Mason Royal Blend tea.
To be fair, it's not totally clear whether this particular tea is actually Markle's favorite, or whether she simply brought it because it was quintessentially British and thematically appropriate; either way, though, it's a good choice. Originally created for Edward II in 1902, the Royal Blend's combination of Ceylon and Assam has both a maltiness and a honey-like sweetness. Fortnum's, of course, has been a British institution since the early 1700s, and the company's tea is second to none.
And hey, guess what? There are actually quite a few places you can get a hold of Fortnum's Royal Blend. Some, though, are more affordable — and probably reliable, too — than others, so choose wisely. Here are your options:
Fortnum & Mason's Website
Fortnum & Mason does ship internationally, so even if you're in the United States, buying your tea from the company directly is an option. The Royal Blend is available both as loose leaf and in tea bags, with prices ranging from £4.50 to £25 (about $5.90 to $32.75 USD) depending on the amount and style of packaging. However, if you're anywhere other than in the UK, this might not be your best bet because of the shipping costs: Shipping starts at £15 (almost $20 USD) for delivery to continental Europe, jumps to £25 ($32.75 USD) for delivery to the United States and Canada, and leaps all the way to £40 (more than $52 USD) for everywhere else in the world.
Williams-Sonoma
For folks based in the United States, fancy schmancy kitchen goods store Williams-Sonoma is probably your best option. You can get both loose leaf and tea bag versions of Fortnum's Royal Blend there at fairly reasonable prices — $15.95 for a 125g tin of loose leaf tea and $29.95 for a tin of 50 bags. Shipping will cost you between $5.99 and $7.99, if the tea is all you order; however, if it's in stock at a nearby brick-and-mortar store, you can pick it up for free instead.
Amazon
Amazon is the "everything store," after all, so it's no surprise that you can order Fortnum's Royal Blend from it and have it shipped directly to you. There are a few things worth noting here, though: First, the Fortnum's tea available on Amazon is really expensive; and second, it's pretty much only sold by third-party sellers, so authenticity might not be guaranteed. If that doesn't bother you, though, 125g tins of loose leaf tea run at $49, boxes of 25 bags at $29, and packs of three 25-bag boxes at $ 39.90.
Specialty Shops
I do love a good specialty shop — especially ones that carry imported foodstuffs from the UK and Ireland. You'll have to look around to see if you've got any near you, but the good news is that even if you don't, many such stores have online presences these days and will ship items far and wide. Taste Of Britain, for example, is local to Norcross, Ga. — but they've got an online store, too, so even if you live in a totally different state, you can still order from them. And hey, guess what? They have the Royal Blend from Fortnum & Mason in stock. For $29, you get a 250g tin of loose leaf tea.
Once you've got your tea, of course, you'll need to brew it, so here are a few tips on how to make a proper cuppa. Now grab your favorite biscuit (or banana bread), and enjoy. Cheers!