These 'Star Wars' Sneakers Feature Easter Eggs From The Films — And They're Stylish AF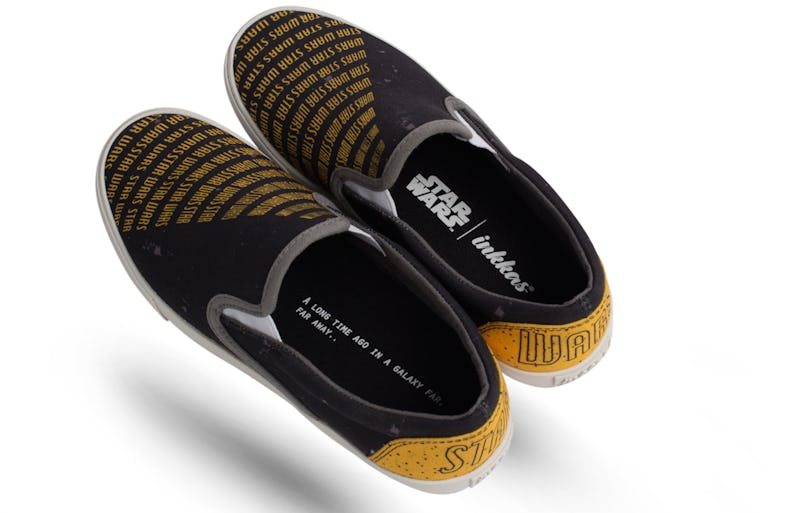 Courtesy of Inkkas
It's been a minute since the last Star Wars fashion collab dropped. But it's worth the wait. Inkkas Footwear has issued a Star Wars sneaker collection and it's all about those intergalactic details. This limited edition capsule collection effectively captures a cool streetwear vibe without sacrificing the authenticity of the Star Wars lore.
The collection offers a variety of styles — from slip ons to performance sneakers to camping boots — featuring beloved Star Wars characters and familiar graphics and imagery.
If you picked up the Star Wars x Terez leggings or managed to grab the Star Wars x Cargo Cosmetics makeup collection, your look is incomplete until your add a pair of Inkkas x Star Wars Sneakers.
The brand is known for its comfy and breathable kicks. The addition of Star Wars designs take them up a notch — or five!
But get this — these shoes have easter eggs. There are hidden messages tucked into the shoe designs. They're your little sneaker secret and more. The shoes also come with custom, collectible boxes that also include insider messages. You can't help but love shoes that have stories.
The Inkkas x Star Wars shoe range is incredibly premium. Only 50 of each size are available via the brand's site.
Prices start as low as $65 and go as high as $150. So it's a fashionable and affordable footwear collab.
But as previously stated, the strength of this collection is rooted in the design details.
SPOILER ALERT! Here's a sneak peek at some of the easter eggs — this is the inner sole of the Star Wars slip on. So cute, right?!
Look at all of that detail — both internal and external.
Here's a rundown of the Inkkas x Star Wars shoes, which come in both men's and women's sizes and which will ship around July 20.
1. Star Wars Camping Boot
2. Star Wars Slip On
3. Aztechy Flex Force
4. The Galaxy Camping Boot
5. Aztechy Slip On
6. The Saga Flex Force X
7. The Galaxy Flex Force
8. The Geo Universe Flex Force
9. R2-D2 Flex Force
10. The Geo Universe Camping Boot
11. R2-D2 Slip On
Here's a closer look at the graphical detail.
These shoes have so many secrets.
Indeed! You won't feel a disturbance in the fashion force with these shoes. Instead, you will want to live in them and wear them with every OOTD this summer.