Pringles Just Launched Limited Edition Thanksgiving Flavors — Including Pumpkin Pie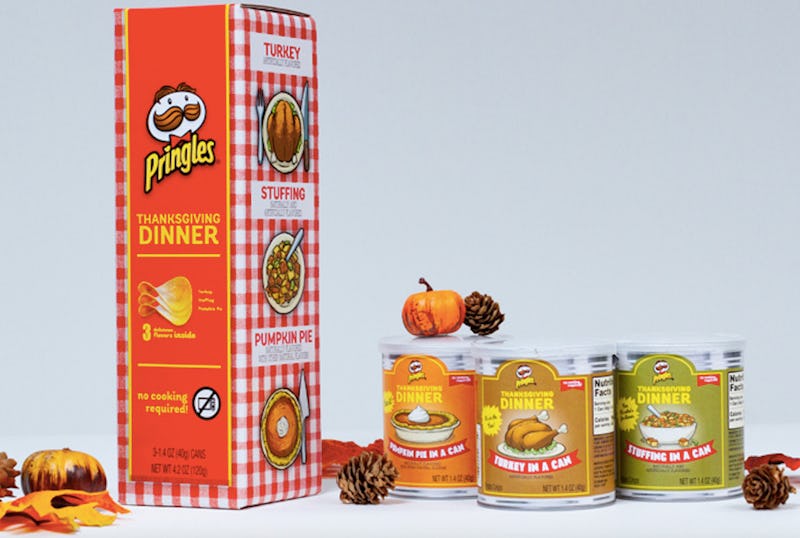 Pringles
Excellent news for anyone who has a soft spot for snack foods designed to taste like other foods: Thanksgiving Pringles are back for 2018 — and this year, they're publicly available! That's a change from last year; so, if you've been wondering where to get Thanksgiving Pringles for the past 12 months and previously been disappointed when the answer turned out to be, "You can't"… well, all that's changing now. Because hey, guess what? You can get them online! You'll likely have to act fast, though; as you might expect, supplies are limited. Still, though — I would argue that just having the option to get them is enough.
Now would be an appropriate time to break out the #blessed hashtag, right?
Thanksgiving Pringles made their triumphant debut in 2017. "Pringles are known for bold flavors and endless flavor stacking possibilities, so this holiday season we wanted to introduce snack-lovers to a new way to enjoy Thanksgiving favorites," Kurt Simon, then senior director of marketing for Pringles, said at the time in a press release. "The Pringles Thanksgiving Dinner flavors, are not only new but cover every course of the real meal — from the main event, to sides and even dessert." Packaged in a cute little TV dinner tray, the chips came in a whopping eight flavors: Turkey, Mashed Potatoes, Stuffing, Cranberry Sauce, Creamed Corn, Green Bean Casserole, Mac & Cheese, and Pumpkin Pie. Here's what they looked like:
Alas, though, anyone hoping to get their hands on Thanksgiving Pringles last year came up empty. According to the press release, the chips were "a pilot taste test" with "only limited availability" and "not available for retail sale this season." The release did leave us with a little hope; its final words were, "Who knows what the future of Pringles stacking and snacking will bring!" But hope is not a promise — and promises aren't always kept, anyway — so all we could do was sigh and carry on.
No more, though! For we've just received word from on high: Thanksgiving Pringles are not only back, but purchasable in 2018. Heck, and yes.
There are, however, a few changes from last year. The packaging, for example — while still cute — isn't quite as dramatic as the TV dinner-style tray that housed the 2017 edition of the chips; instead, it's just a box decorated with a red checkerboard tablecloth pattern holding three mini-cans of Pringles. And, yes, you heard me — there are only three cans, not eight. According to Chewboom, the full range of flavors from 2017 is not available this year. Instead, the collection has been pared down to Thanksgiving dinner's three most iconic tastes: Turkey, Stuffing, and Pumpkin Pie.
Most importantly, though, is this: Starting at 11:59 p.m. E.T. on Nov. 6, Thanksgiving Pringles will be available for purchase via Kellogg's online store. They're $14.99 a pop, which is about 10 times the cost of a regular can of Pringles — but then again, they do encompass an entire Thanksgiving dinner. Note, too, that supplies are limited (and probably very limited, at that), as well as only available on a first-come, first-serve basis. I think it's likely that these delightful little treats will go quite quickly indeed, so if you want them… uh… maybe set an alarm for yourself for shortly before midnight tonight. The page where you'll be able to buy them isn't live yet, but you might want to bookmark it anyway for easy access; it can be found here.
Are all of the flavors a success? Not so much — but honestly, that doesn't even matter half as much as the overall concept here. As Mike Pomranz of Food and Wine put it in 2017, "Give Pringles credit for creating a fun novelty. No, all the flavors weren't perfect, but for a product like this, the discussion and debate is almost entirely the point." For what it's worth, Pomranz noted that the savory flavors worked the best, with Green Bean Casserole being a surprising standout, "if only for nailing a taste you wouldn't expect to translate so well into a chip." (Unfortunately Green Bean Casserole isn't in the 2018 assortment, but hey, at least two of the three options that are available fall under the heading of "savory.")
Hop online to Kellogg's website tonight at 11:59 p.m. ET for your shot at taking home a box of Thanksgiving Pringles. Good luck!