Blake Lively Had The Perfect Response To A Fan Who Criticized Her Style On Instagram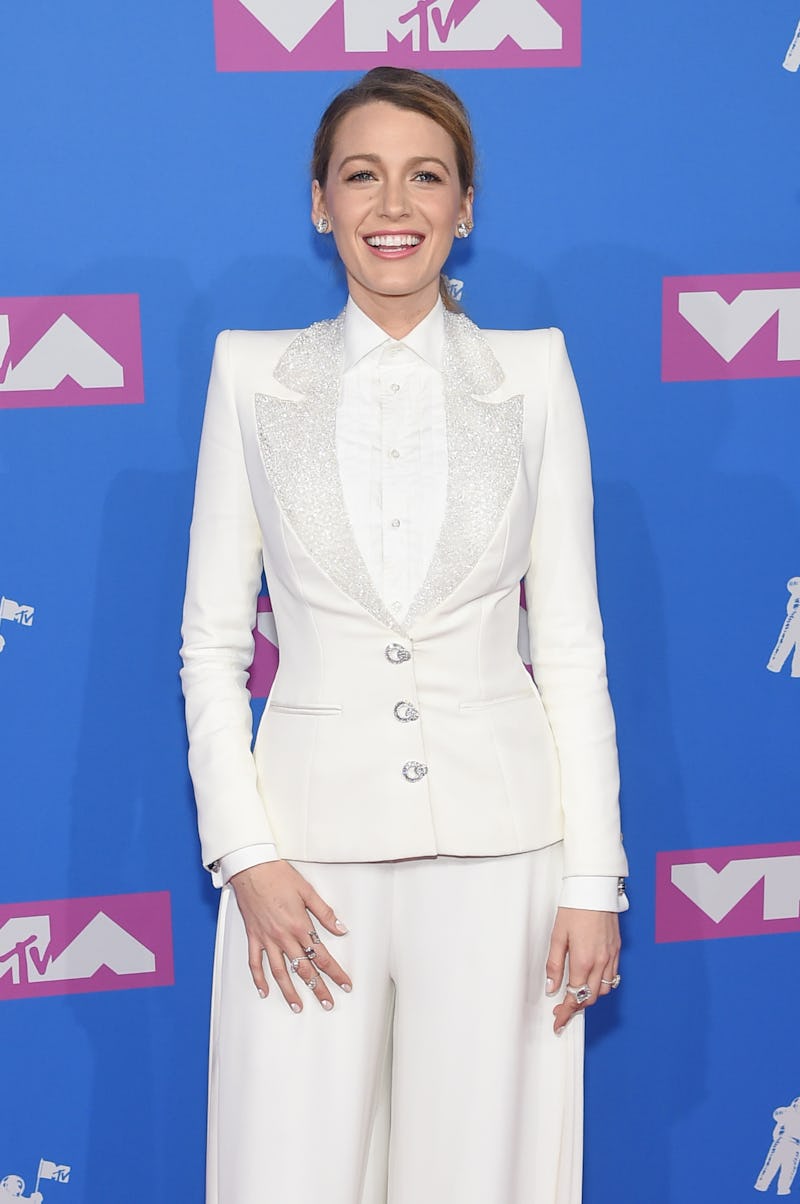 Jamie McCarthy/Getty Images Entertainment/Getty Images
Here's a clapback that deserves its own round of applause. After a fan took aim at her fashion choices, Blake Lively responded to the insult on Instagram in the most lighthearted way. In fact, her self-deprecation actually began with the Aug. 24 post's caption in which she hilariously poked fun at her bold, all-plaid Roland Mouret suit. "Picnic anyone?" she wrote along with the candid street shot. "I'll bring the tablecloth..."
Despite Lively's tongue-in-cheek take, one commenter decided to take on the role of fashion police officer, writing, "I say this with so much love & respect for you babe, please hire a stylist or fire the one you're currently with."
What the user apparently didn't know, however, is that Lively — who also credited Valentino, Christian Louboutin, J.Crew, Lorraine Schwartz, and even husband Ryan Reynolds for her accessories in the Instagram post — has long acted as her own stylist.
"Thank you for the tips, sir," Lively comically responded in the comments section. "Alas, I've tried to fire @blakelively so many times. But the b*tch just keeps coming back. She won't leave me alone."
Among her recent self-styled parade of pantsuits: a white suit and oversized culottes at the 2018 MTV VMAs and a weather-defying head-to-toe velvet outfit, even with the New York City temps in the high 80s. (By Elle's estimation, her VMAs look was actually the seventh pantsuit she'd worn while promoting her new thriller, A Simple Favor.)
Earlier this year, the former Gossip Girl star explained why she doesn't use a stylist in an interview with WWD. "Probably because I have control issues and a big ego — that's probably the honest answer," Lively joked to the publication. The real reason? "I love design and I love fashion, and it's a way to be creative," added Lively who also revealed she loves doing her friends' hair and makeup. "In my job I get to be creative, but it's over a period of time and so many other people are involved, whereas this is a beginning, middle, and end, and I get to be creative and there's an end date in the near future."
There is a downside to acting as her own stylist, however. "The hard part is going through all the fashion shows and screen-shotting all the looks you like and calling them in," she admitted to WWD. "I have an assistant who helps in calling in the looks. But a lot of it is I have relationships with the designers."
Unlike the Instagram commenter, Reynolds has always had the highest praise for how Lively slays her public appearances calling her "the Beyoncé of red carpets" during a 2015 interview with AOL Build.
After all, the Deadpool actor also joked during the AOL interview that he has a front-row seat to how Lively has turned red carpet appearances "into an athletic event" with all that's involved in her getting ready routine: "I see what goes into that ... real science. It's unbelievable. You guys see the finished product, I see the totally destroyed closet, bedroom, and kitchen by the time she walks out the door. So, yeah, I don't even know how shoes got in the freezer. It's like that, it's seriously nuts. There's kung fu involved, it's really intense."
Regardless, the husband-wife duo are pretty well-equipped at handling online jabs, as Lively and Reynolds often troll one another on social media themselves anyway. Posting everything from hilariously cropped birthday tributes to not-so-veiled playful insults, their relationship seems as much silly as it is sweet. In response to one viral post in which Reynolds shared a video of himself with his fake "twin brother," Gordon, Lively commented "Sh*t. Your brother is hot. I've made a terrible mistake." Not to be outdone, Reynolds had the last laugh, joking back: "You haven't made a mistake. You've been living with him for over a year."
While the Instagram user's fashion criticism may not have been quite so playful, fans will be glad to see that Lively took the comment in stride with her trademark sense of humor.