Which 'AHS: Roanoke' Characters Are Real? The "Based On A True Story" Claim Isn't False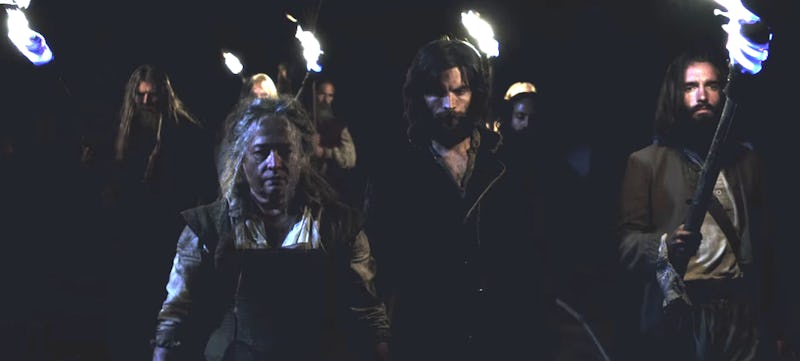 FX
Blurring the lines between reality and fantasy is kind of American Horror Story's expertise and Season 6's My Roanoke Nightmare is no exception. While the Lost Colony of Roanoke is a true story, other parts of AHS Season 6 are clearly fiction, so are any American Horror Story: Roanoke characters real? This season is set up like a documentary, but the characters of Shelby, Matt, and Lee (whether it's their reenactment actors or their "real-life" counterparts) are pretty solidly just from the mind of Ryan Murphy. Yet, the anthology series always has a huge ensemble cast, so are any of the new characters on AHS real?
The third episode of American Horror Story: My Roanoke Nightmare revealed the most about Season 6's theme with Cricket Marlowe rolling onto the scene and explaining the connection to Roanoke. The Roanoke colonists are inspired by history, but, of course, the series has taken significant liberties with this actual American mystery. And, the Roanoke story line is only one part of this bizarre season with psychics, local mountain men, and murdering nurses also in the mix — some of these characters are fascinatingly closer to reality than you'd expect.
As more secrets get revealed (and more questions come up), here is the real or fake status of some of the main players on AHS: Roanoke to help you keep track of reality and fantasy — a luxury that Shelby, Matt, and Lee clearly don't have anymore.