Obama's Photographer Has A New Book Coming Out & The Cover Will Make You Miss The Old Days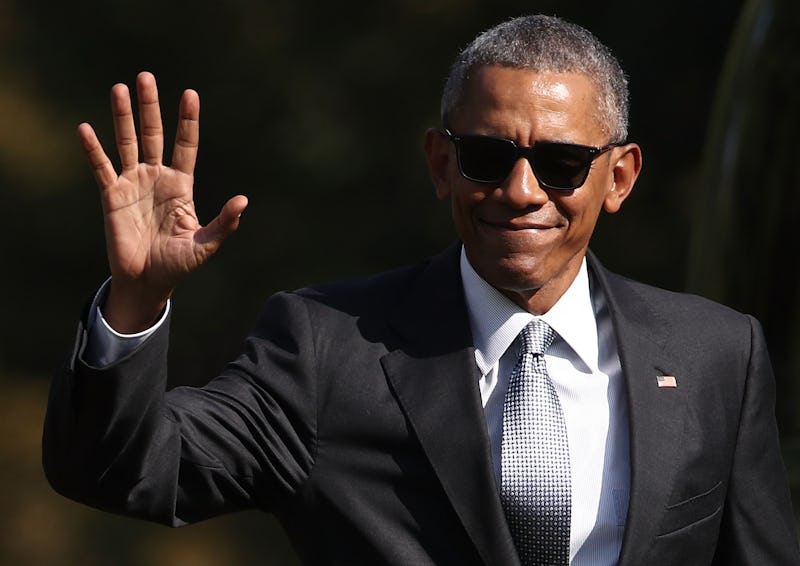 Win McNamee/Getty Images News/Getty Images
When former White House photographer Pete Souza announced plans to adapt his popular Instagram feed, which features some seriously hilarious trolling of current president Donald Trump, into a book, his followers could barely contain their excitement. But things really heated up on Wednesday when Souza revealed the cover of Shade: A Tale of Two Presidents online, and fans were able to get a glimpse of what kind of magnificent book is in store for them. Let me just say, if you haven't pre-ordered it yet, the cover of Shade will make you want to do so A.S.A.P.
People who follow former White House photographer Pete Souza on Instagram expect a lot from his social media feed. While he was working for former president Barack Obama, it was a place they could find breathtaking images at the Commander and Chief behind-the-scenes in Washington and around the world, as well as shots of the First Family and their beautiful family. Following the election of Donald Trump, Souza archived and locked all of the previous posts from his account before turning his personal Instagram account into the headquarters of online Trump Trolling. It started with a small quip — and image of Obama in the Oval Office with the caption, "I like these drapes better than the new ones. Don't you think?" — but it quickly transformed into something different: a place where Souza began using his photos of Obama alongside pointed captions to fire back at Donald Trump and his administration's every bad decision.
On his account, which now has roughly 1.9 million followers, Souza posts iconic images of Obama, his family, and the previous administration alongside alongside descriptions of the photos that draw attention to the drastic differences between Obama and Trump's White Houses. One of his most powerful posts include a photo of Obama comforting the families of school shooting victims, which he posted shortly after the tragic mass shooting in Parkland, Florida. More recently, Souza posted a sweet photo of of Obama down on his hands and knees on the floor of the Oval Office next to an adorable baby trying to crawl. In the wake of the devastating news stories from the country's borders where children are being ripped from the arms of their parents, the once heartwarming image feels utterly heartbreaking.
A stirring mix of humor, honesty, rage, and empathy, Souza's account has made him a symbol of the resistance in the Trump-era, and his upcoming book will be a kind of handbook for its members. According to the publisher Shade, which will feature 100 new images alongside Souza's writing, is "a stirring reminder of the highest American values we share, giving us the courage to stand up and speak out for what we believe in."
Now, it has a cover, one that perfectly captures its hilarious and heartfelt essence.
Shade: A Tale of Two Presidents by Pete Souza, $22, Amazon
Unsurprisingly, it features an image of Obama, but probably not one you would expect to see on the from of a book. Instead of a heartwarming photo of 44 with his family or a powerful shot of the former president at the White House, Shade's cover features Obama in front of a crowd of people, wearing a white dress shirt, a black suit jacket, and a pair of — you guessed it — sunglasses. But Obama isn't just wearing any sunglasses, he is wearing plastic patriotic shutter shades, like the ones you couldn't go to a beach, a house party, or a music festival without seeing circa 2008.
An obvious ode to the book's title, Shade's featured image is an iconic cover in the making, and fans are already singing its praises. Souza's post revealing it has already received over 100,000 likes. Alongside the image, Souza wrote "If OBAMA: An Intimate Portrait is a coffee table book, then SHADE is an every table book. If you've been following my Instagram feed since the last inauguration, then you have an idea what this book is about (but of course there will be some surprises)."
Shade: A Tale of Two Presidents hits shelves on October 16. In the meantime, follow along on Souza's Instagram to get a taste for what his upcoming book will be like. You can also check out the author's #1 New York Times bestselling book of behind-the-scenes photos and stories, Obama: An Intimate Portrait, available in bookstores and online now.