This Is Who Creates Those Silly 'Bachelor In Paradise' Intros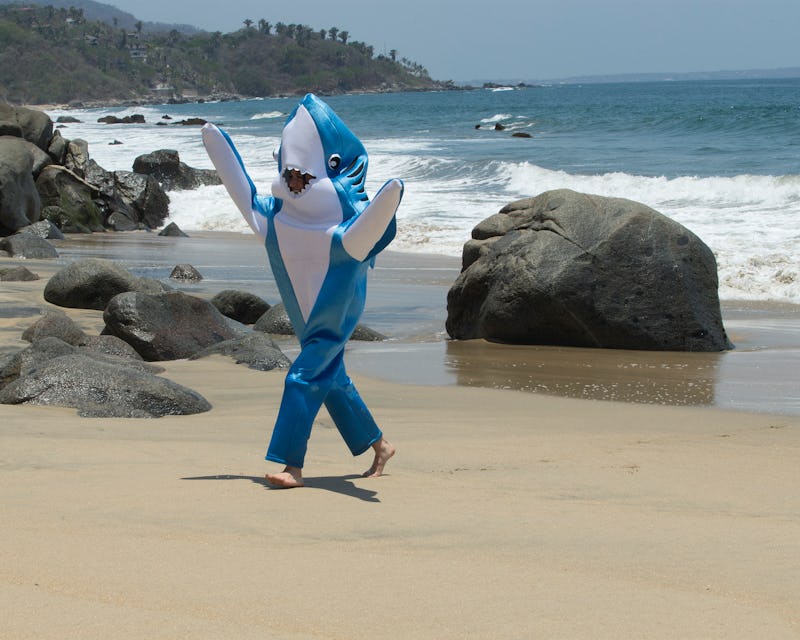 Paul Hebert/ABC
Bachelor Nation looks forward to Bachelor in Paradise for many reasons, with one of them definitely being those campy and playful opening credits. Set to the classic song "Almost Paradise," the Bachelor in Paradise intros are a fun and goofy take on the opening credits of '80s sitcoms. And there's no one person who decides the Bachelor in Paradise opening credits. At a Bachelor star charity event benefiting Restore Dignity, current and former cast members of the show recently told Bustle that those opening shots are a collaboration between the cast and the producers.
"The intros are just a collaborative effort," two-time BiP contestant Jared Haibon says. "The producer will have ideas and we'll have ideas." The Bachelor in Paradise opening credits feature the cast frolicking around the beach in campy poses. Sometimes, those poses have something to do with their past reputation on the franchise — Jasmine Goode choking the camera man in this season's intro is a reference to her jokingly choking Nick Viall on The Bachelor earlier this year, and Alexis Waters wears her infamous shark/dolphin costume in her BiP intro scene. Other scenes are just serendipitous on set, such as Jared's shot from Season 2, in which he peeks out from behind a tree. "[For] my first one, we were doing all these different intros and then the producer was like, 'Hey, why don't you go behind that tree and just pop out?'" he says. "And it looked great."
And some of the intro shots have left fans scratching their heads, like Amanda Stanton being chased by a man dressed like a giant pizza. Thankfully, Amanda cleared up the meaning of that shot when I asked her about it: The pizza symbolizes her former fiancé Josh Murray, whom she dated on Bachelor in Paradise Season 3. "He was always known for eating pizza, so it was me running from last season," Amanda says. Makes sense now, doesn't it?
The current and past cast members all shared that a lot of footage is recorded for the opening credits sequence and fans only get to see a small part of it. Robby Hayes told Bustle that the men of BiP shot at least eight group shots during their "guys day down at the beach" — including them running in slow-mo, forming a pyramid, and splashing in the water — but the show only used one shot. Jasmine mentioned to me that she also shot an opening credits scene in which she dances, which is a reference to her career as a dancer.
While Jared was satisfied with his shot last year, he told Bustle he wished the show used one that he and Ashley I. had done together, which referenced the Season 3 love triangle between himself, Ashley I., and Caila Quinn. Jared noted that the shot was done when the on-screen drama had settled between the three of them. "We thought it would be pretty funny if we had an intro of me running, like Jared running by and Ashley chasing after me," he says. "Everyone signed off on it — Caila was fine with it, Ashley was fine with it, I was fine with it, but it never made the cut." Instead, Jared's Season 3 intro showed him leaning and then slipping off a pole on the beach.
A lot of work goes into Bachelor in Paradise's cheesy, but always fun opening intro — and it sounds like, between producer and cast input, anything is possible in the opening credits, just like in Paradise itself.