Alice's Brother Shakes Things Up On 'The Catch'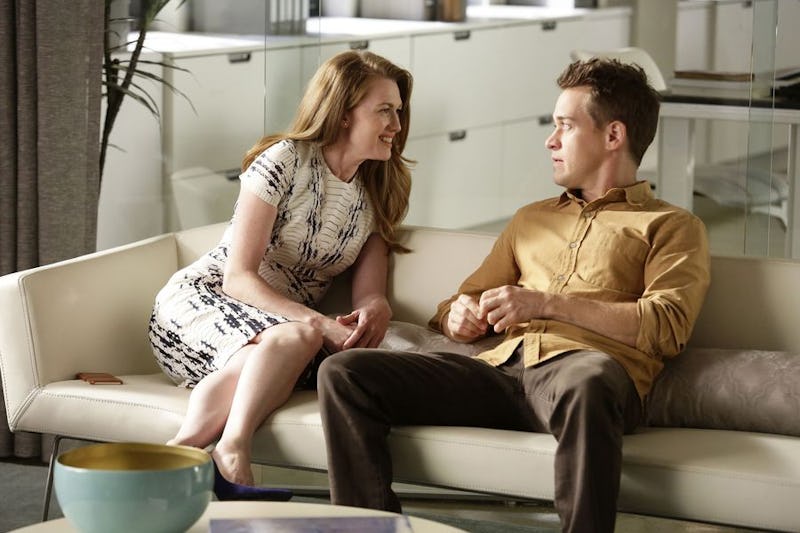 Nicole Wilder/ABC
Alice Vaughan is back and (sort of) back in business in The Catch Season 2 premiere. Say what you want about her unconventional lifestyle, but there's never a dull moment and Alice is a seriously skilled multi-tasker. She's simultaneously attempting to get her files back from the FBI and reason with Ben, who's about to become a con artist once again (but for a good cause this time), when she receives word that there's been a break-in at her home. (Can Alice ever catch a break?) Her immediate response to this news is "MARGOT!" but for once Ben's former boss isn't the culprit — Alice's younger brother Tommy has arrived on The Catch and it doesn't seem like he's going anywhere soon.
This is good news for viewers because he's the type of guy who's just a riot when he's not your family member or responsibility. Tommy frets that he wanted to surprise Alice (the alarm thing was a totally honest mistake — it happens to the best of us), but things haven't been going especially well for him. "I wanted to get my life back together and get a job before I called you, but there are no jobs for millennials," explains the guy who is definitely not a millennial.
But, Tommy has stumbled his way into a small fortune. A sum of three million dollars was mysteriously deposited into his bank account, and Alice traces the money back to a wealthy couple he used to petsit for. When she heads to Pasadena to investigate why they've fallen off the grid, Alice finds the couple murdered in their own home. Tommy is seriously miffed when Alice tells him that their deaths don't mean he can keep the money — and it leads to an argument in which he accuses her of trying to hold him back so she can always be the more successful one. At first, it sounds like a fairly run-of-the-mill clash between siblings.
But, Tommy utters some very telling words at the end of their exchange: "You think you're so much better than me. Don't forget — I know you. You are just like me, and maybe worse because at least I'm not pretending to be something that I'm not." The look on Alice's face says it all — Tommy's not just being dramatic and she knows exactly what her brother is referring to.
So, when does Tommy plan on sharing this dirt from Alice's past with us? During an earlier, more cordial conversation between the siblings at Alice's home, viewers learned that their father was an "amateur cheat and thief" and Tommy thinks that may be why she was drawn to Ben. I wouldn't put too much stock in Tommy's pop psychology skills, but another intriguing bit of information was revealed during the same chat. There's a figure from Alice's past named Ethan who she really doesn't want to talk about — which seems like a clear sign that he'll emerge at some point this season. Alice and Ethan were apparently "almost engaged" and are no longer on speaking terms — but Tommy tells his sister that he occasionally talks to Ethan and it clearly makes her uncomfortable.
Alice has made a career out of her ability to figure out other people's secrets — but Tommy's arrival may mean that some of her own secrets will be revealed this season.