Why The New Circuit Court Judge Poses A Huge Threat To Your Reproductive Rights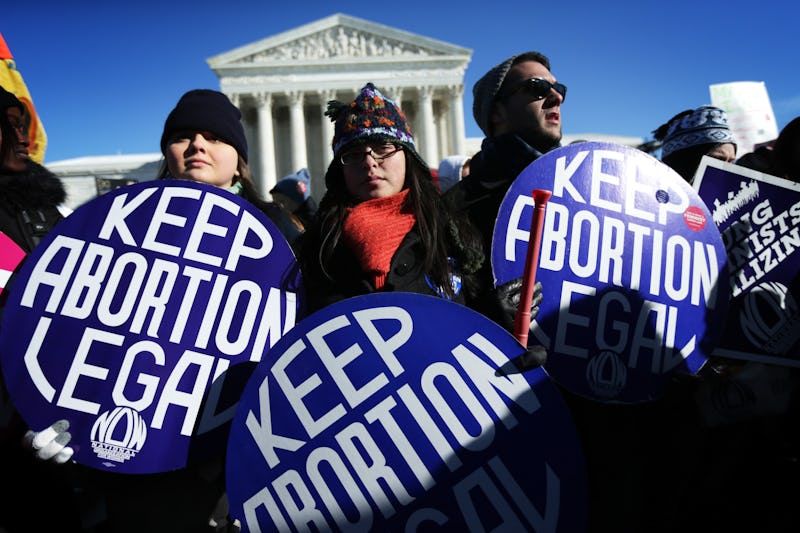 Alex Wong/Getty Images News/Getty Images
The entirely Republican-controlled Congress doesn't have much to show for itself in terms of legislative accomplishments, so now Senate Majority Leader Mitch McConnell is trying out a new strategy. This week will be all about filling the courts with extremely conservative judges, including recently confirmed circuit court nominee Amy Coney Barrett, who has just received a lifetime appointment to the U.S. Court of Appeals for the 7th Circuit.
Update: On Wednesday, June 27, 2018, Justice Anthony Kennedy announced his retirement at the end of July. Barrett, who was added to President Trump's shortlist for Supreme Court justice nominations shortly after her confirmation to the circuit court, could now potentially be considered for Kennedy's replacement.
Barrett, who was confirmed by a 55-43 vote, is considered a highly objectionable pick for anyone who's concerned with women's reproductive rights. "The idea that Amy Coney Barrett would be a fair and impartial judge on issues of reproductive health is ludicrous," said Dana Singiser, Planned Parenthood Action Fund's Vice President for Government Relations and Public Policy, in a statement.
And while the right-wing media has lauded her appointment as a success for religious freedom, there's actually quite a bit of evidence to suggest that Barrett doesn't put much stock by the separation of church and state that the first amendment also guarantees.
In theory, a judicial nominee's faith shouldn't come into play when it concerns their decisions behind the bench. However, Barrett and a colleague wrote an article in 1998 arguing that Catholic judges should recuse themselves in cases involving the death penalty, because their faith doesn't allow them to hand out that sentence.
[L]itigants and the general public are entitled to impartial justice, and that may be something that a judge who is heedful of ecclesiastical pronouncements cannot dispense.
When questioned at the hearing about whether it was "never proper for judges to put their personal views ... above the law," Barrett agreed that it wasn't. However, in the same discussion, she also downplayed the scope of the article she had written and made several statements that conflicted with writings she'd authored on other subjects.
Particularly, she indicated that she doesn't see Roe v. Wade as a so-called "superprecedent," a decision so deeply-embedded into law that it would be damaging to overturn, but at the hearing she backed away from previous statements she'd made disparaging the 1973 decision that gave all women in the country the right to receive an abortion.
Her background on issues like Roe hasn't gone unnoticed by groups dedicated to protecting women's reproductive rights. In a press release responding to Barrett's confirmation, NARAL Pro-Choice America wrote:
With a lifetime appointment, Barrett can impose her extreme anti-choice ideology onto women and families for much longer than Donald Trump will occupy the White House. Barrett's confirmation proves that the anti-choice GOP is more concerned with advancing its out-of-touch agenda than upholding our basic human rights, and this confirmation should concern anyone who believes in a truly independent judiciary.
Planned Parenthood wrote an open letter calling on senators to oppose her nomination because of her position on both abortion and contraception, citing her previous statements on Roe and a letter she signed condemning the Affordable Care Act's guarantee of birth control.
Barrett signed a letter ... that objected to the Obama Administration's accommodation for religiously-affiliated employers that allowed them to avoid having directly to inform their employees about contraceptive coverage. The letter suggested that the Obama Administration was "morally obtuse" for failing to go far enough to accommodate religious liberty.
Her background also suggests that she won't be a friendly judge for the LGBTQ community either. Sen. Al Franken asked about her connection to the nonprofit Alliance Defending Freedom, which defends forced sterilization for transgender people and was labeled as a hate group by the Southern Poverty Law Center. Although she once accepted a speaking fee from them, she claimed at the hearing that she didn't realize that they were the most expansive anti-LGBTQ legal advocacy organization in the country.
Barrett is also a member of an extremely conservative Catholic sect called the People of Praise, in which husbands have complete authority over the family and members are mentored by either a "head" (a man) or a "handmaid" (a woman).
Normally, this would be merely a matter of curiosity — as any public official's faith should be, in a country where there is a separation of church and state. However, given her expressed stance on how religion should play a role in judge's decisions and views on cases where the Catholic church tends to take a strong stance — like LGBTQ rights, abortion, and access to contraception — it seems very likely that this set of beliefs will play a role in Barrett's decisions for as long as she sits on the court.
Read more on the Supreme Court:
This Is How Soon Trump Could Pick Justice Anthony Kennedy's Replacement
Why People Are So Worried About Ruth Bader Ginsburg Retiring Now
Here's What Justice Anthony Kennedy's Retirement Could Mean For Abortion Rights
This Is Who Trump Might Have His Eye On To Be The Next Supreme Court Justice